Faster loading, Side effect? I get to read fewer tips and bon mots.
The P function (Random terrain and things) does not work, but the ? cube in the Landscape generates random terrains.
Using the 8,6,2,4 keys to move the sun , the first press on one of the keys results in a radical move of the sun from the sun's initial position.
The developer just came back from a visit to a zoo and brought some of the animals with him/her.
The UI colour panel is new. The UI colour changes the background of the buttons, but not the text colour.
New snow controls, but snow does not fall on the mountains.
The procedural function now works with any object that does not require the scroll wheel, not just plants.
The Procedural function works across loaded scenes if you forget to press the Stop button.
To paraphrase Roger Miller "You can't roller skate in an elephant herd"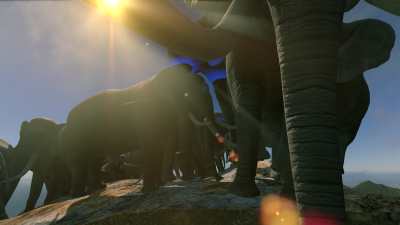 Still no way to cluster birds and insects around an object.
Edit:
Imported sky rotation. If either the Sky or Camera panel is open when the sky is imported, the sky rotation slider does not work, but the other one does.
If both panels are closed, both sky rotation sliders will work when the panel is opened. .