Late 2015: Łukasz Kur and Robi develop The Cowlitz Gamers Adventure for The Cowlitz Gamers for Kids Expo. Aside from programming, Łukasz also designed the levels and graphics, using some tiles from The Abondonauts tileset by Adam Saltsman.

Screenshot from 2016's Cowlitz Gamers' Adventure

January 2016: M-Tee responds to a forum post by John Hancock, organizer of the expo, that requests cover art and packaging design for the project.
March 2016: While working on the subsequent illustrations, M-Tee pitches a mock-up for a sequel to Łukasz and John. Plans are made to begin work on it in the summer.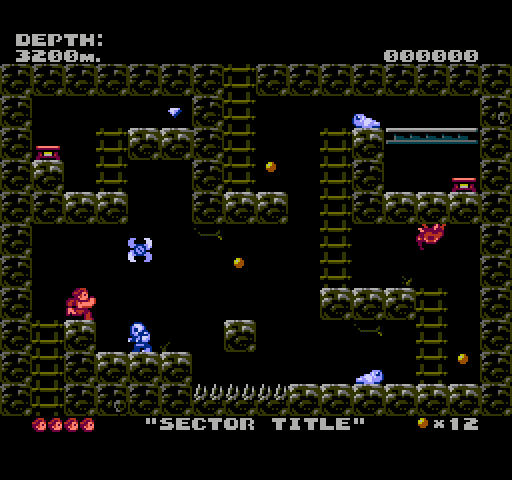 Original CG2A Mockup Image
April 2016: The Cowlitz Gamers Adventure is released at the expo along with a limited run of posters and the original cover art is auctioned off at the event for the charity.

The first run of Cowlitz Gamers Adventure
(carts from Memblers Industries and box and manual printing from Wafflefoot)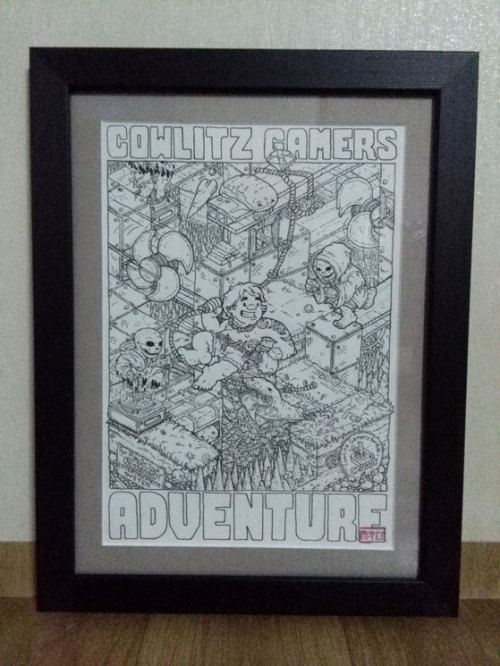 Original cover illustration for The Cowlitz Gamers Adventure
July 2016: Łukasz and M-Tee begin development work on The Cowlitz Gamers' 2nd Adventure. The phrasing of the title is chosen to enable the large central 2 on the cover art. Robi begins work on music composition.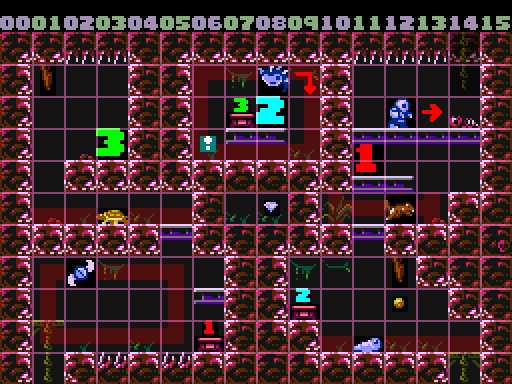 An image showing the typical development process of the game.

August 2016: The decision to add 2-player co-op is made. The newly-introduced Kaylee takes the first-player spot.
April 2017: Demo is publicly displayed at The Cowlitz Gamers for Kids Expo, and then released online. Player feedback greatly benefits further development.
To accommodate additional length ofgame, Chip Jockey agrees to allow us to use tracks originally developed for Electrobody 2 (an award-winning demo he and Łukasz as well).
October 2017: The Cowlitz Gamers' 2nd Adventure is officially released in a limited physical edition at PRGE. The copies produced for the event sell out in less than an hour. Over the next year, a few more pressings of the game were made and sold in batches online and at the 2018 Cowlitz Gamers for Kids Expo.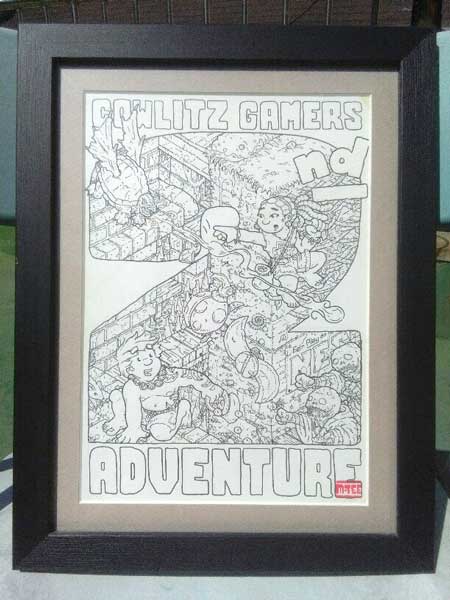 Original Cowlitz Gamers 2nd Adventure Cover Art Illustration

The Cowlitz Gamers Adventure gets a budget cart release with new, bifold manual and The Cowlitz Gamers' 2nd Adventure gets a subsequent pressing with purple cart shells.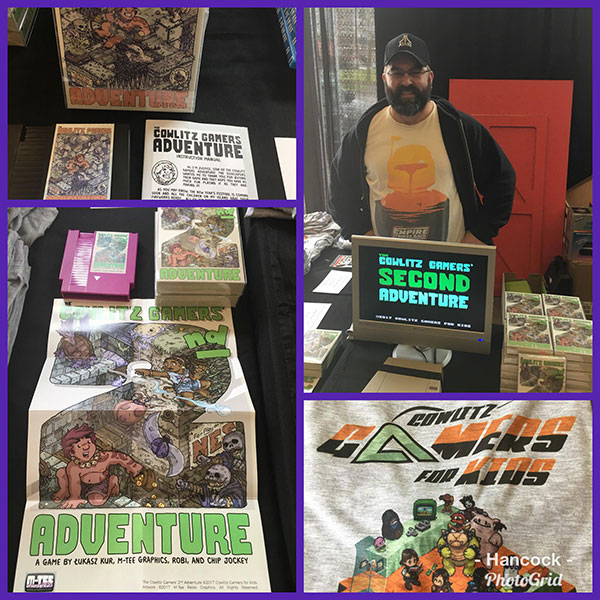 John Hancock pictured with the Cowlitz Gamers Adventure display at the Cowlitz Gamers for Kids 2018 Expo Source

August 2018: Speedrunners The_Kov and J2Champ start speedrunning CG2A. It is added to speedrun.com
September 2018: The Cowlitz Gamers' 2nd Adventure's slot in the NES Homebrew Players' Competition comes up. The top eight scorers receive a custom postcard.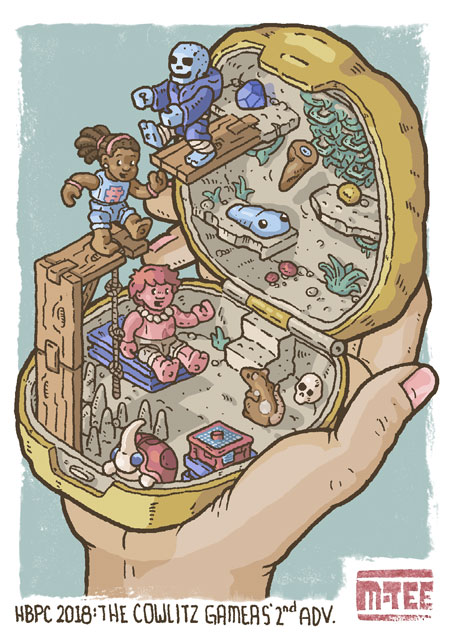 Homebrew Players' Competition Postcard Illustration
October 2018: The Cowlitz Gamers' 2nd Adventure receives an official digital release.