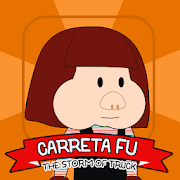 Hello!
Carreta Fu is a casual, simple and fun game in honor of the most famous truck in Brazil.
With an simple mechanic and a fun game play.
This game will make you have good moments of fun.
Run around town, jumping or changing lanes to dodge the dangers of the streets.
Jump using touch or change lanes sliding to top or bottom.
Run far enough and you might finding your friends and have a dance moment together =)
If you have any suggestions write them in the comments.
Link to the game: https://vidalguilherme.itch.io/carreta-fu