Hello players!
I am Teddy Bouziat aka BearDroid.
I just finished my third game Get1000. To be short, it is a logic puzzle game inspired by 2048 but with more strategies and game modes:
https://beardroidgames.itch.io/get1000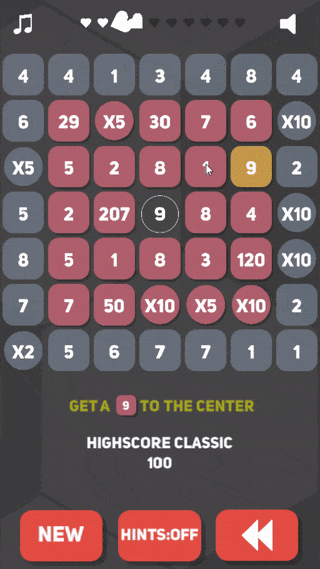 I have had really good reviews on web and mobile platforms. Indeed, the game has been played the last week more than 367 days (a year! 31,8 millions of seconds!) by more than 30,000 different players thanks to platforms such as ArmorGames and Newgrounds.
Story of the game
As a huge fan of 2048, I decided to work around a logic puzzle concept. When finishing my PhD, I had two weeks of free times and I was wondering what kind of project could be done in this really short period. After 3-4 days of prototyping, I got really good feedbacks from family and friends so I decided to make a nice and polished version. 3 months later, Get1000 is done!
Video

Description of the game

Get1000 is a logic puzzle game inspired by 2048 where the goal is to merge tiles to get 1000 at the center.
How to play ?
Simply drag the tiles with you mouse to merge them. Use the back button (bottom-right of the screen) if you made a mistake.
Four game modes are available:
Classic: Take your time to solve and reach 1000.
Speedrun: Reach 1000 as fast as you can on an unique grid to compare your time with the world!
Time attack: Reach 1000 in a limited time: Be smart, Be strategical and.. BE FAST!
Daily quests: each day, four quests are proposed to challenge your logic skills.
More features:
A mistake ? Don't worry, the back button (bottom-right of the screen) is here for you.
Auto-save in classic and timeattack modes! * Compete with your friends : World highscores are available for each game mode (classic, speedrun, timeattack, and daily quests)
The web version is available here: Playstore
Finally, I hope you will have as much as fun playing this game that I have developing it.

Ted.