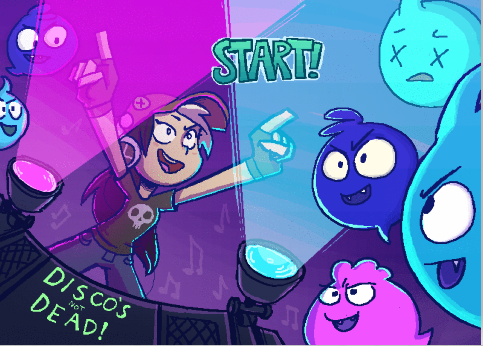 itch.io page: Disco's Not Dead (download available here!)

DISCO'S NOT DEAD is an arcade tower defense game where you play DJ Harker, defending a haunted club against hordes of spooky ghosts! Use your booth lights to match the colours of the ghosts and melt them.

There are six kinds of ghost and you only have three colours of lights, so you'll need to cross the beams to mix the colours! The gameplay begins simple bit soon becomes fast-paced and tricky, increasing in speed as the game goes on.

There are four waves, ending with a boss wave, with the game lasting around 3 minutes in total (if you survive!).

This is the first game I've made, I was a near-total newbie to coding and gamedev when I started and learned a whole lot along the way! It's a little unpolished, but I'm happy with how it's turned out and looking forward to moving on to bigger things armed with the skills gained on this project. :) Before this, I only thought of myself as an artist, and now I know I can make games too! Created in GameMaker 1.4.
Thanks for checking it out!