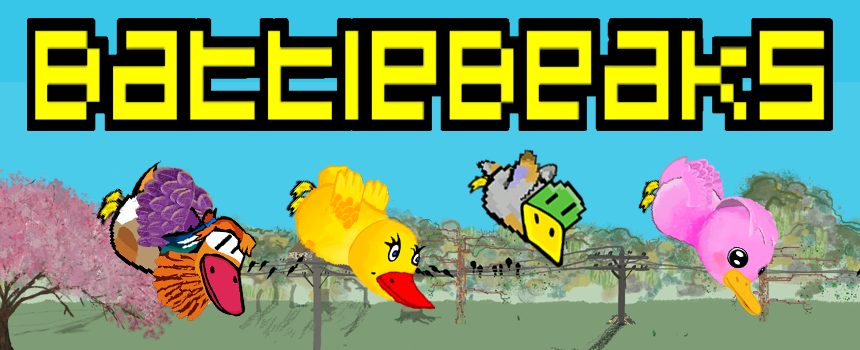 Hey guys, we have released our new title, BATTLEBEAKS.
Loosely based on Skirmish on the BBC Micro, but with DUCKS, best played with controller.
You basically clear the waves of other birds by diving on top of the birds from above. The higher the dive, the more you can burn through the sky and do more damage. You cannot damage them from below unless your beak is already burning from a mad swoop, there are also other powerups and weapons you can use such as:
Starlings: starling little bird missiles that drop from star powerups
Starling shield: a shield of tiny birds that you can build once you have 50 starlings
Egg bomb: an egg with an explosive creamy centre you can detonate this early by pressing Y
Duckweed: slow down time and take those harder to make shots with your missiles
Here's the trailer

This is our first commercial game, we are a team of 3 people living in two different countries, (sometimes enlisting others for sound effect help) so it was a real learning experience for us, we went through the usual development cycle, learning new software, animation and painting techniques, it was not until recently however we started to see the final shape of our game come into effect.
Now we are fighting against the high scores online (we have a scoreboard up on www.battlebeaks.com ) it's quite competitive between our devs
Battlebeaks is now completed, if the community enjoys our game we are looking forward to expanding content, adding enemies, bosses and other power-up capabilities. We are starting at an introductory price of 1USD.
Webpage is www.battlebeaks.com, however after launch https://andhow.itch.io/battlebeaks will be the salesplace
https://andhow.io/battlebeaks/ is also our company page
Here also is an extended gameplay video if you want to watch a full playthrough of gameplay.
Send us a message if you have any questions, we'll try not to duck them!

Nick
andhowgames