Point & click adventure game with RPG elements.
It is a short pilot episode of what I hope will become extremely successful game series.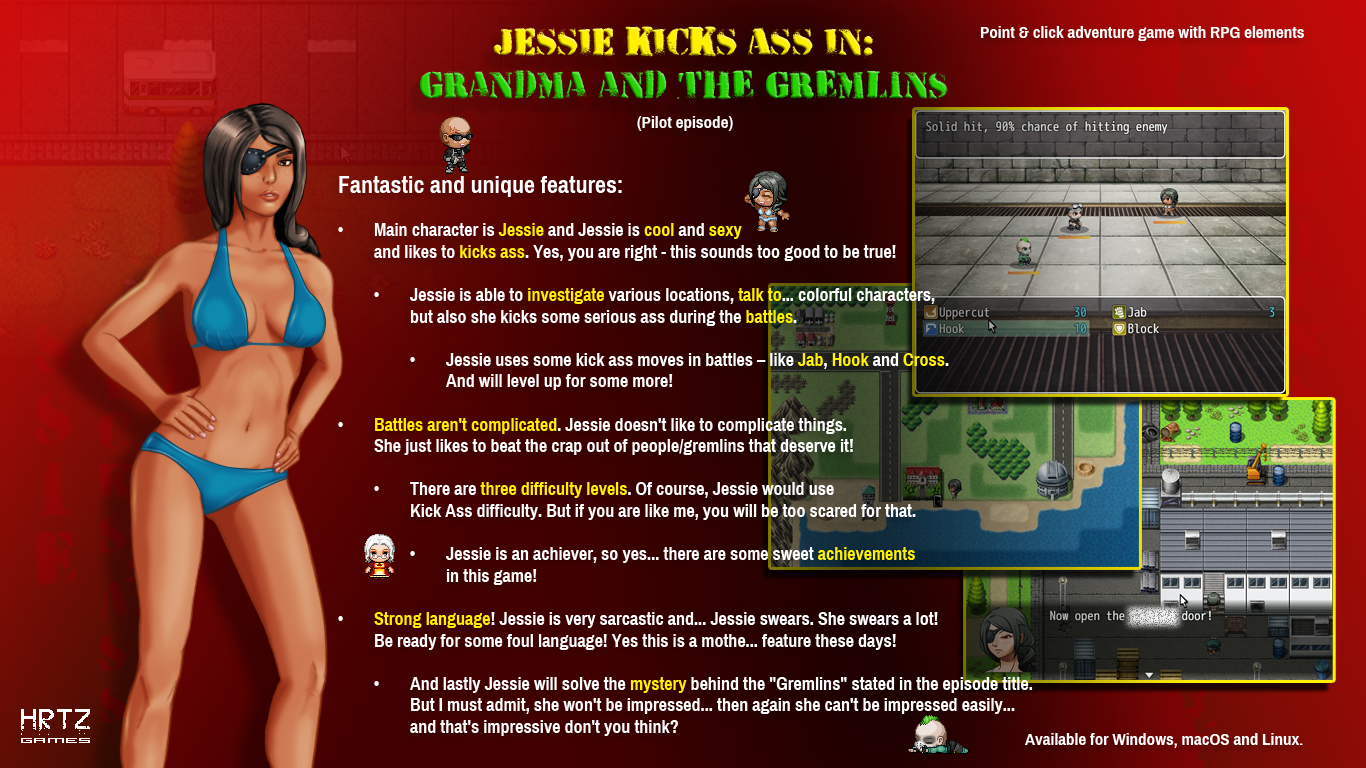 Our hero is called by her grandma for some help – apparently gangs are infested the town and area where grandma lives!
What happened there? Will our hero prevail? What about the gremlins? So many questions!
Available for Windows, macOS and Linux.
(including short Demo)
Check out the game trailer:
Fantastic and unique features:
Main character is Jessie and Jessie is cool and sexy and likes to kicks ass. Yes, you are right - this sounds too good to be true!
Jessie is able to investigate various locations, talk to... colorful characters, but also she kicks some serious ass during the battles.
Jessie uses some kick ass moves in battles – like Jab, Hook and Cross. And will level up for some more!
Battles aren't complicated. Jessie doesn't like to complicate things. She just likes to beat the crap out of people/gremlins that deserve it!
There are three difficulty levels. Of course, Jessie would use Kick Ass difficulty. But if you are like me, you will be too scared for that.
Jessie is an achiever, so yes... there are some sweet achievements in this game!
Strong language! Jessie is very sarcastic and... Jessie swears. She swears a lot! Be ready for some foul language! Yes this is a mothe... feature these days!
And lastly Jessie will solve the mystery behind the "Gremlins" stated in the episode title. But I must admit, she won't be impressed... then again she can't be impressed easily... and that's impressive don't you think?
Also check out totally FAKE game reviews!
Since I'm not planning to bribe any of the respectable portals or game critics I've made this small trailer containing totally FAKE game reviews!
Does it matter if those are fake? I reckon not... why would it matter? Who can you believe these days anyway?
Link... one more time:
Enjoy the game and let Jessie Kick some Ass!