Hi all,
I have been working for this game with an artist and wanted to share the work.
The story.
Agent 31 is the lucky agent who was incubated inside a cell.
His identity is totally unknown.
He has to defeat the enemies that plan to destroy Earth.
Later on he discovers why he is 31 and what happens to the other 30 agents.


====================
9/Feb/2016
Initial sketch of the game by the artist.




Main character already made by main artist.
There will be different costumes.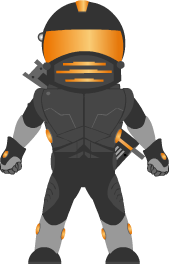 ====================
6/Feb/2016
I just finished one of my games and will most probably start right away with another one.
This is going to be the next game thread.
Let me write this clear and what are my expectations about this upcoming game.
- This is going to be one of the best online games for 2016.


Yes yes, I know what you are thinking already. Anyway, this is my goal.
I will keep programming every day as I did with the previous game.
The game will be on top of my previous game and I will use the same engine I built to keep on working on this one.
The engine is built in HTML5 and Javascript so it will be easy to port to mobile.
(PC version, mobile version and online version are planned already)


The graphics will be done by Patrick the designer and the programming will be done by me.
I also do marketing by the way.


This is all I can show for now. Let me know what you guys think.