Landing Page
50% off for the first week ($1.00 CDN until October 17th)

Sit back and relax with a brand-new twist on the clicker genre with Fortress Tapper. In this unique blend of soft music, colorful graphics and slightly engaging game-play you'll clear an unlimited number of boards of tiles using simple click of your mouse.
Unlike other clicker games you do have an objective: Clear an entire board of 32 tiles by guiding the cursor up and down / left and right. Fortress Tapper might require a bit more attention than your average clicker game but that small amount of attention will be well rewarded – with new unlockable music and graphics.
Clearing a board will only take a couple of minutes of your time but there is no timer or rush to get it done as quickly as possible. Play Fortress Tapper while watching your favorite streaming series, working on that important paper or waiting in the lobby for your next MOBA match.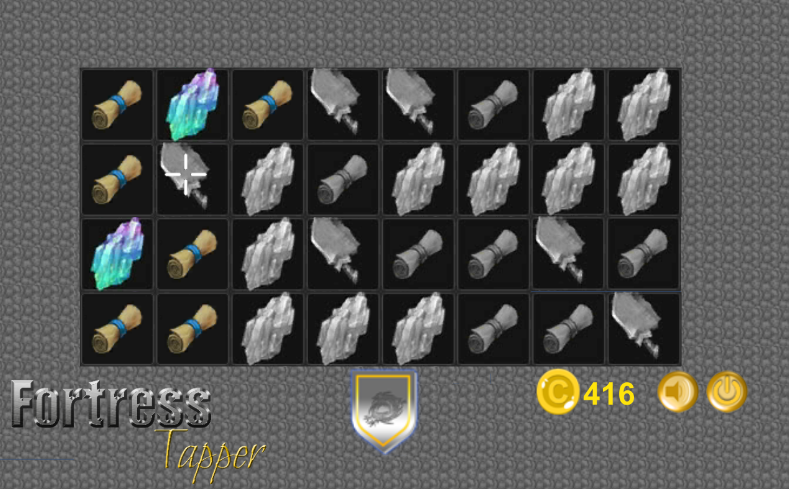 What's New In Fortress Tapper 1.1 (Build 9)
--------------------------------------------------------
- Fixed a bug where the main button & cursor started in the wrong state.
- Fixed a bug that caused players to not be able to exit the game from the main game board.
- Added a brand new unlockable music track.
- Added a new color of background bricks to unlock.
- Added "Unlockables" to the main menu.
- Added an in-game currency earned by greying out bricks.
- Brand new "How To Play" section has been included in the main menu.
- Playing Fortress Tapper during your downtime will no longer cause the Zombie Apocalypse.
Wait Why Are You Charging For a Simple Game Like This?
Simply put, I view the release of Fortress Tapper (and its planned future patches) as my first serious game development effort. Up until this point all of my additions to Itch and other prototypes have been learning exercises but the time & effort that have gone into Fortress Tapper should be worth something. Players interested in trying the game for free can also grab the ad supported version on Google Play.