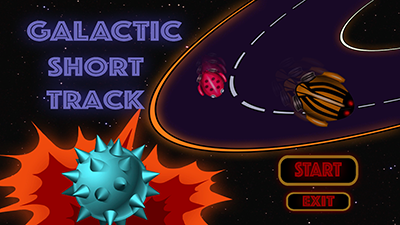 Hello everyone I published the game. This is my first experience.
The Galactic Short Track game must be played by two players on one computer.

The Goal of the game is to complete 10 circles
and don't let all life points be wasted.
Cars, which are controlled by players goes on circles clockwise.
It's prohibited to move counterclock-wise.
Every player got his own finish line.
Every player got 100 life points.
If any life points left - the player loses.
Obstacles:
There is a mine installation - with recharge function.
The mine, which was left by a player can also hurt this player's car !!!
In case of collision between the car and the enclosure,
or between player's cars - the player will loose life points.
Bonus:
On the way in random places will appear repair kits and shields.
Repair kit adds to player 20 life points.
Shield gives temporary invulnerability.