Hi, guys! My brother and I are developing our first platformer, the Smashing Spirits!

Bringing my boxing experience into the gameplay
I do train boxing so we're bringing that experience to the combat system! Usually platformers has some kind of hack'n slash gameplay where you just keep pressing attack button and has a unique dodging move. In Smashing Spirits enemies counter-attack while you are attacking them and you have 3 different dodging moves, so you have to choose how to dodge while you are building the combo.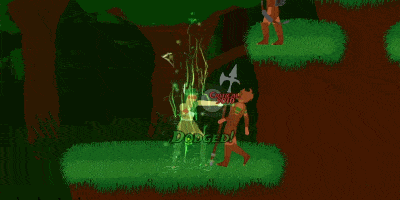 Indigenous vs Spartans
The universe also is quite different! The story happens on a fictitius land named Brazil Island. This island inspired by Amazon and we work with the idea of the encounter of 300bce civilizations. On this specific game we focus on Indigenous and Spartans but we also will have shamans, stone creatures, and a few other enemy types.
Play the demo and consider wishlisting it
Demo: https://sensengames.itch.io/smashing-spirits-first-boxer
Steam Page: https://store.steampowered.com/app/1263200
Feedback are very welcome too
This game is at final stages of development, but we aim to create another one on the same universe but with different characters, so we have plenty of time to improve over any feedback. :)
Thanks for the attention, hope you guys likes it!