Hello everyone! I just released an update for my RPG, Knight. There's been a good deal of overhaul in this update, I'm excited to hear what you think about it!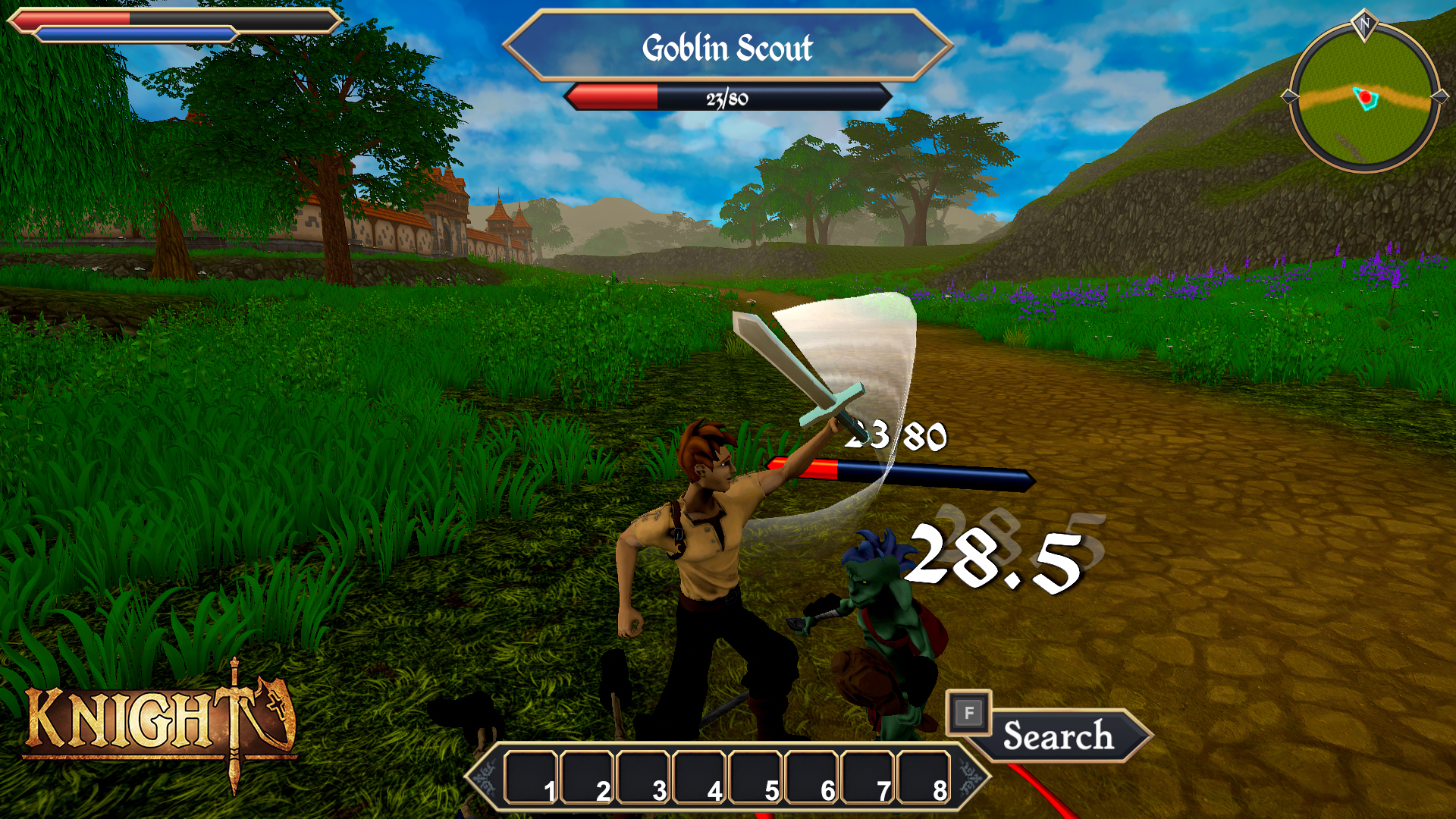 Knight
Overview
Knight is an ARPG with a fairly serious tone. However, the beginning/demo will be a bit light-hearted, as it deals with the Hero as a young adult, when he is first working towards joining the King's Army. The story follows him as he learns of his father's disappearance, proves himself worthy to become a Knight, and eventually discovers the truth behind Lumina's longstanding golden age.
Brightwick
Brightwick is a middle-high class town in the kingdom of Lumina. Strong walls, its own Town Guard, and a stable economy make it a secure and wealthy town. Popular with traveling merchants and travelers in general, it's also the gateway to the Fae Woods and a buffer between the Goblins and the rest of Lumina.
Fae Woods
Located near Brightwick, this forest is enchanted with the very presence of the Fae. The Fair Folk are known to play tricks on passerby, but aren't evil. Some have even befriended a few humans, in order to learn more about their culture and to maintain a peace between the races. Elves may also be seen here, occasionally, although their business here is unknown.
Hero
The Hero, controlled by the player, is the son of Knight Roland. As a child, he was fascinated by the Knights. Their gleaming armor, strong character, and brilliant wit set a strong image in his mind of the nobleness of the King's Army.
As a young man, he intends to prove himself worthy of joining the King's Army. Currently, he's working as apprentice to a local blacksmith, but spends his evenings and nights studying combat and politics of the land. His wages are enough to afford him simple combat equipment, as well as several books. He spends some afternoons in the town market, keeping up with as many of the goings on as possible
If you'd like to jump right in:
https://atlasgamesstudio.itch.io/knight
If you'd like to read the brief Devlog for this update:
https://atlasgamesstudio.itch.io/knight/devlog/64296/super-early-pre-alpha-v-015