Nice visual novel! I came across this game when listening to the Ace of Rope soundtrack on YouTube when this game's soundtrack came up, and I thought I'd check it out. I was initially going to try and get through the French version with my terrible French and Google Translate, but the English translation was available when I got around to playing (which seems to read perfectly most of the time, although I was kind of confused what you meant by "males and princesses" ("mâles et princesses") in the introduction).
This game has a great way of making every decision feel like it has a consequence, or an eventual consequence at least - I was getting rather wary of foraging for food from the humans, but thankfully the winter ended soon after. I managed to not engage in any wars and survive the winter peacefully.
I did encounter two bugs. I'm sorry I can't point you in the right direction, as I haven't used Twine before, but I'll attach screenshots here: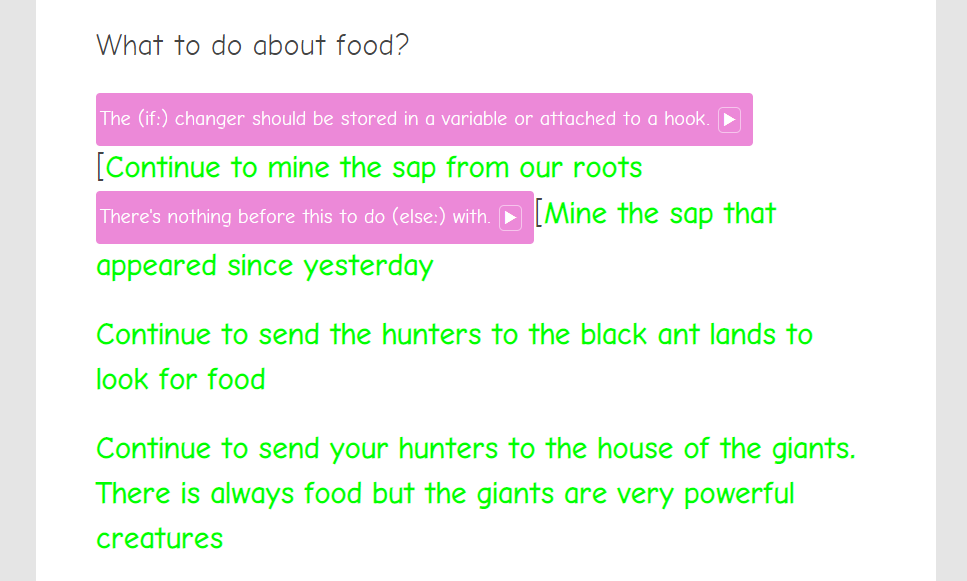 The artworks looked quite nice mostly, apart from looking (in my opinion) unnecessarily grainy in parts dithering wasn't really required, but I can't say much as I am infinitely worse at high-res pixel art. There could have been more artworks, though, they really helped illustrate the world of Fourmidable more!
I'm not sure whether Twine allows you to add backgrounds of any sort, but they would certainly be a nice addition if it's possible to do such a thing. Maybe something diagetic, like the dirt of the anthill, or tall blades of grass reaching to the sky - it just feels a little bland with a completely white background.
Overall, I quite enjoyed this game, and I can't wait to see more of it!