The deadline for the game jam is fast approaching so I'm starting to feel the heat. I'm kind of reeling over the fact that I don't have the core game mechanic for my game set up. I've spent the majority of the time implementing auxiliary features here and there. Not as much focus was put on it being fun.
Luckily, I have decided to have the game's core mechanic revolve around pouring. It seems like how steamed milk is poured into cup, is one of the major skills of baristas. Milk pouring skills also help when it comes to making latte art. I was thinking of doing a quick time (-ish) event mini game that involves pouring milk.
My design for the game looks like this: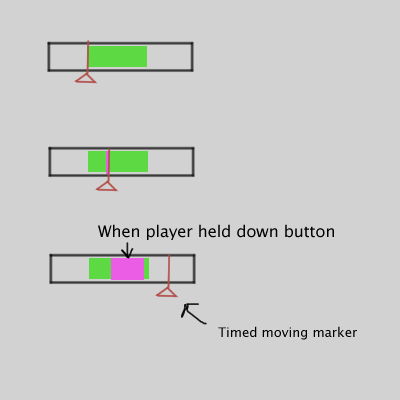 A potential solution was to use the TextureProgress Bar provided. But you can't really fill in the progress bar in the middle. I was finally able to come to a solution using various ColorRects. See below.

Here's the base for the event using some ColorRect objects in Godot:
These are the main coffee types so far that baristas will be able to make (the spooky names are yet to be determined):
Mocha
* Milk foam
* Steamed milk
* Chocolate
* Expresso
Latte
* Milk foam
* Steamed milk
* Expresso
Flat White
* Milk foam
* Steamed milk
* Double Expresso
Cappaccino
* A lot of milk foam
* Steamed milk
* Double Expresso
We'll see how implementing this works...