Let's be honest: my original female player character sprites in Abstráctomon were pretty ugly;
the hair looked like two brown M&M's shoved together, the arms were too long and the body too short.
Well you might know my characters are based on 3D models made in Blender, and the model I made wasn't really good to begin with. So I made a second attempt and gave the model a brand new, more detailed head.
Then I reduced the color palette of the rendered images to a uniform one (about 25 colors), added some outlines to the arms and legs, cleaned up the eyes, hair and backpack and added some shadows to the skirt.
I also made some minor improvements to her male counterpart.
I improved the animations for walking, riding a bike, sitting and climbing a bit.
You can see some of the new sprites below!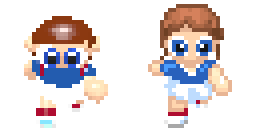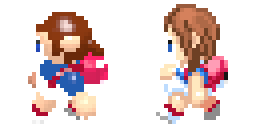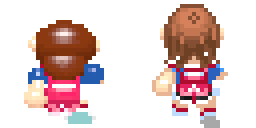 I'm wondering if you'd like to be able to choose a different skin color at the start of the game? Let me know in the comments!