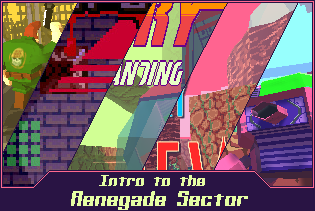 I get asked a fair amount which of my games to start with. While I feel strongly that any of my games are a good starting point, I decided a good way to start off the new year would be to run a bundle sale with a nice sampler pack of my games.

I picked 5 games which I feel like give a good overview of the sort of stuff I make. So if you've ever wanted a good jumping-on point to my games, here's your chance. 5 great starting points for only $10!

The bundle contains:
Space Captain McCallery Ep. 1: Crash Landing
Space Captain McCallery is a series of 3D Action-Adventure games where you take on the role of Space Pirate Captain McCallery as he explores the lawless reaches of the galaxy known as the Renegade Sector. In this first episode, he has been left marooned on an alien world after his crew mutinied. Explore this dangerous planet, battle monsters, and eventually search for a way back to space.
And All Would Cry Beware

Step through a mysterious portal to an alien world in this Old-School FPS/Metroidvania hybrid. In the bombed out ruins of old Los Angeles, you take shelter from the Kill-Gangs in an abandoned laboratory. You find a machine which opens up a strange gate to another world. Step through the portal, face the dangerous of this mysterious world, and discover the fate of the Lost Expedition.
Thunder Kid
Thunder Kid must battle the forces of the Robot Empire in this Old-School 3D Run'n'Gun Platforming Action game! Battle through colorful environments facing challenging enemies and powerful bosses!
Ninja Outbreak
Top-Down Survival Horror! On a soviet research station on Venus, an experimental super-soldier serum, Codenane RASPUTIN, has gone wrong. In addition to gaining enhanced strength and reflexes, subjects began to show unpredictable violent tendencies. They attacked the lab technicians and escaped confinement. Whats worse, some of the victims of the attack began showing the same symptoms themselves. Pretty soon, the outbreak had spread across the entire facility. You play one of the few survivors. Surrounded by silent, deadly, bloodthirsty killers, can you Survive the Horror of... The Ninja Outbreak!
Cold Vengeance

In the year 200X, a totalitarian government known as National Hell rose to power in Canada. They kidnapped the US president, bombed major American cities, and then sent in their mechanized army to clean up the scraps. You play as Sgt Jon Dagger, Hero of the Venus Incident, who must battle his way from the bombed-out shell of Los Angeles to the Great White North and Beyond in this 3D Run'n'Gun Action Game!