After our last question we got together and had a serious discussion about the direction of Desk Maid and what we wanted to have it be able to do. Desktop assistants are, honestly, dead. It's novel and unique until you don't need Clippy any more. You know what we mean.
But.
We love Mei. We've grown really fond of her, and have a lot of ideas that we want to make happen. So, to focus more on a great experience with a companion AI, we've decided to forego desktop assistant features indefinitely. So we will be moving forward, still time permitting, in a bit of a new direction.
But.
To make that happen, that means we need to rethink some things from the ground up while keeping the spirit of the experience the same. So we have already started working on a completely new model of Mei! She's looking great, and we've even got a new clothing creation pipeline that should help us put create much better clothes than were possible before. We're also going to be introducing true realtime physics for hair, fabric, and... yes, the jiggle bits. We're building the new Mei with a customizable look system, something we weren't able to do with the previous model without heavy modification. So keep an eye out for the all new Mei V2.
BUT.
When we discussed where to go with Mei, we also had to come to grips with the question of adult content or not. While this may disappoint some of you, we have decided to go ahead and build Desk Maid as a true "multi-functional" companion. To start with, we will be enabled more and further detailed interactions with the hand. We also will be introducing props, which the food items you could get out of the refrigerator were an early prototype for, as well as allowing the hand to interact and use them with Mei. 😈 We have more plans in the works, but we'll leave it there for now....
BUT! (last one, promise.)
That means we need to really create a detailed and pretty advanced model, rig, and controls for this new Mei. While we're nearly done with the new Mei model mesh, the rig, weight painting, vertex painting, texturing, and more still need to be done. We didn't want to leave you empty handed, so we figured we'd share a bit of the progress from working on the new Mei mesh. These are both prior to adding skin details and some of the lower geometry.
~10k design model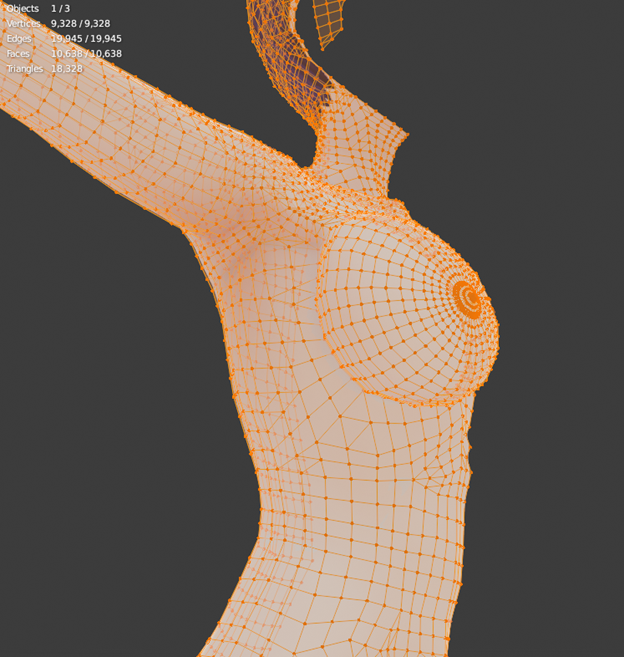 ~300k game model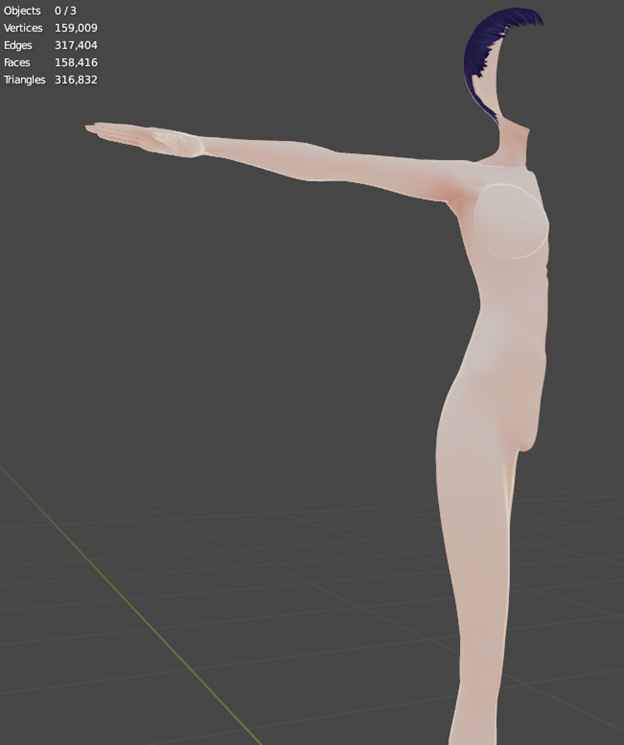 The final game model will probably sit around 250k-300k due to all of the detail we're looking to add. We've also devised a bit of a unique system to allow for better fabric and clothing creasing that we may try to integrate with the new Mei, though we just barely entered POC with it on another project. The results so far have been nothing less than astounding. Dynamically wrinkling and creasing fabric.
So we apologize that we can't give you all of these cool new things for the holidays, but we hope that this little bit of information will get you excited about what's to come in 2021.
Stay safe, happy holidays, and have a jolly new year!