I think it is finally time for my postmortem. the reason I've been waiting for so long to write mine is because I was waiting for a maximum of comments on the game.
Why make this game?
I've always wanted to be part of game development sector and I also have my own projects but they are very massive and ambitious. Being unable to show people I cared about what I was working on was taking its toll on me and my confidence and so I think around a time nutta (we were already close friends due to meeting from a fandom) had retweeted about the Jam and I was like maybe I could do something for it, a small thing, but it quickly went over my head.
Then a few days later, (2 days before the announcement of the game here iirc), nutta tweeted that she needed help on twitter that she didnt know what to do for the jam. I volunteered to help her brainstorm and organize the ideas in the hopes of also finding mine in the process but eventually I also grew attached to her project too and was going to ask whether she wanted to collab or not when she asked me. She already knew how my writing was since I wrote quite a bit of fanfiction before (mostly comedy ones that feel more like sunday live shwos/sitcoms stuff). Obviously I accepted and so our adventure began after she also recruited dotoriii.
How was development?
The early stages of the development of the game and the script went very well.
I first had to establish the setting and main character. We already knew our main character would be an engineer. But when I asked nutta how they should be ... the first thing she said was... "tired". This word came as base and from it I decided to make the MC kinda sarcastic, inert and a bit cold while still having empathy. While writing I also needed the pronouns and she decided the MC should be a girl.
And that got me thinking...
Whoa It is like if I'm writing Phi from Zero escape.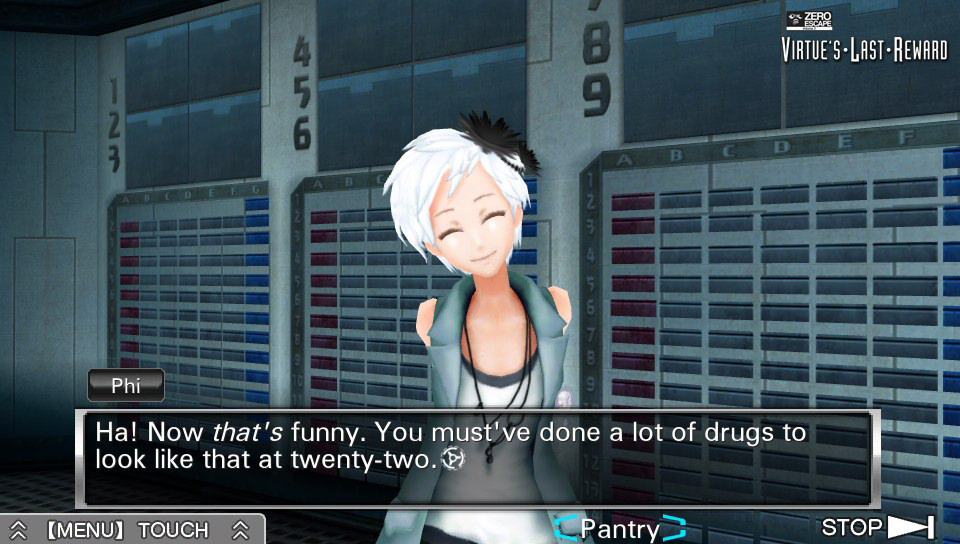 Obviously my writing is not on par with Uchikoshi (he is one of the names I respect the most in the gaming industry or anywhere), but I was like cool. I can take someone a bit as a reference when I was lost. I would be like what Phi would do. How would she respond?
The funny thing is that while writing...we needed a name for the MC and nutta asked me an odd question. What would I call my daughter if I had one? I was very confused and just said Phi because I was writing the MC based on Phi right now. And the name just stuck with the team and Phi became the main character.
However development did not remain that smooth. After a sunday where I fell sick from something and all my teachers bombarded me with assignments I barely had time to write because of them. Hell I'm still stuck in their web. Throughout the process I was really afraid and scared I might not have everything ready since dotor and nutta were just working so hard and quickly. But I eventually got it done, the strict time was a reason why I unfortunately couldn't find much time to proofread it. My biggest apologies for it.
But in the end I'm glad that I didn't write even more because we were getting delays due to nutta implementing my script and sprites as she said her dev log. There were a lot more of script planned out generally for stuff like the environment to help make the world feel even more alive, but it would have taken an even more toll on nutta.
Now the main NPCs...
Felix was definitely the most straight forward one and the one I started writing the first. While brainstorming potential NPCs I said something like maybe a thief (because one of my projects has a thief and he his my baby I will protect even though I hurt him the most while writing.) and we agreed on it. I eventually decided to take a spin on it and make it more of a fraud but Felix ended up as a blend.
Like I had said, I started working on him very early, even before we got concept arts. He had a normal chill/dummy guy vibes at first but when I had seen dotor's concept I fell in love and had to adjust his speech and mannerism to make him feel more like he is right now. A little baby alien goblin that you want to protect.
Squish was perhaps the first npc we settled on. I initially thought of a dog that if you rescue on the streets will start following you and help you since you helped it etc. Nutta was suprised with it then we decided to change the animal and I proposed a raccoon. Since they are technically salvaged.
Originally the game didnt really have choices affecting the fate of npcs. They all had their best outcomes in mind but then I was like...this game is about coldness and survival. So it should also be reflected on the characters. And so, I've written so as Squish can die and that you can get Felix arrested.
At some point I believe you may have felt Squish's event felt disjointed. But you see the problem here is that the way Intended it to play was too complex for nutta and had to be simplified to be more like Kelvin'a event structure.
Squish's events was more like this (his is purple)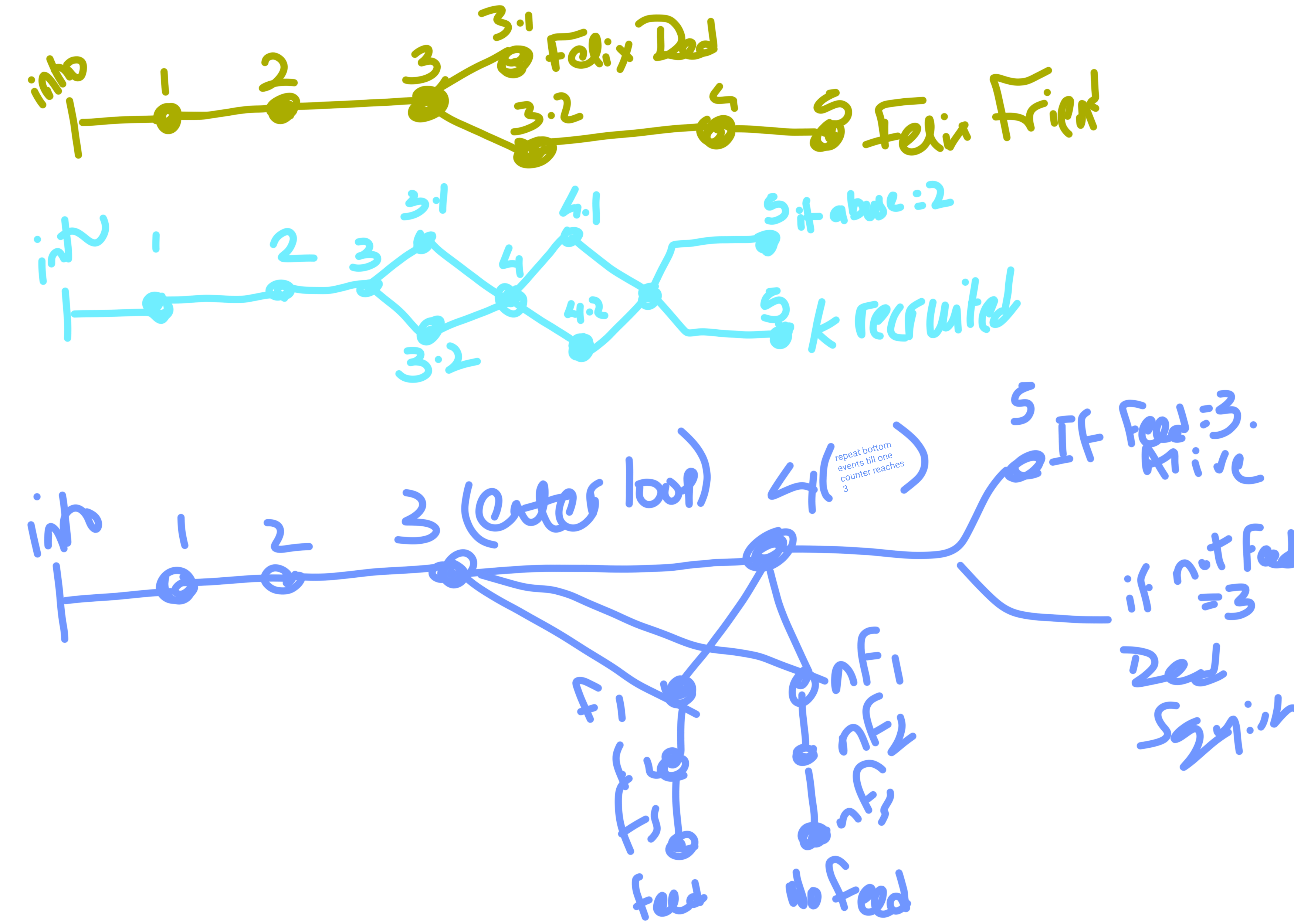 My proposed event structure in graphical way to show the events
Essentially as of the 3rd event you would get the options of whether you will provide hospitality or not to him. Each time you do it each of their counters will be incremented. and so if you already did feed 1 event, feed 2 event will play next time you choose to feed him.
So you could feed then not feed and then feed and you would still get the second event instead of the third and your squish would live or die depending on whether you reached his third abandonment or hospitality event.
But it was sadly too difficult for nutta to implement and had to be simplified.
K-217/Kelvin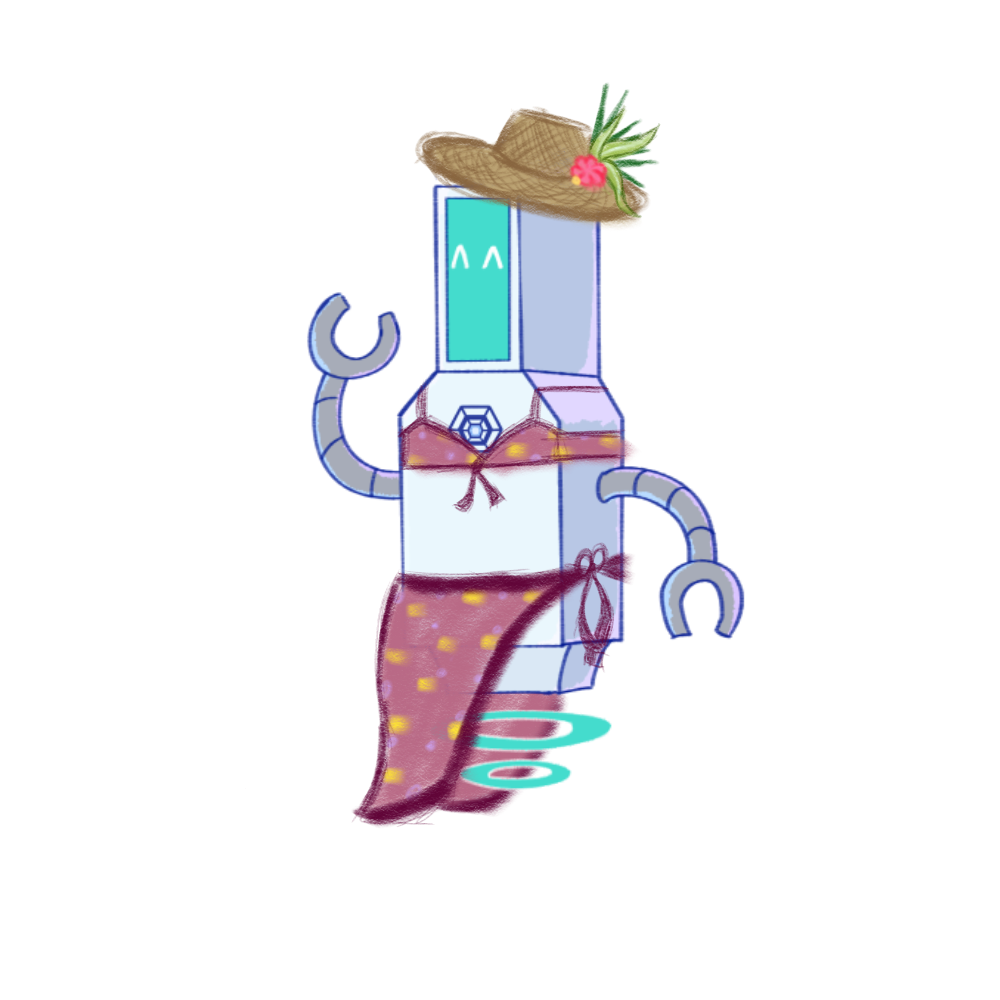 What I had imagined Kelving would be wearing at the end of any ending.
Our homeboy was the only one I initially had no idea how I wanted him to be as. I know I wanted him to be very sterile and inert to others. Helpful and accommodating but still very cold.
A few weeks before I had been bindgewatching The Good Place cuz i had recommended it to my friend and they completed it while i was still stuck in the 1st season due to busy schedule but anyway i got a message from my friend while i was writing to write him and i was like Yes! I'm gonna make him like a blend of Michael and Janet from the serial.
I got the personality on point but then I was like... what would be his struggle? His arch? I absolutely could not figure out but then we had a communication skill class where the teacher had asked us to describe ourselves. I fell into a mini existential crisis. But I felt enlightened afterwards, enlightened enough that I thought about maybe have Kelvin also have an existential crisis.
He believes he is doing the right thing but it is not enough. Should he do more to better the state of the people at the risk of going against the administrator? It was then I thought that he too should have a branching path like the other npcs. It's only fair.
I was very nasty and cruel with him in the decision making I believe....because with squish you know which option is to help him or not. But with his event decisions...you are just as oblivious as Kelvin, not knowing that trying to help those persons can put Kelvin in an even worse situation. Also I had planned a game over in case you get the bad Kelvin ending but I felt that was too penalizing.
Cut Contents?
We actually had a lot of content we had to cut out due to time constraints. The ones that concerned me are:
- Random events thought out the day (like maybe someone wants to trade some parts for credits)
- We originally also had a grocer npc who would give you a discount on items if you finish their quest. They were discarded due to the inventory system also being discarded.
- One common complaint we had is the world lacks a bit of world building and stuff happening in the background. I very much agree. I had originally proposed blimps (similar to those in the over world map in Shin Megami Tensei III : Nocturne) where if you would put your mouse over them on the location select screen (which if you remember the concept was a city map) would display tiny texts. Using them I would write little dialogues that may help the world feel more alive. Some of them could have a mini story arch in them. Others could be like reacting to stuff happening in main events. Like the guy with the two kids being very happy or someone saying that they do not see Felix anymore. To even random stuff like someone yelling Cabbage.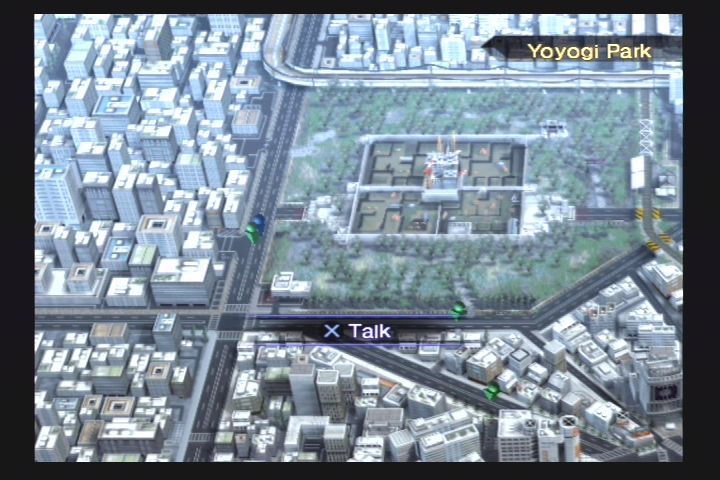 What I meant by character blimps
In The End
This is my first game and I'm proud of it. We might have had some issues day 1 and had a lot of cut content,but what we accomplished in such little time is really nice.
Nutta and Dotor were some of the best teammates one would hope for (if you are looking for people to team up with for projects, contact em). We had a fun atmosphere and yet worked. I often sort of felt like a bad guy since I was always critical (that's my nature sadly) but I'm glad that they understood my intention is not to bash anyone but to get an even better result.
Doing a game as a team was exactly what I needed to be honest. If I did something alone I would be so judgemental to myself with my already low confidence that I would have sank. But having such amazing teammates with me got me like I dont want to make them sink with me. And so I worked my ass off and got a cute little game out. It meant a lot to me since I'm actually creating something.
What now?
I will be continuing development on my two games and will strive to get them to my audience the soonest possible now that I've got a little confidence.
The one I can talk about is a twine game. I started it around 3 years ago and it is a massively ambitious fable (without combat) meets persona social link sandbox rpg. You have to build your stats up and strive towards your goal...survive the events that will be happening in a 100 days with a maximum of people with you.
What makes the difference is that it is a sandbox, visual novel. No two playthrough will be the same. Most of your decisions you will make will have an effect on other aspects of the game and story. This one is very dark be warned though.
If nutta wants to continue support for the game or even start a sequel for it. I'll be here to help ( I already have new NPCs, endings and stories for the sequel too!).
But other than that, if you guys need a writer for any small projects, you may contact me since I'll be trying to get more involved with the game development community now. For bigger projects it is less likely that I accept but I may accept it depending on my current state and interest in the project.
TL:DR
- @dotoriii and @nuttatulipa are some of the best teammates ever.
- Go play the Zero Escape series they amazing.
- Play our game!
- We had a lot of cut content, that we might add to the game if nutta wants to keep updating it.
- I'll be working hard on my own project so keep an eye out for it. I'm also open to future collaborations with others.
- If you are still reading this long post, you are a ah-mazing and deserve the world. And I hope your next meal will taste so good you feel like in heaven.
Thank you everyone for being part of this ride.