JOIN THE MAUSRITTER COMMUNITY THIS WINTER FOR: The Realm of Winterholm – A Mausritter Community Worldbuilding Event

Queen Mistletoe Winterholm and her partner Poinsettia rule the frigid and dangerous, snowblasted lands of the North. Their queendom is known as The Realm of Winterholm. Ruling from the capital of Realm's Retreat, these nearly immortal mice reign with joy and cheer. Sharing land with the denizens of the North Pole has its challenges but also its reward. The 'ole Gift Giver in Red and his Elves don't mind the mice and even share some holiday treats, but that is about were the rewards end. Whether it is Belshnickle the Barn Cat, the Pixies, Gingerbreadfolk, Toy Soldiers, or the Invading Nutcrackers, the challenges faced by the mice are great – but that is what is expected in a huge and freezing world; ITS DANGEROUS. And up here it is winter all the time!
The "Winter Has Come Mausritter Game Jam" is the sequal to 2021's "Rittermarch" and "Mayfield" as-well-as 2202's "Tomb of a Thousand Doors" Game Jams. Though this jam seeks to inspire the same levels of creativity of #MoreMausritterMarch, #MoreMausritterMay, and #MausritterMegadungeonMayhem; this jam will be more specific. You now have the overall setting of The Realm of Winterholm as a location, it is now our turn to stock this area with Items, NPCs, Adventure Hooks, Rumors, Beasts, Treasures, and the occasional Adventure Site. In additional to these, we want – expanded travel, weather, and exploration procedures, new Factions, Magic Items, Spells, and MORE!
There are currently (at the drafting of this Jam) 376 Third-Party Licensed Mausritter supplements; we want to break 400 by 2023. What do y'all say?
When all is said and done, all entries will be connected by a "field guide to Winterholm" zine. This way each submission still gets all of the traffic it deserves! We will look into a collection bundle that will help raise equal funds to all who submit (more on this later).
What we want for the zine:
A Bestiary: We want to stock The Realm of Winterholm with all sorts of creature both good and bad. Follow the template laid out in the Mausritter Core Rules and lets truly go on a safari. Gingerbreadfolk, Nutcrackers, a Cardinal Sage… whatever you come up with.
An Item Catalog: What can be found in Winterholm? Are there special rations? Specific tools... maybe a rare and one of a kind item. Shoot, there may even be magic items.
A Rolodex of NPCs: Who doesn't like to meet characters along the way? We'd love to see you introduce us to the vast cast of critters that call The Frigid North their Home.
Feel like writing or making tables? Every good location need rumors and adventure hooks. What can you hint to us about Queen Mistletoe Winterholm's Realm?
Some Dungeon Crawling: There has got to be some sweet locations to dive deeper into out amidst all the snow banks and boreal forests in The Realm. I wonder what we may find if we explore? A prison in a Snowglobe? The inspiration is endless.
Specific Hexes: Mausritter's exploration is built on hexcrawling so give us unique lands to traverse. Maybe a community in one of those old timey, 1950s red pick-up trucks.
Expanded Procedures: Build on the weather and exploration rules by fitting them to the extreme weather in the north.
Entry/Submission Criteria:
Theme should fit the Winter/Holiday ideas presented
There is no limit for submissions. If you are inspired, submit as many things as you'd like.
Feel free to charge whatever you'd like for your submission. Mausritter is PWYW (pay what you want) and that is a good suggestion, but don't feel limited to that. We do suggest having Community Copies available for those who are in a tighter place financially.
Please promo and share your submission on the Mausritter Discord to get the buzz brewing.
Really looking forward to what y'all come up with!

BUT WAIT, THERE IS MORE!
We are giving away gifts (its Christmas Time right?!?!)
After the Game Jam wraps (pun intended), we will randomly draw a Grand Prize winner and four more winners.
GRAND PRIZE: Hardcover copy of Lilliputian: Adventure on the Open Seas, Hardcover copy of Bernpyle: YEAR ONE, Softcover zine copy of Mayfield, A5 trifold copies of Its Rough in the Rough, A Not So Stille Nacht, The Flood Priest's Garden, Shadow Beyond the Cavern, Murky Mysteries of Mice in Marshes, as-well-as Softcover zine copies of Bernpyle Issues #3-6, and a Deck of NPCs. There will also be some print runs of some of the amazing works by Brian Stauffer.
WINNERS: Hardcover copy of Bernpyle: YEAR ONE and Softcover Zine of Lilliputian: Adventure on the Open Seas.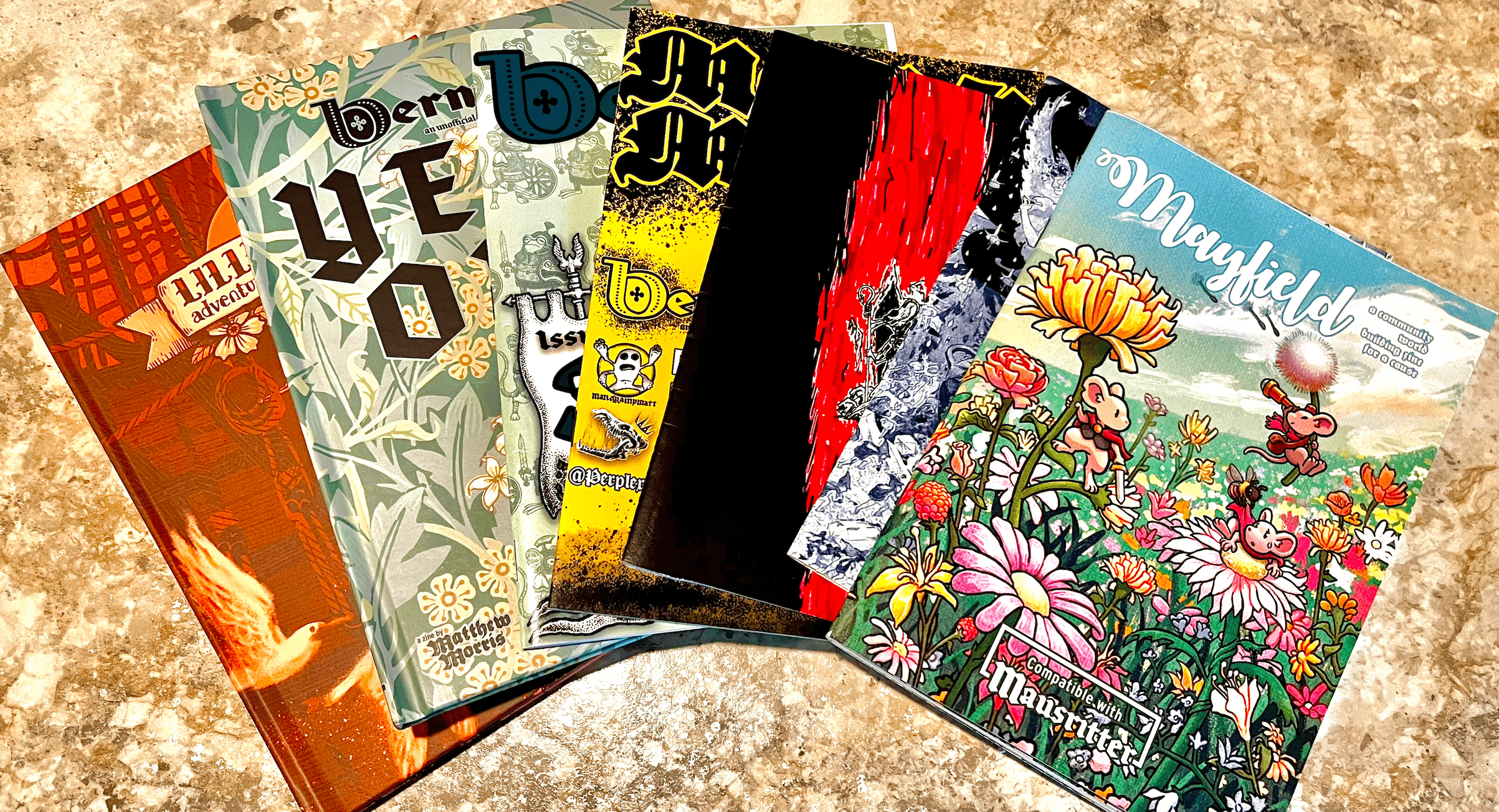 *I will ship these anywhere in the US, but for international I will ask for shipping fees to be split.
Don't Forget the Mausritter Third-Party Licence: https://mausritter.com/third-party-licence/