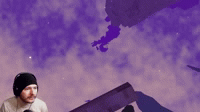 This game is visually beautiful, you can tell a lot of effort has gone into the creation of the game.
The gameplay is a simple idea, but is completely open ended and doesn't hold your hand by telling you which way you should go, and lets you discover your own way to go.
Some players might find that a bit too challenging, and I think I fall into that camp. That being said that doesn't mean the game is unenjoyable, if anything it just pushes you on to try and get further, if you have the time and patience to do so.
Really excellent work Rubeki, I really look forward to your future work!
Here's a playthrough for anyone interested: