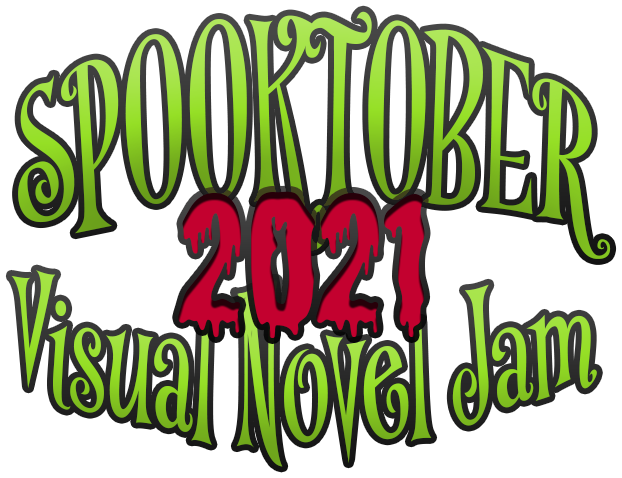 1st Place: StillWater by Studio Clump
2nd Place: Stardander Revenant by Fancy Fish Games
3rd Place: Romancing Flesh by Vimi
Best Logline: Wolfskin's Curse
Best Thumbnail: DUFE: Masquerade
Best Monster/Costume: Romancing Flesh
Best Cinematography/Scene Presentation: Romancing Flesh
Best Voice Performance: Paradoxxxical as the Narrator of To All the Wolves I've Slain
Best Live(Streamed) Performance: Project Flawesome
Welcome to our 3rd annual Spooktober Visual Novel Jam! We are running a jam contest with prizes based around the best holiday of the year!
Halloween!
Here's how it works. During the month September, participants will have the entire month submissions based around the holiday. Then, through the month of October, we'll invite itch users, streamers and the visual novel community to join in to celebrate and vote on their favorite submissions! Teams will be selected by our panel of judges to receive awards and prizes!

In this Game Jam, you are tasked for completing a spooky or Halloween themed visual novel. This could mean...
A Horror Genre Visual Novel
A Visual Novel that takes place on the holiday
Individualized themes related to Halloween. Examples: Monsters, Ghosts, Costumes, or Candy.
A Creepypasta version of an existing work you created.
Offshoots, spin offs, and 'fan-disc' style submissions are allowed and encouraged! Please see this from our community if you intend on making a spin off entry: https://itch.io/post/4185256

We will be offering awards for the following categories! Awards do not have prizes unless otherwise noted.

Submission based criteria:
Judge Favorite: Receive the most votes from the judges! 1st place 50% of prize pot, 2nd place 30%, 3rd place 20%
Itch.IO Favorite: Receive the most votes from the public!
Best Logline: Judged to have the best log line (1-3 sentences with what your visual novel is about.)
Best Thumbnail: Judged to have the best thumbnail in your submission!
Best Monster/Costume
Best Cinematography/Asset Direction: $150 USD Prize

Creator based criteria:
Best LIVE* Performance (Recorded Streams within judging period): $100 USD Prize
Best Voice Performance (In-Submission Only): $100 USD Prize
Jam ends September 30th and judging ends October 28th!
Extensions may be requested, but it disqualifies your team from prizes!
* LIVE performances must be recorded and submitted during the judging period. Streams must feature Spooktober 2021 Jam submissions! Only ONE recording may be submitted, maximum time of 2 hours and 30 minutes. See the FAQ below for details.
Best voice performances may be done as part of the Jam's submission, OR as part of a LIVE performance.

Tag your submissions appropriately! If there is violence, substance abuse, mature themes or other such things, please list the types of content within it. Not respecting this rule will count against your submission in judging!
We respectfully request that all submissions be made without explicit sexual content. We won't complain if you change it after the jam.
New assets may be worked on prior to the Jam's start time to a 'concept' state. Colorless concept sketches, stand alone color palettes, written outlines, visual or audio motifs and such may be established prior to the jam. Third Party resources are exempt from this rule as long as they are also available for usage/purchase by other participants.
Your jam submissions must be made freely available during the judging period (October 1st - 29th.)

How can streamers participate via the LIVE performance categories?
For all live performances, all you need to do is stream and RECORD your live show, and submit it to us in the community section here. If you are entering as a voice actor as part of someone else's stream, please have them submit the recording and comment as well, or reach out to us on the Discord on the above link.
Can I submit my (Other Game Jam) Jam submission too?
As long as it fits the above criteria and was created within the same time span as this jam, then yes!
Are you looking for judges?
No. Judge recruitment has closed this year! Thank you for your interest!
Can I charge for my submission?
We expect that people be allowed to stream and consume the content during the month of October freely. If you'd like to add a price after October 31st, we won't object.
Who owns my game jam submission?

We claim no ownership of any jam game submitted. By submitting to the Spooktober Visual Novel Jam, you do agree to allow the hosts of Spooktober Visual Novel Jam and its sponsors to use all or part of your submissions for promotional and news purposes.
Where can I ask for feedback on x, y, z?
If you have any concerns about your jam submission, whether it be a rule based on or you'd just like some feedback on improving it before submitting, check out our Discord server.

We are no longer accepting new sponsors at this time! Hope to catch you next year!

We are proudly sponsored by...
Our Top Sponsor, Ratalaika Games, with a generous sponsorship of $4,500 USD!


A free trial of Clip Studio Paint is available! Click here to get started!




You can try Scrivener yourself for free! Click here to check out the trial!



The Prize Pot: $5,700 USD
1st Place Grand Prize Winner
$2,850
Clip Studio Paint PRO activation code, 1 device (Win, macOS, iOS, Android, Chromebook). 12 months valid
Scrivener activation code for macOS or Windows
2nd Place Prize Winner
$1,710 USD
Clip Studio Paint PRO activation code, 1 device (Win, macOS, iOS, Android, Chromebook). 12 months valid
Scrivener activation code for macOS or Windows
3rd Place Prize Winner
$1,140 USD

Clip Studio Paint PRO activation code, 1 device (Win, macOS, iOS, Android, Chromebook). 12 months valid
Scrivener activation code for macOS or Windows
Meet and Greet Prizes
For participating in the Discord Meet and Greets, August 21st and August 28th in DevTalk, contestants will have an opportunity to win the following prizes:
Activation Codes for NaniNovel, the Visual Novel Extension for Unity.
Activation Codes for Stella Character Generator.

To win, you must be present at the Meet and Greet and be the first to respond to pop quiz questions about the event and community.

Our prizes are separated into three parts:
The prize pot is a collection of the sponsor's contributions and is provided to the top three submissions at a split of 50%, 30%, and 20% for first, second and third place respectively. As an example, If the prize pot is $1,000 USD, that means the first place participant will receive $500, the second place participant will receive $300, and the third will receive $200, before taxes and fees.

Special Cash Categories
The special cash categories are contributions set aside from the prize pot for specific goals and exceptional contributions. These prizes are a flat value and are awarded to the team that had the winning criteria.

Special Goods Categories

The special goods categories are contributions in the form of goods or services by our sponsors. These can be keys for digital goods, physical goods if provided by the sponsor, or services rendered by the sponsors themselves!
Disclaimer: All prizes are awarded to the individual who submitted the jam project and are not divided by us to the team members. It is the teams' submitter's responsibility to distribute the funds. We strongly urge all participants to make plans accordingly on who receives what, when, and how internally. We are not responsible for any loss, theft, or mismanagement of prize awards once they've been distributed.