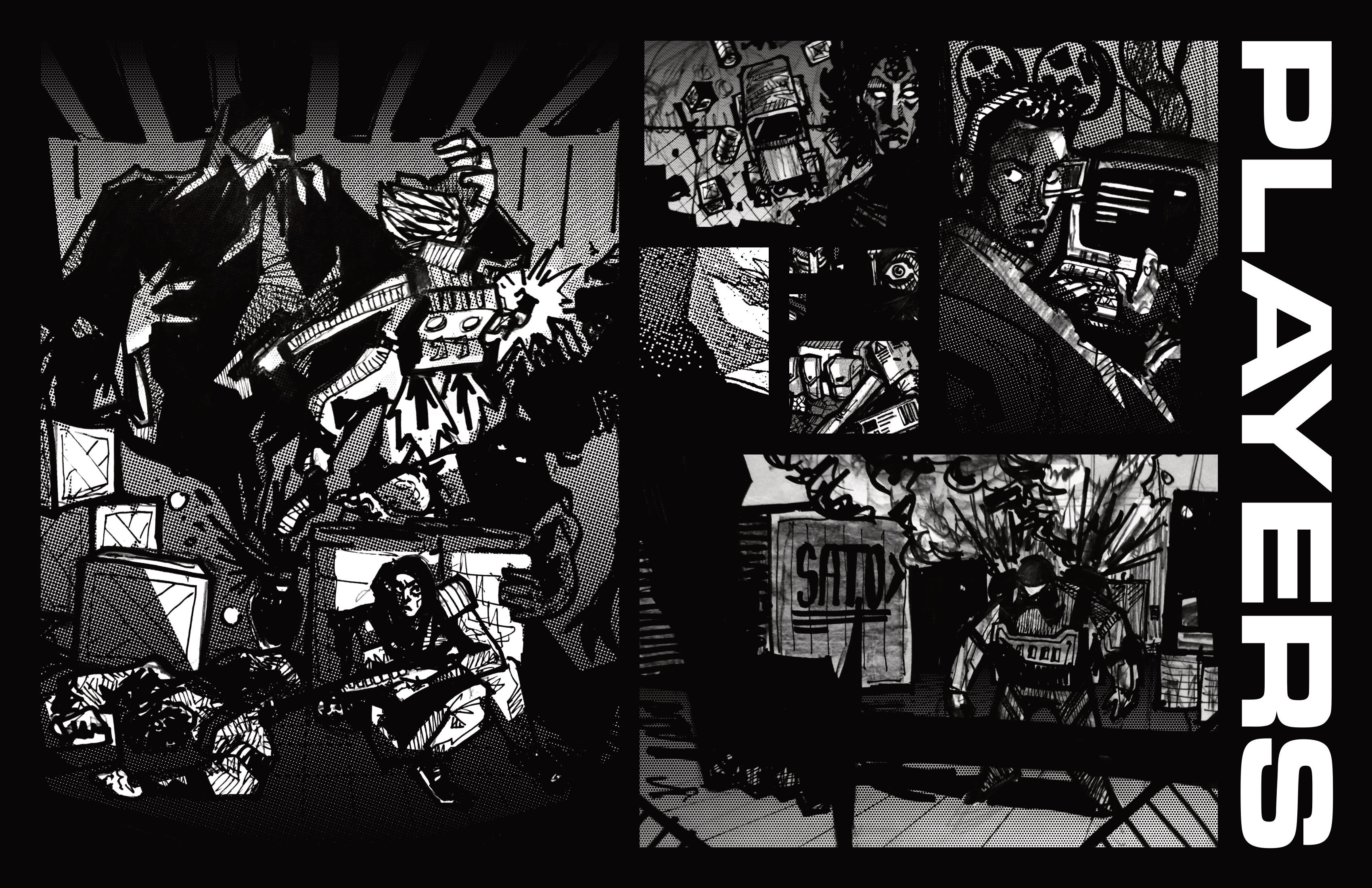 FIST is a high camp, Cold War-era science fantasy game inspired by a slew of classic video games, action movies, and pulp fiction, designed to be simple and easy to start, play, and modify. You, a motley crew of underground, underfunded mercenary psychonauts, must make ends meet and likely meet your ends fighting this war on an otherworldly front. You can browse all previous FIST game jams here:
JAM OVERVIEW

FIST: ULTRA JAM will, aptly, be our longest-running yet, beginning TODAY (May 5th) and lasting until August 1st! You have until then to cook up something extraordinary, and then until August 31st to peruse the entries and cast your votes. If you take someone else's entry for a drive and post a play report in the discord server, you'll be entered into a raffle for a free physical copy of FIST: ULTRA!
The theme: Go ULTRA. Expand FIST's scope, and your own, with something big and beautiful, bold and polished. Spare no detail, put in the time on finishing touches, tread beyond your usual track. You might present:
A collection of maps, minigames, sound props or concept art
A complex and compelling mission designed for solo play
A system that fleshes out areas of the game left vague in the core rulebook (like rules for a more complex economy or an entire side game dedicated to downtime)
Options to increase the scale of your game (like a guide to interstellar intrigue, or the effects of time travel missions between historical eras)
A project which dabbles in mediums you haven't tried before (like illustrating your own writing, or writing a mission if you've only written supplemental rules)
A game with a completely new premise built off of FIST's framework
FIST is licensed under CC-BY-SA 4.0, which means it's public domain. You can create whatever you want to create with it, no OGL required, and we won't ever stop you or charge you money for it. FIST and homebrew are fast friends.
RULES and RESOURCES
No bigoted content will be entertained. FIST is set in a fantastical version of the 20th century (similar to Wolfenstein, Metal Gear Solid, and various superhero universes), and oppression is part of the subject matter; handle it with tact and consideration for the impact of your narrative, and remember that bigots and warmongers, fictional or not, are always the enemy.
Please keep your entry free for the duration of the jam and voting period so everyone can see and rate it.
After the jam, whatever you make is yours to sell—you can charge for anything you make that's compatible with FIST, you don't need permission.
FIST is licensed under CC-BY-SA 4.0. You can get the game here: https://claymorerpgs.itch.io/fist. Also, if you bought the BLM, Ukraine, Trans Rights in Florida, or Abortion Rights bundles, you already have FIST!
The FIST compatibility mark (and an itch.io thumbnail template with the mark included) can be downloaded here: https://claymorerpgs.itch.io/compatible-with-fist. You don't have to use this compatibility mark, it's just there if you want to!
You can join the FIST Discord sever here: https://discord.gg/4jPNPyfq7c
VOTING and PRIZES
After the jam is over, everyone who submitted a project will be able to vote for their favorite entry. Each entry can be rated separately for STYLE and SUBSTANCE, and itch.io's new voting system will prompt you to rate a random selection of 5 entries before voting freely so that no entries get ignored. The voting period lasts from 8/1 to 8/31.
The winner of the jam will receive a physical copy of FIST: Ultra Edition, printed by Mixam! The physical copy you get will be one of the first ones ever made as we haven't set up a proper publishing situation yet. Everyone who submitted a project can also contact our jam-running email address, moonsofcerberus@gmail.com, to claim a digital download key for the FIST adventure MANDELBROT SET as well.
Once the voting period starts on 8/1, we'll make a second physical copy of FIST: Ultra Edition available as a prize via raffle. You'll be entered into the raffle if you visit our discord server and post about your experiences trying out someone else's entry to the jam! Additionally, if you show us a screenshot of a rating + comment you left on someone else's work, we'll enter you in the raffle twice.
Thanks for reading and we hope to see your project in the jam!
All the best,
CLAYMORE