8-Bit Homebrew Bundle
In an international collaboration, four indie NES devs team up to bring you this four pack of 8-Bit NES tastiness! Chock full of adventure, platforming, and puzzle solving goodness! Right off the heels of successful crowdfunding campaigns, these games are sure to bring you hours and hours of retro excitement!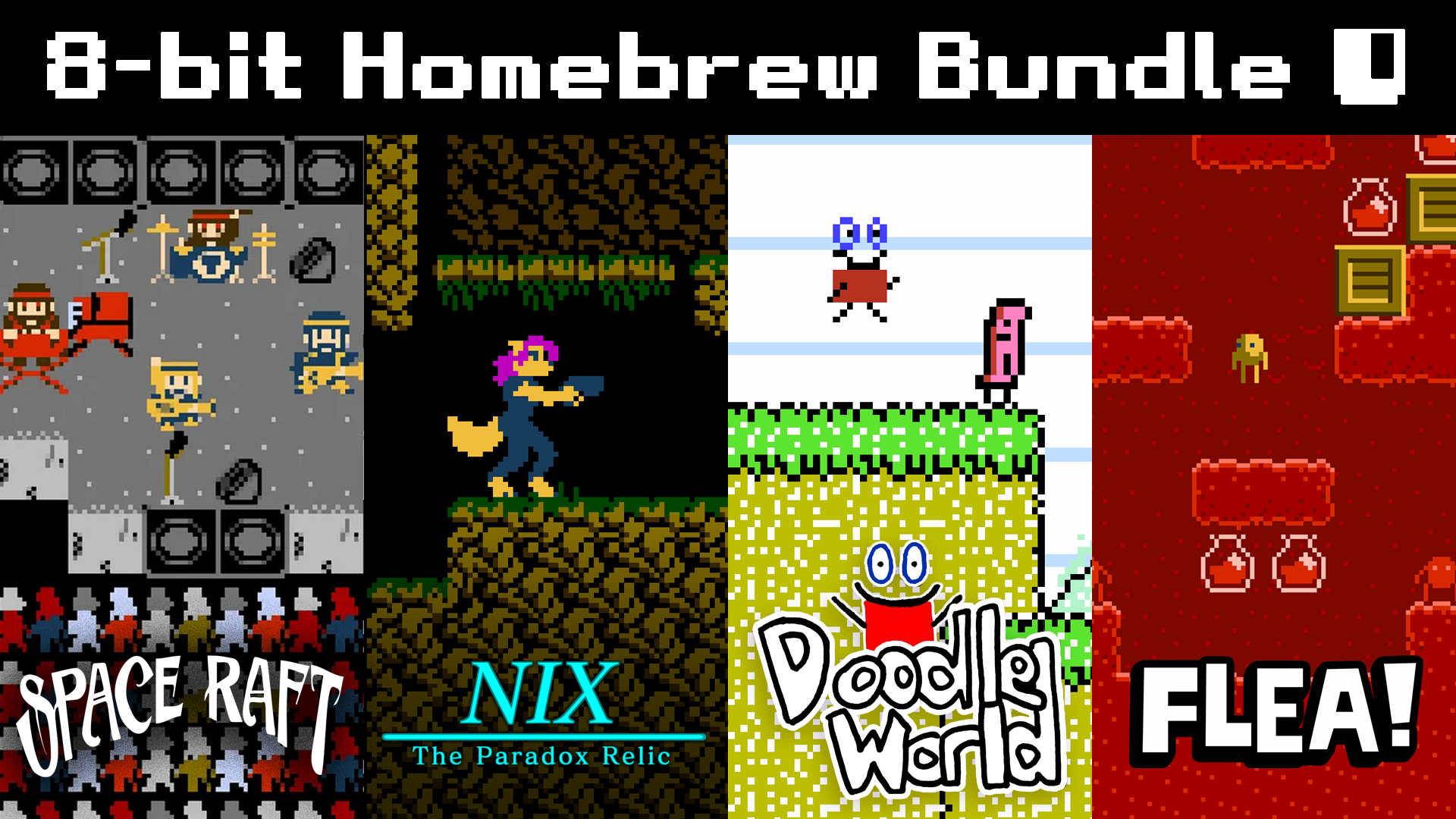 This bundle includes

Flea! - Lowtek Games Twitter

Flea is a challenging platformer with an intriguing back story. Play as Henry the Hyperactive Flea who just can't stop jumping! Navigate the beast and collect blood to get the heart of the problems.
Nix - Chronicler of Legends Twitter
A group of dangerous space pirates have hidden in the abandoned Neoterica Research Facility, built into the side of a huge asteroid. The facility is very dangerous, the home of many fearsome monsters and failed experiments. Valuable relics and technology exist in the facility but most adventurers are too scared to even try and enter it.
You are Nix, the only bounty hunter tenacious enough to enter the facility and take down the pirates. Use your special abilities as a Caniden to make your way deep into the facility, capture the pirates, and discover the secrets of The Paradox Relic!
Space Raft - Raftonaut Twitter
Milwaukee's hungriest band Space Raft are in pursuit of their jealous ex-bass player Srini in this new homebrew adventure for the NES. Take the wheel of the Space Raft Van and guide the band past obstacles to beat the traffic, or control the members of Space Raft to clear the screen of sandwiches and thwart the plans of Srinimania.
Doodle World - Nate Peters Twitter
The evil King Eraser and his office supply minions had stolen the magical crayon used to create Doodle's amazing world! Play as Doodle and travel across the world to defeat King Eraser and his minions. Along the way you will encounter numerous office supply enemies and eraser bosses.
Each game's digital pack includes:
NES ROM
Digital Manual
Artwork
Soundtrack
Each game's NES ROM format and can be played on most emulators, we recommend MESEN.
Load up your emulator and dive into the 8-Bit Homebrew Bundle today!