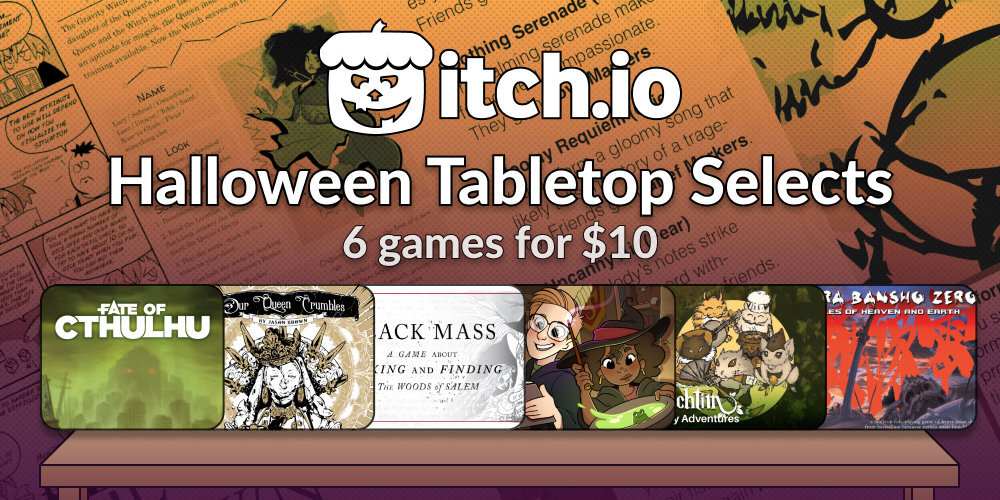 There's a brand new Tabletop itch.io Selects bundle ready to haunt you and your pals now. For just $10 you get the following 6 games:
Alright investigators, pick up your forbidden tomes and try not to lose your minds in Fate of Cthulu. Based on the legendary Fate system, this time traveling adventure pits your plucky band of heroes against eldritch horrors to prevent an apocalypse that has already come to pass. Will humanity make it out of this one, or are the unknowable just too powerful? Only you can answer that question in this accessible take on a classic genre.
Maybe your preferred version of Halloween is less "ancient evils have taken over" and more "I want to go on a cute wizard adventure with my pals." Well have I got the game for you. Arcana Academy is a fresh take on the magic school for precious youngsters genre, but with you and your party at the center of the action. Is there a mystery afoot on campus? Is it time to take out the school bully via a complex series of spells? Anything is possible in this open-ended adventure based on the immediately playable Powered by the Apocalypse system.
In what may be the most thematically appropriate game in the bundle, Black Mass is a spooky game of witches in the woods surrounding Salem Massachusetts. What makes this game particularly interesting is that your party aren't creating characters to play, but are taking on different elements of two established characters' personalities. This twist lets you really explore the woods and setting without going too off the rails for maximum Halloween fun.
The Queen is dead and it's up to you to apprehend her assassin. To make matters worse, you were in charge of keeping the monarch safe. Travel the countryside in a premade band of characters and reminisce about the life that was lost in this gorgeous adventure. Nobody has to be the GM here as everyone gets to help set the scenes. This is a perfect small-group game and one that nobody should miss.
Ok so what if we got even cuter with the games in the bundle? What if we had a game about playing as tiny hamster-esque creatures hoping to guide humanity back to nature? Well guess what nature-lovers, we have exactly that. Michtim takes your favorite 80s shows like Fraggle Rock or the Smurfs but makes them cuter. Your tiny creatures are in a dangerous world full of beauty and delights where you have to remain vigilant for both hostile environments and the beauty of life.
The last game in this bundle comes to us all the way from Japan. This beautiful book takes samurai, mecha, monks, and sorcery and wraps them all up in a classic anime aesthetic. If you watched anime in the 90s you know exactly what you're in for. But don't let this trick you into thinking you know just what's possible in this massive 700 page book, because this collection includes all of the content that was released after the game first shipped. Get ready for massive adventures in this cult masterpiece.