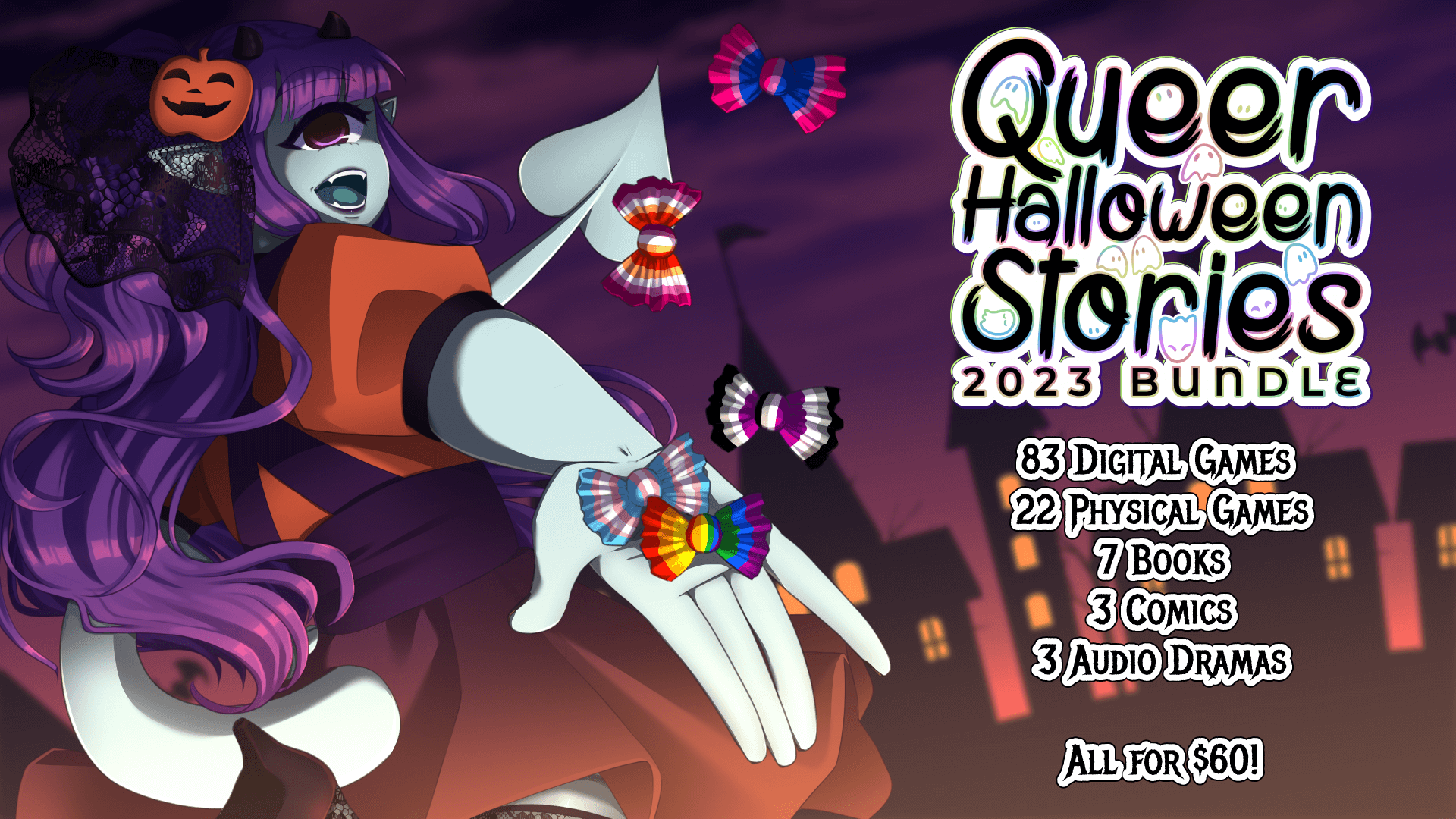 It's that time of year again, and that means it's time to break out the campfire stories! The Queer Halloween Stories Bundle returns for 2023 with over 100 projects from over 80 folks from around the globe, ranging from the spooky to the spoopy and sometimes the downright unnerving! In this bundle, you will find...
83 Digital Games (with 2 separated translated builds)
22 Physical Games
7 Books/Zines
3 Comics
3 Audio Dramas
Please note that of the above projects, 15 of them contain subject matter that is considered NSFW in nature. Those interested in purchasing the bundle should be aged 18 years old or over.
The Queer Halloween Stories Bundle is a mutual aid bundle directly benefiting queer indie developers, authors, and artists, with all sales split evenly among participants who have opted in to receive funds for their work. For the price of one AAA title, you can help fund the future of queer art by supporting these creators and discovering titles you won't find anywhere else.
FAQ
What is the Queer Halloween Stories Bundle?
The Queer Halloween Stories Bundle is a grassroots indie media bundle that hopes to bring attention to the underground world of queer horror and other Halloween-adjacent art while financially supporting the folks behind these projects.
How much does it cost?
This version of the bundle costs $60, AKA the price of one AAA game. If money's tight then we also offer the $10+ Treat Edition of the bundle which contains all the same content, though we encourage you to purchase this version if possible to maximize support for our participating developers.

How long will the bundle be on sale for?

The bundle is available for purchase from October 1, 2023 to October 31, 2023.

Who are the organizers?
The Queer Halloween Stories Bundle is spearheaded by tofurocks/Project Ensō with the assistance of Drazillion and Dulcia Games.

Who drew the promotional art?
Candy the Cyclops was originally designed by inkymaw. This year's main promotional art was drawn by Isla of milk+ visual, with logowork by Madi of Sad Ghost Studios. Alternate pixel promotional art was drawn by Quinn K.
Goals:
$1000.00 Smashed on October 2!
$2000.00 Smashed on October 4!
$3000.00 Smashed on October 6!
$4000.00 Smashed on October 8!
$5000.00 Smashed on October 9!
$6000.00 Smashed on October 10!
$7000.00 Smashed on October 13!
$8000.00 Smashed on October 14!
$9000.00 Smashed on October 16!
$10000.00 Smashed on October 20!
$11000.00 Smashed on October 22!
$12000.00 Smashed on October 23!
$13000.00 Smashed on October 25!
$14000.00 Smashed on October 26!
$15000.00 Smashed on October 28!
$16000.00 Smashed on October 30!