Update 3: Nimona has generously offered another stretch goal in the shape of xer brand-new game, Destined/Defiant! "If the TTRPG Charity Bundle for Afghan Support reaches the lesbian number of $8,008, everyone who purchased the bundle will get this game at no additional cost." There's another target for everyone!
Update 2: we hit $5,000! In accordance with popular vote, I'll be finishing 'a game of Brit school hijinks' and providing a free copy to everyone who bought the bundle. Please be patient though!

Naturally, I have no choice but to set a NEW stretch goal. Get us to $10,000 for Afghans in danger and I'll write ANOTHER product, completely free to everyone who has bought the bundle. I don't know what, yet...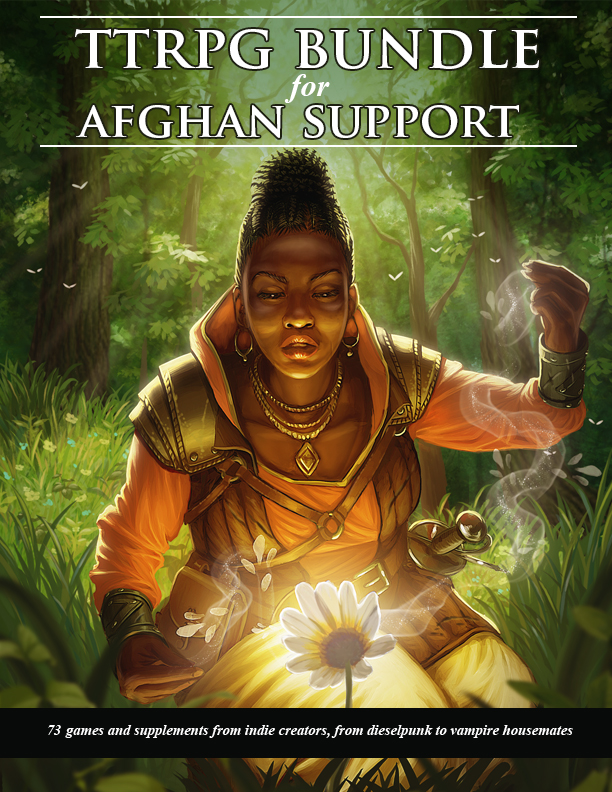 Image description: The title in white capital letters reads "TTRPG Bundle for Afghan Support". The image shows a Black woman wearing red clothes. She is in a sunlit forest, kneeling in front of a glowing flower and tugging at strands of mist that drift from the flower. The subtitle is in white text on a black bar, and reads "73 games and supplements from indie creators, from dieselpunk to vampire housemates"
This bundle aims to support Afghans who are targeted by the Taliban for their activism, participation in the former legal system, or cooperation with international organizations.
We are raising funds for the phonecreditforafghans Justgiving appeal, who state:

"We are predominantly working to help Afghan women and men who are seen as targets by the Taliban: judges, lawyers, activists and those who have worked with foreign forces and organisations. Most of these families are in hiding and moving locations every few days to escape the Taliban. They cannot go to the banks to get cash out, they cannot go shopping for food and other essentials, and they don't have money left to top up their phones. Without phone credit, they cannot access information about security threats or evacuation options and cannot maintain contact with family and friends in Afghanistan and abroad."
(further details on their work are on the Justgiving page)
The bundle will be live until the end of October 2021, and all proceeds will be donated to the Justgiving appeal. Help save lives and get $270-worth of games and related products for just $20 all in one go! Of course, if you are able to contribute more, we encourage you to do so.
The bundle contains a wide range of gaming products, ranging from solo journaling games to group TTRPGs, from GM-less collaborative games to combat systems, from new classes, playbooks and spells to a surprising number of games about the undead.
Update 1: we're within a gnat's whisker of $4,000 raised for vulnerable Afghans! If we hit $5,000 I will add another RPG product to the bundle, free of charge to everyone who's purchased it. Want to help decide what that should be? Get on Twitter and vote.