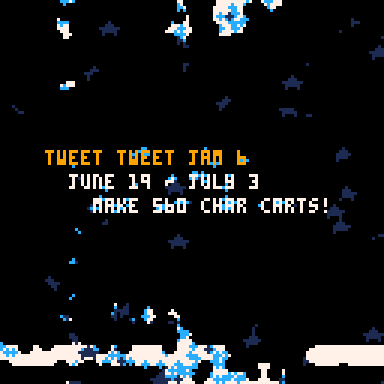 It's the sixth biannual TweetTweetJam! Make a game in 560 characters of code.
Why 560? Because you don't always need a ton of code to make something fun. Because sometimes it's nice to scale back. But mostly because it's the length of two tweets. PICO-8 is our recommended tool, but TIC-80 and other text-based engines will work as well!
The length of the jam has been doubled this time around. We hope that the extended time will help those with little time, and for those with a little more to make multiple entries.
Rules:
Your final game code must be 560 characters or less. This includes spaces and brackets, but doesn't include the code composing your framework or engine.
No spritesheets or external art libraries allowed! All of your game art must fit into your code. Symbols such as 웃 and ★ are acceptable, as long as they work in your editor and can be included in a tweet!*
Submission go here. You don't need a twitter account to enter!
Multiple entries are allowed - and encouraged!
TweetTweetJam is not ranked. It's for funsies!
Just to be extra clear: you do not need a twitter account to enter. All you need is an itch.io account so you can submit to this jam.
If you are posting on twitter, please use the official hash tag: #TweetTweetJam
If you need some inspiration, check out these pages for ideas:
Need help cutting down on characters? Check out this handy gist by kometbomb.
*special characters (UTF-8) are multi-byte characters. Whilst they count as 1 character by PICO-8, twitter will count them as 2 (or more?), meaning that some 560 character entries will actually occupy 3 tweets if posted to twitter. We go by the PICO-8 count returned by the info command, so this is fine!