Make a tiny game using Pulp in a weekend. All welcome!
Theme
🍳Cooking

A game about cooking a meal, running a restaurant, being a food inspector, etc.
Example: Eggly
Limitation (Optional)
🚪One Room
Your game may only use one room. You may include a title card "room" but the player must not be able to go there.
What is Pulp?
"Pulp is a game maker for Playdate. If you've never made a game before, or you're looking to try a fun, quirky sandbox for prototyping, Pulp can scale from goofing around to building a full Playdate game.

It's an all-in-one game studio, in your web browser. Drawing tools, animation, level editor, custom font, chiptune music and sound effects. And a surprisingly capable code editor, if you want to use it."
You can make games and play them with Pulp, all in your browser!
To use Pulp, click the link below and create a Playdate account to get started!
How to Play?

To play a Pulp game in your browser:
Download the game's .json file.
Go to the Pulp website and click Try It to register an account. This will give you access to the Pulp beta editor.
Go to the Pulp editor.
Press IMPORT and choose the downloaded .json file.
Press PLAY and the game will open in a new tab!
How to submit?
On the game tab under Assets, press EXPORT. This will download .json file of your game which another person can import into their editor and then play! Also click DOWNLOAD PDX, which will download a zip file that can be played on the Playdate console.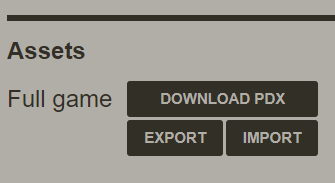 Add the .json and .zip files to your page's downloads. Consider including the above "How To Play" text in Install Instruction section.
For how to create an Itch.io page read Your First Itch.io Page.
Example of a game page: Eggly.
Rules
Games should incorporate the theme. Limitation is an optional modifier.
Make your game within the jam timeframe.
Make your game in Pulp.
No harassment of any kind. No NSFW content, offensive content, excessive gore/violence.
Have fun!
Resources