Welcome to the MY.GAMES Hyper-Сasual Jam 2020!
We invite developers from all over the world to spend three days creating a new hyper-casual game for mobile devices.
Hyper-casual games are lightweight games with simple mechanics that are instantly playable and keep the audience coming back for more. The MY.GAMES Hyper-Сasual Jam is searching for new mechanics and fresh ideas within the genre.
The Jam gives you a unique opportunity to test your idea with real users. The best game will be determined based on real user metrics.
Test your idea and get the opportunity to receive up to $50,000 for game development!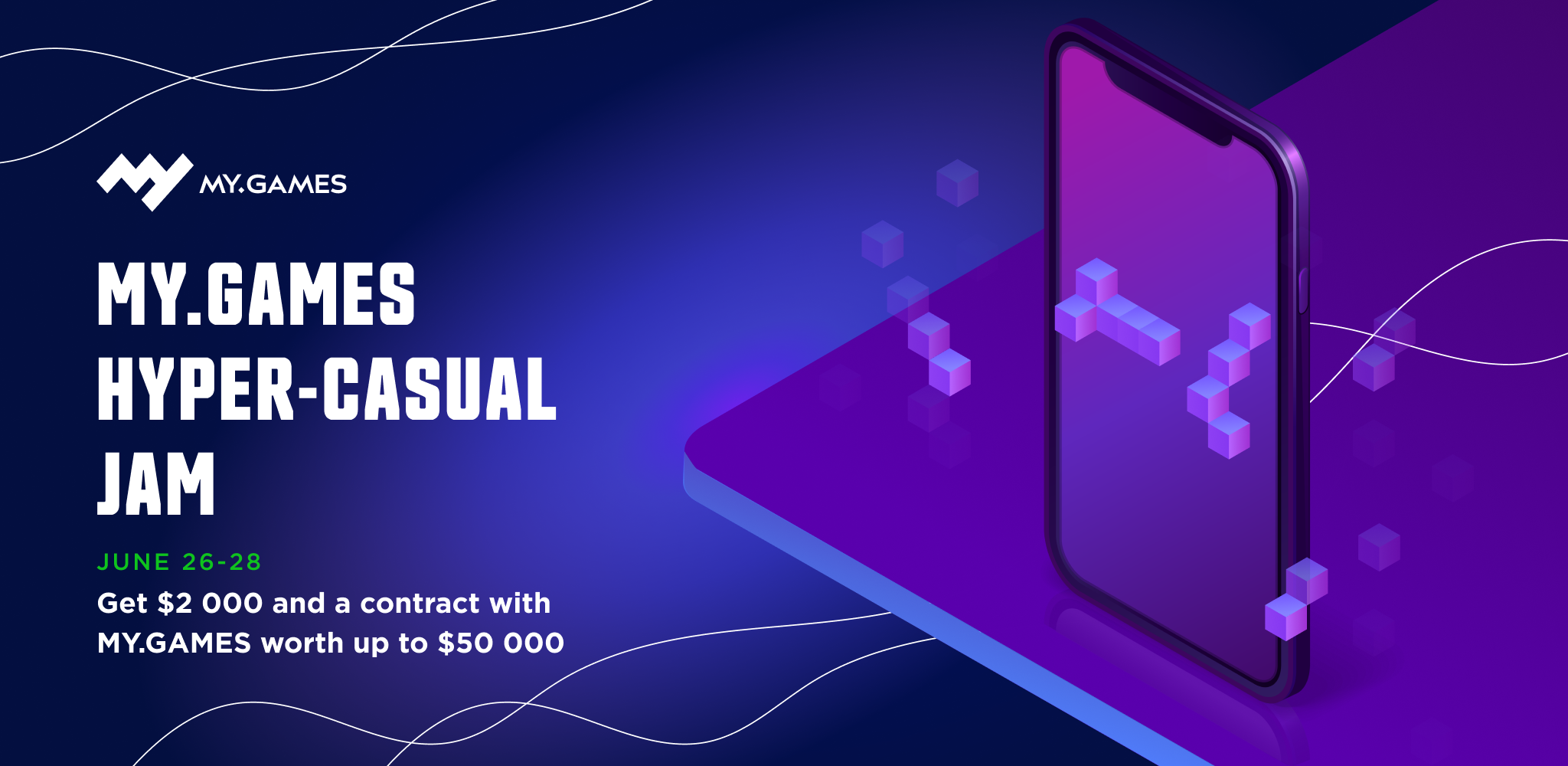 RESULTS
https://itch.io/jam/mygames-hypercasual-jam/topic/905257/jam-results


The Jam is taking place at: https://mygames.spatial.chat
Contact us for questions: mygameshypercasual@mail.ru

10 June - Applications open for the Hyper-Casual Jam
17 June - AMA-session with MY.GAMES hyper-casual team
25 June - Welcome Party
26-28 June - The Hyper-Casual Jam takes place
Results will be announced by 31 July
1. When will the MY.GAMES Hyper-Casual Jam take place?

The jam will take place from 26 June to 28 June. During this time developers will create a brand new hyper-casual demo from scratch. At the end of the jam, teams will submit up to three 15-30 second gameplay videos for the judging process.
2. Who can take part?
Any developers who are interested in the hyper-casual gaming genre. It does not matter what your background is - if you're a solo developer or a team. If you have a great idea for a casual mobile title, this is your chance to see it become a reality.
3. How do you apply?
To take part, submit your application here: https://mygames-x.typeform.com/to/dnTH2N.
To enter you will need:
A title for your team
A designated email address for all correspondence
A designated messenger app (optional)
Once your game has been developed (in the end of the Jam):
Upload three 15-30 second demo videos of your game here till 22:59 CEST (23:59 MSK), June 28: https://tiny.cc/jam-sub
4. What kind of games are eligible?
As long as the game is within the hyper-casual format, it can be of any genre. The main condition: it must be a hyper-casual game and must be designed for mobile platforms.
5. What assets do you need to submit?
All teams need to create a brand new hyper-casual demo for mobile platforms from scratch. On the final day of the jam, teams will submit three 15-30 second videos of gameplay for the judging process.
6. Tell us about how it works?
Any game with a Click Through Rate (CTR) of more than 5% may receive $2000 and a contract with MY.GAMES worth up to $50,000 for development support and a 60% net profit share once the game is globally published. Cash will be allocated in accordance with the games' marketing test results. All submissions also have the potential to be judged in the following nominations:
Best Mix of Ideas
Best Original Gameplay
Best Art
Best games of these nominations will be announced on the Jam's website.
7. Who will be the judges of the MY.GAMES Online Jam?
Best games will be determined by the public through the aforementioned click-through rates on promotional posts of your demo. Best games have to achieve a CTR of more the 5%. The additional subcategory will be determined by MY.GAMES Hyper-casual Division, also on a metrics basis.
8. What will teams with 5% CTR get?
Each team with a CTR of more the 5% may get $2000 per team and a contract with MY.GAMES. The contract is worth up to $50,000 for development support. All submissions will be judged by their future potential as a fully developed game.