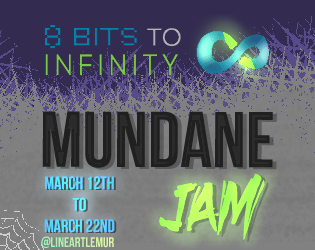 Thanks to lineartlemur for the awesome logo!
An open challenge to create a game prototype whose core loop is a mundane task or job.

All skill levels are welcome, from beginner to professional.
Hosted by 8 Bits to Infinity, a game development community improving creative and technical skills through rapid iteration and honest, critical feedback. Join us on Discord, check out our website, and take a look at our past jams and challenges.
Limitation (Required)
To qualify for the jam, your submission must involve some mundane real-world task or job. Popular examples include farming (Harvest Moon, Stardew Valley), city planning (SimCity, Cities: Skylines), tycoon games (Game Dev Tycoon, Prison Architect, Planet Coaster), and more (Papers, Please).
The challenge is to take this task which is mundane in real life and make it fun in video game form.
Theme (Semi-Optional): DECAY
The theme is meant to be an inspiration to kickstart your game ideas. You are free to interpret it however you like.
The theme is also optional, but one of the five rating categories is Theme/Limitation, so it counts for about 10% of your score.
Challenges/Diversifiers (Optional)
Looking for additional challenge in the jam? You can use any number of diversifiers listed here.
Judging and Prizes
When the jam ends, games will be open to rating by anyone who submitted a game. The highest scoring overall game will be crowned Community Choice. Check out the Ratings Guide for how to interpret the categories.
A panel of judges will also rate games based on a rubric to determine a Judges Choice winner.
Winners will receive:
The jam-winner role on the 8 Bits to Infinity Discord server
A place in our list of jam winners
Rules and FAQ