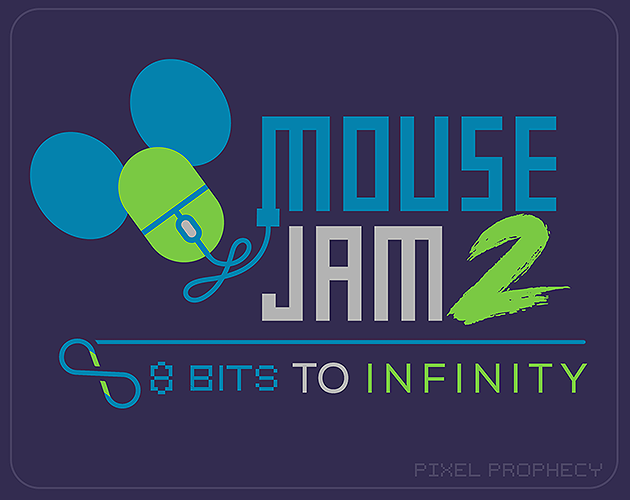 Thanks to Pixel Prophecy for the awesome logo!
An open challenge to create a game prototype controlled exclusively by the mouse.

All skill levels are welcome from beginner to professional. New to this whole thing? Never made a game before? Play some jam-winning games to see where you can be after several jams of practice.
Keynote / Theme Announcement
About Us
Hosted by 8 Bits to Infinity: a game development community improving creative and technical skills through rapid iteration and honest, critical feedback. Join us on Discord, check out our website, and take a look at our past jams and challenges.
The man behind 8 Bits to Infinity is Retro Indie Josh (aka Joshua McLean): streamer, musician, and game developer. Check out his game music (free for you to use in jams and commercial projects!) and his streams and other work.
Focus (Required): Mouse Only!
Input is limited to the mouse position, three buttons (left, middle, right), and the scroll wheel. Although a mouse can have a ton more buttons and gadgets and things, we're sticking to this simple definition for the jam focus.
Theme (Semi-Optional): CHASE
The theme is optional, but remember Theme/Limitation counts for 1/6th of your Community Choice score. Also, the theme can be a great way to come up with ideas if you're stuck!
You are free to interpret the theme however you like. Looking for an interpretation outside the box? Try the Wikipedia article for "chase" - there's tons of obscure stuff there.
Judging and Prizes
You (contributors to any game entered into this jam) determine the Community Choice by voting on games after the jam concludes. Check out the Ratings Guide for how to interpret categories and tips on good star ratings.
The highest overall rated game will be the winner and placed in the list of 8 Bits to Infinity jam winners. Up to six other games may qualify as runners up for winning in each of the six categories.
All winning games will be included and highlighted in the post-jam showcase video on the 8 Bits to Infinity YouTube channel..
Rules and FAQ
See the Jam Rules and Jam FAQ for more details.
Can I use shortcut keys for mouse actions?
Nope! No keyboard allowed. Mouse only.
Can I have controller support where the stick works like a mouse?
Nope! No controller allowed. Mouse only.
Can I use the up/down buttons on the side of the mouse or -insert other mouse button here-?
Nope! Only the left, middle, and right click.
Can I use the scroll wheel? And infinite scroll?
Scroll wheel, yes. Infinite scroll, yes, but remember some of your players might not have such a fancy mouse.
Can I support touch controls?
Yes, but the game must also support mouse inputs, and you cannot include special gestures or multi-touch that a traditional mouse would be unable to do.

Wait, do I have to disable stuff like alt+tab and the full screen key/combination for my engine?
No, just don't add new keyboard controls. Don't worry about operating system controls. If your engine handles keyboard shortcuts by default, do your best to disable them, but don't waste the whole jam figuring it out. As long as your game is entirely playable by mouse and you haven't added keyboard controls, we will accept your entry.
Jam Specific Rules
No limitations on:

Graphics
Audio
Engine/library/framework, programming language, and other tools
Challenges/Diversifiers (Optional, but fun!)
Looking for additional challenge in the jam? You can use any number of diversifiers listed here.
Schedule
Development (main jam): March 10 - 20 (1pm ET)
Community Choice voting: March 20 - 27 (1pm ET)
Streams by Retro Indie Josh: March 22 at 4pm ET and March 25 at Noon ET on Twitch
Winners and ratings announced: April 3 (1pm ET)
Submitting
WE STRONGLY RECOMMEND YOU UPLOAD AND SUBMIT EARLY.

You are allowed to modify your game page, including files, until the deadline.
You are allowed to edit answers to your submission questions (through your submission page) until the deadline.

Step 1: Click the Join Jam button at the top of this page.
Step 2: Make your game.
Step 3: Create a game project page on itch and upload your game files. See this documentation for help.
Step 4: Submit the game to the jam. After uploading your game, return to this page and click "Submit Your Project" at the top.

Be prepared to answer a few questions about your entry when submitting. You must answer all of these questions honestly and completely before the deadline.
Submission time is a hard deadline. No late submissions will be accepted.
Although you cannot modify files after the deadline has passed, you are still free to edit your game page. But note it is a violation of the rules to link to an updated version created after the deadline, and your entry will be removed.