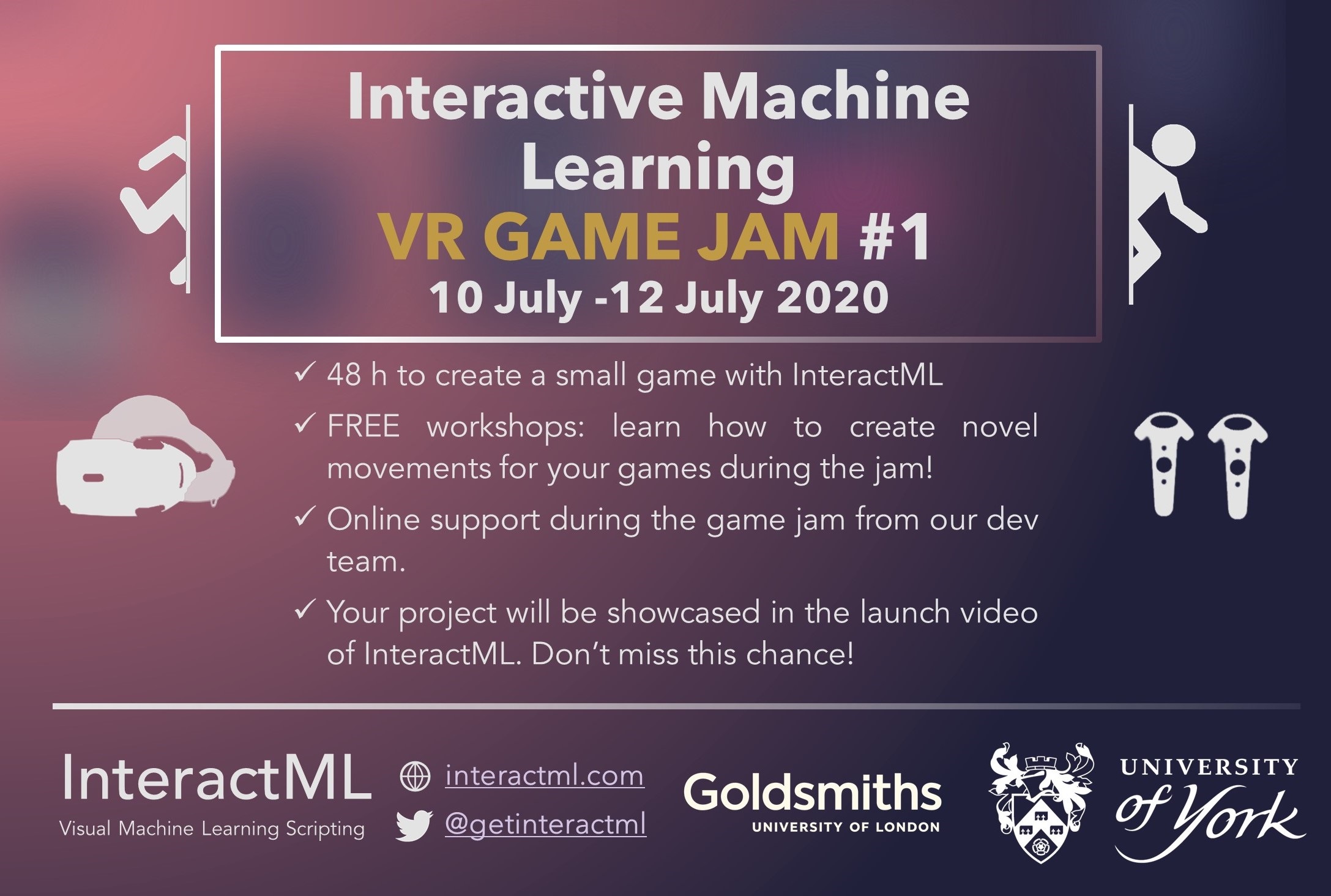 This is a 48 hour game making marathon, focused on learning how machine learning can be used to create more expressive immersive games. The jam runs from July 10th, at 8PM UK time, to July 12th, at 8PM UK time.

You will learn about novel movement interactions in VR and state of the art AI techniques for games in Unity. All visually scripted!
This project is part of the Games Intelligence and Intelligent Games PhD programme between the University of York and Goldsmiths, University of London. The funding body is the Engineering and Physical Sciences Research Council (EPSRC) in the UK. Therefore, you will be learning for free!
Here's what you need to know:
Who can enter? Anyone who is above 18 years old, from anywhere. You can work alone or in teams.
Is there a Discord I can join? Yes (you will need to complete the University consent form)! Click here to gain access.

What can I make my game in? Unity 3D + InteractML! InteractML is designed as a Unity plugin. Last version tested is Unity 2019.4 LTS. You can download InteractML from here and Unity from here

What equipment is required? Any VR headset or motion controller is good to go (i.e. Oculus Quest, Rift, HTC Vive, Valve Index, etc.)

What is the prize? Getting showcased in our beta launch video! We will showcase all projects in the upcoming interactml launch video with your permission. It is a very good opportunity to get your work advertised to both an academic and industry audience.

Will there be online workshops? Absolutely! The workshops are completely free and will be run in VR (Rec Room) or Zoom, depending on what works better. Workshops are 2h long and you can drop-out anytime is convenient for you.
Please, make sure to RSVP to the workshops beforehand so that we can prepare with a bit of time for each.
What assets can I use? The vast majority of code and machine learning graphs must be created during the jam, but you can use whatever art and audio assets you have the legal right to use.

Can I submit to another jam if I wish to? Totally! Indeed, we are joining forces with the Game Dev London Summer Jam 2020 as well. Feel free to submit there if you wish to!

Schedule

Friday, 10 June: 8pm - 10pm BST. Jam Starts! Join our Discord community to attend the kick-starting talk and search for team members. Also don't forget to check out the InteractML video-tutorials and documentation.
Saturday, 11 June: 8am - 8pm BST. Workshops and Jamming! There will be an array of workshops designed to help you design interesting and expressive movement interactions. We will be online in the Discord server to answer any questions you might have.
Sunday, 12 June: 9am - 8pm BST. Last day of the jam! Finish up and share videos on Discord. Wrap up your project and present to the others your game and the cool and innovative interactions that you created using InteractML. Remember, you can choose to showcase your project in InteractML's beta announcement!
Important information
You don't need a VR headset to participate in the workshops or in the game jam, but if you do we can make the most of it and run the workshops in VR!
We will be available throughout the jam so that you can ask any questions you might have. And don't worry about asking simple, silly or complicated questions - we are online to assist you with anything, even if it involves jumping on a quick call
Accessibility: Let us know if you will need some support to participate in the online workshops. We are here to help :)

If you have any additional questions, comments, concerns or just want to say hello, please feel free to reach out to us directly.

Email: hello@interactml.com

Further rules:
- Your game needs to use InteractML and be a VR playable experience. It can be a very small incomplete piece work, that's fine!
- We encourage you to join our Discord server (link at the end of the consent form).

- We encourage you to submit your game to the Game Dev London Summer Jam 2020 as well .

- Games submitted to the IML VR Jam #1 must not contain nudity, or hateful language or visuals.

- Your game cannot require additional software such as an emulator, or a game like Super Mario Maker 2, Roblox, or Dreams.
- You may re-use some small bits of code, such as controller support or some of the examples graphs included with InteractML.

Legal bit:
- Anything you make during the IML VR Game Jam #1 is your property. IML VR Game Jam #1 claims no rights or ownership of your game.

- You can only get support with InteractML and your game by joining our Discord server

- Games submitted to the IML VR Game Jam #1 will be included in the beta launch video of InteractML, but only with your consent. Make sure to join our Discord server to grant permission for us to showcase your work! You will need to complete the University consent form.