India's oldest game jam returns this year with the India Game Developer Conference 2020!
The 15th edition of BYOG (2010-2020) will be a 48-hours jam, starting on the 30th of October and concluding on the 1st of November.

What is a BYOG?
BYOG (Build Your Own Game) is an annual game jam, where game developers all over the country come together to make a game within a limited amount of time over a combination of themes. Started in 2010, BYOGs are one of the oldest game jams organised every year in the Asian continent and have a rich history of identifying and encouraging game development talent from the country. Past winners have gone on to win multiple international awards, launch successful game development companies, and make amazing games and careers.
When & Where
Here, online on Itch.io!
30th Oct - 1st Nov: BYOG Round 1
2nd Nov - 4th Nov: Jury Evaluation
5th Nov: Winners announced for Round 1
5th Nov - 8th Nov- BYOG Round 2
20th Nov - Winners announced for BYOG 2020
Why Participate?
There are a number of reasons why you should participate in the BYOG:
Create a working prototype (proof of concept) of your game in a focused sprint, in limited time
Get judged by an awesome jury and get real constructive feedback
Showcase & push your game development skills and level up
Team up with other awesome developers

Format this year?
As promised, this year's BYOG comes with a BIG TWIST! Here's how the jam is structured for this year:

1. Round One (30th Oct - 1st Nov): Free-for-all 48-hour Game Jam. The jury picks 10 winners from this round.
2. Round Two (5th Nov - 8th Nov): The winners from last round get to improve their game based on the feedback and submit for re-evaluation. The jury will pick 3 winners from this round.
All the winners from Round One get exciting prizes but if you end up winning the 2nd round, you get an additional BIG FAT prize!
Prizes
The winner at the end of both rounds is eligible to win: a cash prize of ₹75,000!
The runner-up is eligible to win: a cash prize of ₹50,000!

The second runner-up is eligible to win: a cash prize of ₹25,000!
On top of that, all (3) winners at the end of both rounds are also eligible for the following prizes:

A free license key for Cross Platform Native Plugin for Unity.
A free license key for Cross Platform Replay Kit plugin for Unity.
$200 worth of credits for BountyRush.

All (7) remaining winners at the end of both rounds are eligible for the following prizes:

A free license key for Cross Platform Easy Save plugin for Unity.
A free license key for Cross Platform Snapchat Kit plugin for Unity.
NOTE: Only people living in India (Indian Citizens) are eligible for prizes.
The Theme
You are free to use one theme or combine two or three themes together for this jam. The themes are...
One Second
Unlearn
Jump Gone Wrong
Jury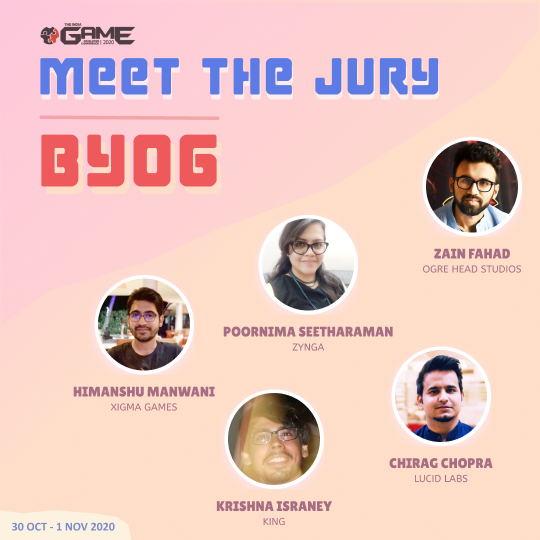 Judging Criteria

This year, we've managed to get some of the industry experts to be the Jury and they are going to play all the games and judge them on the following criteria:
Overall Experience - How was the overall experience of the game?
Relevance to Theme - How relevant was the theme of the game?
Gameplay - How engaging/fun was the gameplay? Was it interesting, meaningful etc?
Innovation - Did the game do something new that you may have not seen before?
Aesthetics - How aesthetically pleasing was the experience - narrative, visual, audio etc?
Team Up!
Come over to the Discord to find jammers who would want to team up!
Our sponsors and supporters
Crazy Labs: Top 3 casual and hyper-casual mobile games developer & publisher, with over 3.5 billion downloads for games like "Acrylic Nails", "I Can Paint", "Tie Dye", "ASMR Slicing", "Soap Cutting" and many more. CrazyLabs has offices in Israel, China, Macedonia, Germany and Ukraine, and has recently launched new gaming hubs in India and Israel. Check out Crazy Labs' here: https://www.crazylabs.com/


Voxel Busters: A top-tier plugin developer on Unity, till date Voxel Busters sold more than 15,000 licenses across the world and the plugins offered are being used in many of the successful games. Some of their popular plugins include "Cross-Platform Native Kit" and "Cross-platform Easy Save". Check out their plugins here: https://assetstore.unity.com/publishers/11527


Bounty Rush: A next-generation monetisation platform which allows developers to integrate reward-based competitions in their games with their simple SDK. Check it out here: https://bountyrush.com/


wemake.games: A platform to help game devs stay accountable and motivated, by sharing their daily goals, wips and more. Signup for free today: https://bit.ly/3kDYGkz
---
FAQ
# Do we have to register as a team or as an individual for BYOG?
You need to have a valid Itch.io ID and should have signed up for the jam before the submission is due. Only one individual in the team needs to have joined the jam. It will be useful to have other members on itch.io as you can add them to your submitted game as contributors.
# Do I need to be on the discord?
All communication during the jam will be via the discord channel #byog on https://discord.gamedev.in. So yes, you need to be there.
# What is the maximum number of members that I can have in my team?
You can participate solo or in a team, maximum of 5 members in it.
# Can I submit multiple entries to the jam?
Yes, you can submit as many entries to the jam as you want.
# What platforms are allowed for the submission?
We prefer Web, Android, IOS, Windows, Mac and Linux as these will be easily available with Jury. But if you want to build for any other platform, do drop us a message on discord and we will see if we can get that platform to jury.
# Can I use assets from asset stores or code or other assets I've created before?
Yes, you can use open source art or previously created assets (art, music and code etc) for this jam or assets from the many asset stores out there. You can use anything that you legally have the right to use to make a game for this jam.
# How will you let us know if we have won?
You are required to share your discord username along with your submission, we will reach out to you via #byog on https://discord.gamedev.in on discord.
# What is the last date for joining the BYOG?
We recommend joining the jam before it starts! But you can join the jam anytime before it ends on November 1st 2020 at 6:00 PM
# Will we have public voting this year?
There will be no public voting this year! The jury (TBA) will play and evaluate the game in order to find out the winners.

# Can I see games made in previous BYOG?
BYOG 2018 submissions and results can be viewed here - https://itch.io/jam/byog-2018
BYOG 2019 submissions and results can be viewed here - https://itch.io/jam/byog-2019
---

Legal Bit
Anything you make during the BYOG is your property. BYOG claims no rights or ownership of your game.
Any game submitted to the BYOG may be used for promotional purpose by BYOG and gamedev.in without your express permission
A significant amount of game must be made during the jam, but you can use whatever art and audio assets and code you have the legal right to use
Credits
This jam is organized by Aniruddha Hardikar, Chirag Chopra, Vivek Jha and the team at gamedev.in as part of India GDC 2020. This year's jam posters were designed by Chirag Chopra and Archit Vaze.