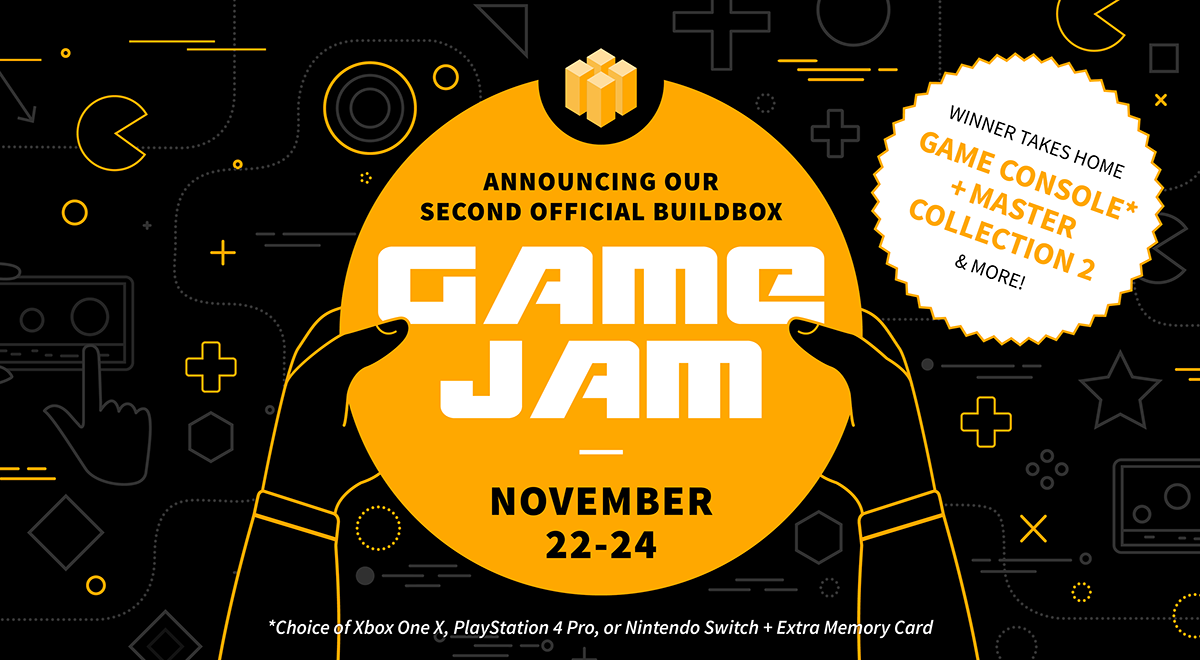 Welcome to the Buildbox Second Official Game Jam!
Make sure to download THIS DOCUMENT for important information about the Game Jam.
FAQs:

What is a Game Jam?
A game jam is an event where participants try to make the best video game they can in the allotted amount of time. Most game jams take place over a single weekend, where everyone has 48 -72 hours to try to make a game, often based on a secret theme that is either voted upon or chosen by the organizers. The theme is used as a limitation that encourages creative thinking. Game Jams can be done in-person or digitally.
How Do I Submit My Game?
You submit your game simply by filling out THIS FORM. Make sure you are sending in your BBDOC before the end of the Game Jam!
Who can participate?
Anyone can participate in a Game Jam. The people who usually participate are video game developers, video game players, and anyone who wants to make a game.
What is the Game Jam Theme?
We will be announcing the theme 30 minutes before the Game Jam starts. Precisely at 11:30 PM PST the night before the game jam.
Who Picks the Winner?
The Buildbox Team :D
We will collect all of your BBDOCS and pick out the game that we think is best overall. We will definitely factor in how well you use the theme in our decision.
Who is allowed to join? Teams or Individuals?
We welcome both! Both teams and individuals are allowed to enter. If you are looking for a team, you can go to CROWDFORGE and create your own or look for other members there. Keep in mind that a team places in the top 3, they must split up or share a prize.
Can you use both Buildbox 2 and Buildbox 3?
Yes! You can absolutely use either one. We do ask that you only submit one BBDOC.
What's the game type?
You're free to decide the type you wish to create. As long as it's not a direct copycat of another game and follows the rules and incorporates the theme, we're good. We do not want to restrict your creativity so go for anything you want.
Will artwork and sounds be provided?
Nope. You are free to use whichever art or music you want as long as you have the permission to do it (you've purchased it or it's licensed to you, you own it, you drew it, etc). Again, we do not want to restrict anyone's creativity and have a bunch of games which look the same.
Can we upload a game already created if it matches the theme?
No. That would be the same as cheating. You can only start working on your game once the jam has started.
Where are updates about the Game Jam located?
We will be announcing the theme on Facebook, Instagram, Twitter, Email, Youtube, Buildbox Forum, and Buildbox Discord.
Instagram: https://www.instagram.com/buildbox/
Facebook: https://www.facebook.com/buildboxofficial/
Twitter: https://www.twitter.com/buildboxcom/
LinkedIn: https://www.linkedin.com/company/buildbox-engine
Youtube: https://www.youtube.com/buildbox/
Pinterest: https://www.pinterest.com/Buildbox/
Discord: https://www.buildbox.com/discord/
Looking for a team?
Go to CROWDFORGE and find existing teams looking for members or create your own and collaborate!
Have a complaint?
Please fill out this complaint form and we will get back to you as soon as possible.