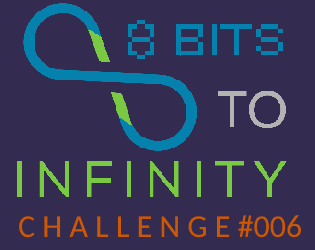 Welcome to the 8 Bits to Infinity Challenge! These small events provide miniature challenges related to games: graphics, audio, or full game prototypes.
8 Bits to Infinity is a game development community hosting regular game jams and challenges to refine our craft. All skill levels welcome! Join us on Discord and explore our website to find out more.
Everyone who contributes to the challenge will be able to vote on entries to determine the Challenge Winner.
Looking for a longer jam? We're hosting the week-long Puzzle Jam II starting June 12th.
Challenge #006 Update a past project in 60 hours
Update a past game prototype, graphic, or audio. For graphics/audio you may update a set of assets and submit it as a pack.
You must include the original in your entry, either as a link or download. The comparison is crucial to rating the game.
You may submit as many entries as you wish, although we strongly suggest focusing on one since time is limited.

Rating
Challenges are rated by entrants and contributors, so if you enter the challenge, please give feedback for and rate the other entries.
Everyone who contributed to the winning entry will receive the challenge-winner role on the Discord server.
FAQ
Is there a theme?
Nope! This would be too limiting.

Can I work with a team?
Absolutely! You can, for instance, update a team project or bring on more team members to improve a solo project.
Where can I ask more questions?
Ask in the community for this jam (see link at the top of the page) or on Discord.
More Challenges
We host challenges regularly and a game jam every month. Check our itch profile for a complete list: https://8bitstoinfinity.itch.io/
Have ideas for upcoming challenges? Suggest them on the form here: https://forms.gle/3GnHVXLtiRnMzfQG.