What is the 3310 Jam?
Make a game that could've been played on the Nokia 3310! Lets make a collection of games that pay tribute to an iconic phone. I am not looking for 100% historical accuracy here (but you are welcome to go as far as you like) I just thought the restrictions of the 3310 would be a fun design space! This is the first game jam I've hosted so if anyone has questions, comments, or concerns please feel free to post in the forum and I will get back to you ASAP. Thanks and have fun creating!
Optional Theme : Starting Over
Restrictions
Games must use the resolution of the Nokia 3310 ( 84 x 48 ) and use the color palette below.
Sound, if any, should be monophonic to reflect the capabilities of the Nokia 3310.
Your game should be playable with a maximum of 12 controls. You may use whatever keys on the keyboard you want. If you want to use classic keyboard controls like arrow keys and WASD for convenience you can. If you want to choose a big block of keys to emulate the Nokia's keypad go for it!
Palette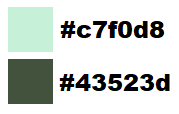 Discord
Here is the discord for this game jam! Come hangout and check out what your fellow jammers are up to!

Crowdforge
If you are interested in creating or joining a team check out the crowdforge page!
https://crowdforge.io/jams/3310jam
FAQ
Q: What programs can I use to make my game?
A: Anything you want.
Q: Is this jam ranked?
A: Nope!
Q: Can I team up?

A: Sure.
Q: Can I start before the jam starts?
A: Yep. But try to keep your working time in the span of three days.
Q: I don't like the color palette. Can I use my own?

A: I picked the palette because I wanted to unify the look of the games. I've seen a few different "Nokia 3310 Palettes" floating around so if you strongly believe in a different shade or scheme you may use it but it MUST be monochromatic and reflect the capabilities of the Nokia 3310's screen.