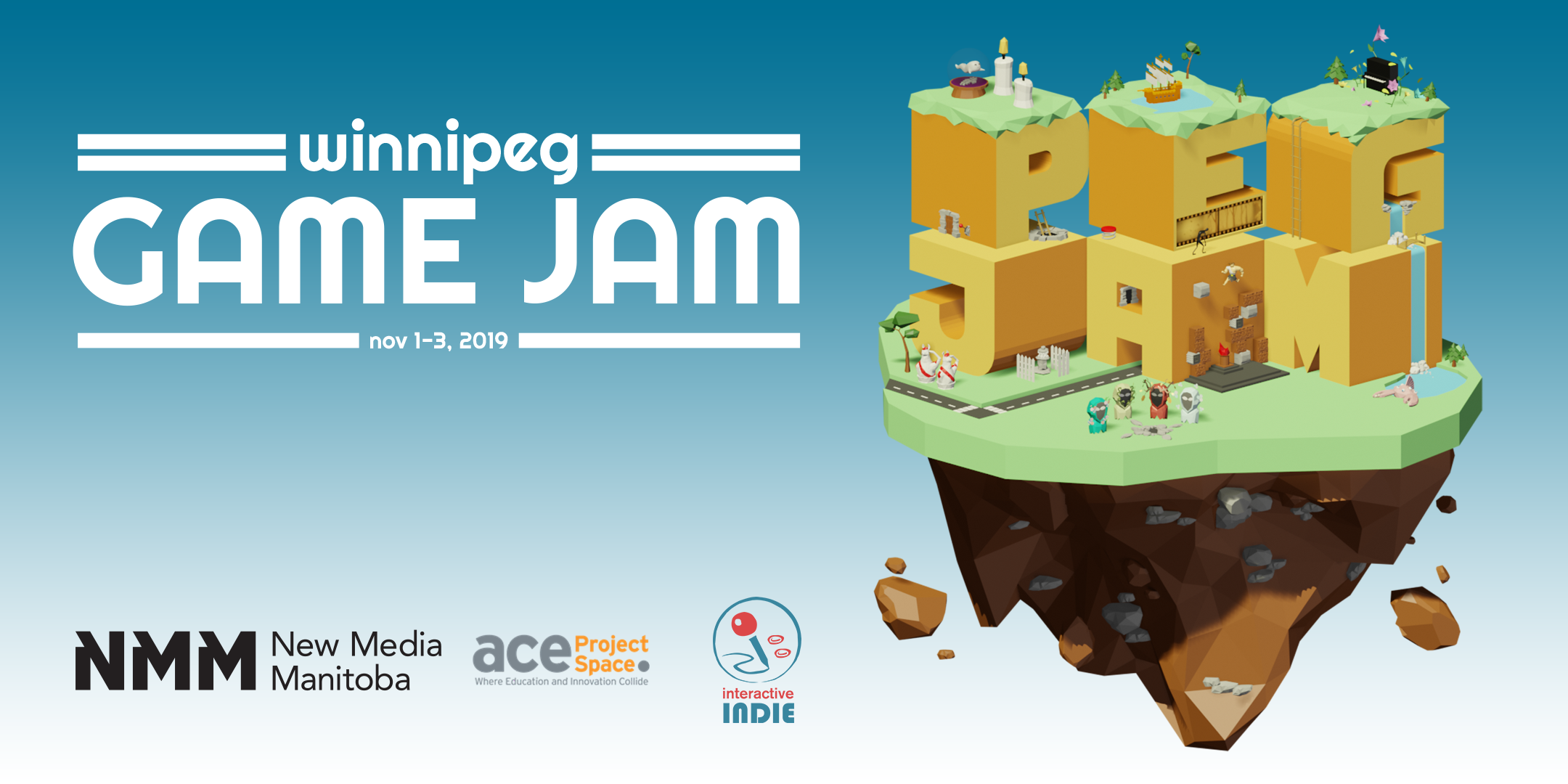 Peg Jam 2019 is Coming Your Way - November 1-3! Register here.
About this Event
Join us for Peg Jam 2019 and collaborate with devs, designers, musicians, and others to challenge yourself to create new and exciting games, interactive experiences and everything in between!
These weekends are a great starting point for people looking to get into game development and an incredible chance to collaborate. No matter your experience, if you love games, can self direct your work, and have a positive attitude a "Jam" is a perfect place to showcase your talents.
Game jams are a great opportunity to learn about our local industry and meet people from the community to collaborate and build video games over the course of a weekend. Work in a space full of programmers, artists, musicians and more to rapidly develop a working video game in a supportive environment. If you've ever been curious about what it takes to make a game this is your chance!
When:
Friday, Nov. 1st | 6:00pm - 10:00pm (Speakers, orientation, theme voting, match making for teams)
Saturday, Nov. 2nd | 10:00am - 10:00pm (Jamming)
Sunday, Nov. 3rd | 10:00am - 8:00pm (Jamming; presentations start at 6pm and are open to guests)
Where:
RRC ACE Project Space | 321 McDermot Ave (5th Floor)
Cost:
Pay What You Can ( All funds will be used to improve the experience of the weekend)
Drinks and Snacks will be provided
Speakers:
Managing Your Indie Studio, with Daniel Blair - Bitspace Development
Daniel Blair has been building and managing Bit Space for 5 and a half years, over this time he has worked with a lot of different people and built a diverse workplace. This has not come without challenges to overcome, This talk will explore some of the challenges you face as a manager of an indie studio and the effect it has on your mental health.
Get Your Dream Game Made, with Corey King - ZenFri
Ever wanted to start your own studio? ZenFri Inc. co-founder, Corey King is here to help you get started. Corey will discuss how he and his wife, Danielle, went from having minimum wage jobs to raising $1.5 million for "Clandestine: Anomaly" despite having no direct experience in game development. Infused with advice and tips - "Get Your Dream Game Made" is meant to help aspiring developers understand the path to get their own studio started, and presents a road map to avoid some of the biggest mistakes.
Jam your Best Jam, with Matt Woelk - Ubisoft
Strategies for completing and shipping a game in one weekend, from 19-time jam-shipper, Matt Woelk
Check yourself before you wreck yourself: why it's good to listen, with Rebecca Harrison - Proxi Games
Destroying "real game dev" culture to foster inclusivity of a range of perspectives and backgrounds while making games, especially backgrounds that aren't traditionally thought of as game development. Remember: don't take yourself too seriously, game jams are fun!

---------------------------
FAQ
What is a game jam?
A game jam is a hackathon for video games. It is a gathering of people for the purpose of planning, designing, and creating one or more games within a short span of time, usually ranging between 24 and 72 hours, and some even longer.
Do I need a computer or other equipment to participate in this event?
Yes, ideally a computer with your game development software installed and ready to go. Alternatively, there's nothing stopping you from building a board game, card game, or any other game creation if you'd prefer.
Do I need experience to participate?
No experience is required, but work is largely self-directed and requires a certain degree of self-commitment. We encourage attendees to come in with a basic set of skills or go through some tutorials before the event.
Do I need to have a team? Can I work solo?
You can work either as a team or solo. If you are looking for a team or have a team and are looking for additional members, we will help match you up.