THE LEGEND OF...
Urban Legends, the undercurrent of our cultures and personal narratives, a shared imagination that shapes our worldview. From Florida Man to Area 51, the illuminati to cryo-frozen billionaires; these are the stories and whispered secrets we tell to amuse and frighten ourselves. But what happens if our world's lore collides with the desperate city of CY? What new conspiracies are born, what new abominations draw breath? URBN_LGND.exe is a third party compatible game jam that asks YOU to CY_BORGify your favorite urban legend.
THE WHAT AND THE HOW...
Create foes, tech, adventures, or even an entire campaign setting. Submit your entries in any format you want (down with the corpos) and be automatically entered into a random giveaway drawing of exclusive official CY_BORG swag. No limits on length and no special considerations based on aesthetic quality. Include as much, or as little, information about your source of inspiration as you'd like. Make it dark, make it dystopian, but avoid any racist, sexist, homophobic, transphobic, or otherwise discriminatory content. Trigger Warning: some submissions may contain triggering content or intense depictions of violence.
TERMS...
No purchase necessary to join. Winners of official CY_BORG prizes will be selected sometime after the submission period closes, at random from the pool of submitted content to the jam (method TBA). Winners will be allowed to select the prize tier of their choice while supplies last and will pick from the prizes in the same order that their names are drawn. Shipping costs will be handled by Stockholm Kartell, but winners may be responsible for customs fees or other unforeseeable costs (ie local taxes). Anyone can enter, only one entry per person will be considered for prize purposes (collaborations are fine, but all contributors have an equal chance of winning). Submissions can be free or "Pay What You Want" and MUST be content for CY_BORG the TTRPG and not for other game systems. Please include the 3rd party CY_BORG license text on your submission, which can be found here.
A sign-up sheet to see what people are planning can be found here.
The rankings on this jam are solely for entertainment purposes. They in no way effect the selection of prize winners.
OFFICAL PRIZES...
Immortal Sky Palace—Nano Edition CY_BORG corebook bombed by Johan and his markers and stickers. One of a kind.
The Edges CMO Villa—Two pamphlet adventures; The Eizo Villa Heist and Thin Grit's Balban Release
South Central Penthouse—A copy of CY_BORG (standard edition), including the Asset Pack.
Wreath Condo/Gun stash—A copy of the Asset Pack
Nano-infected Laketon squat—A fistful of stickers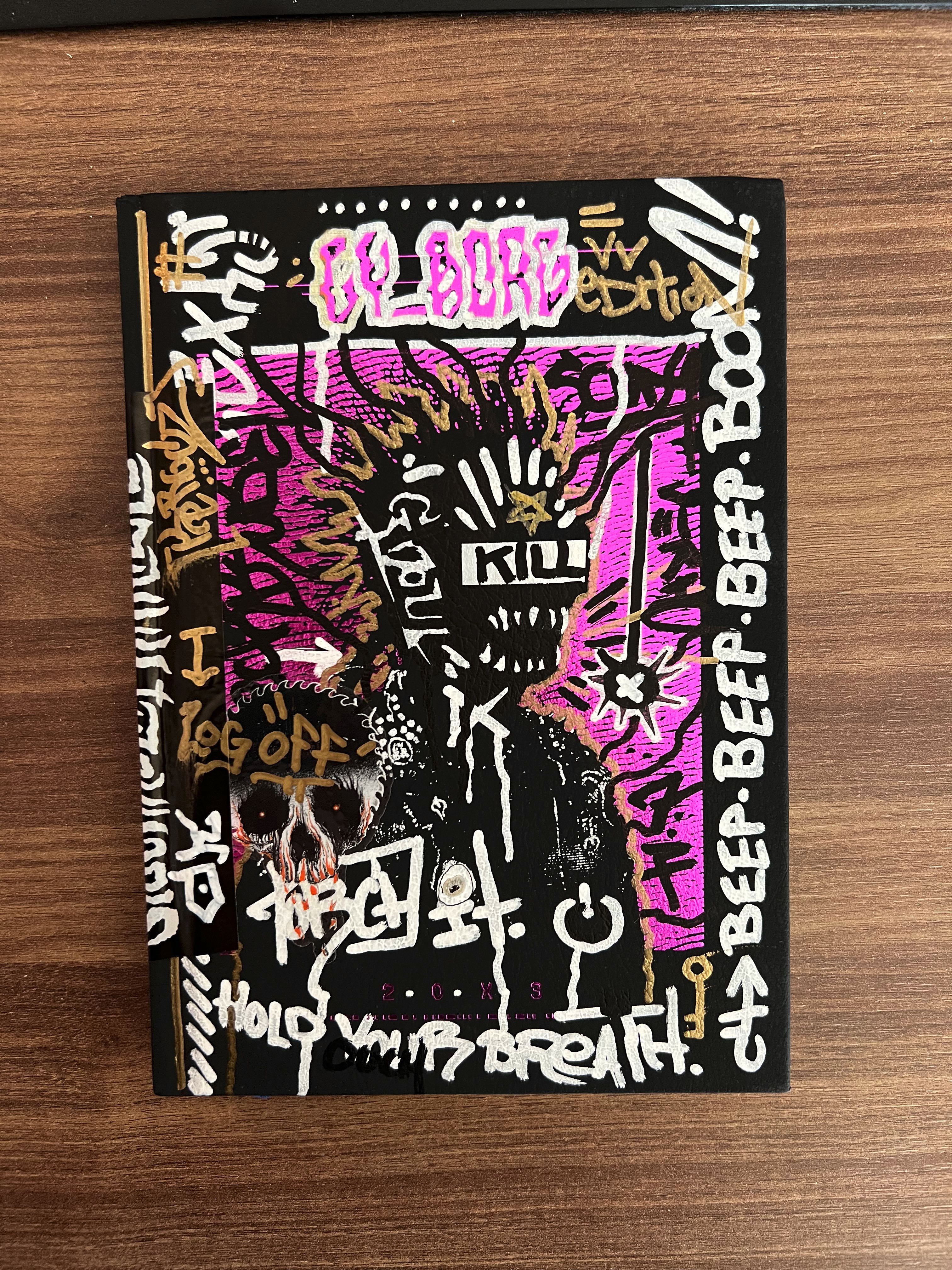 Custom, one of a kind Nano Edition of CY_BORG
Be sure to check out these other Compatible with CY_BORG Jams!
Trigger Warning

Album Crawl Y2K