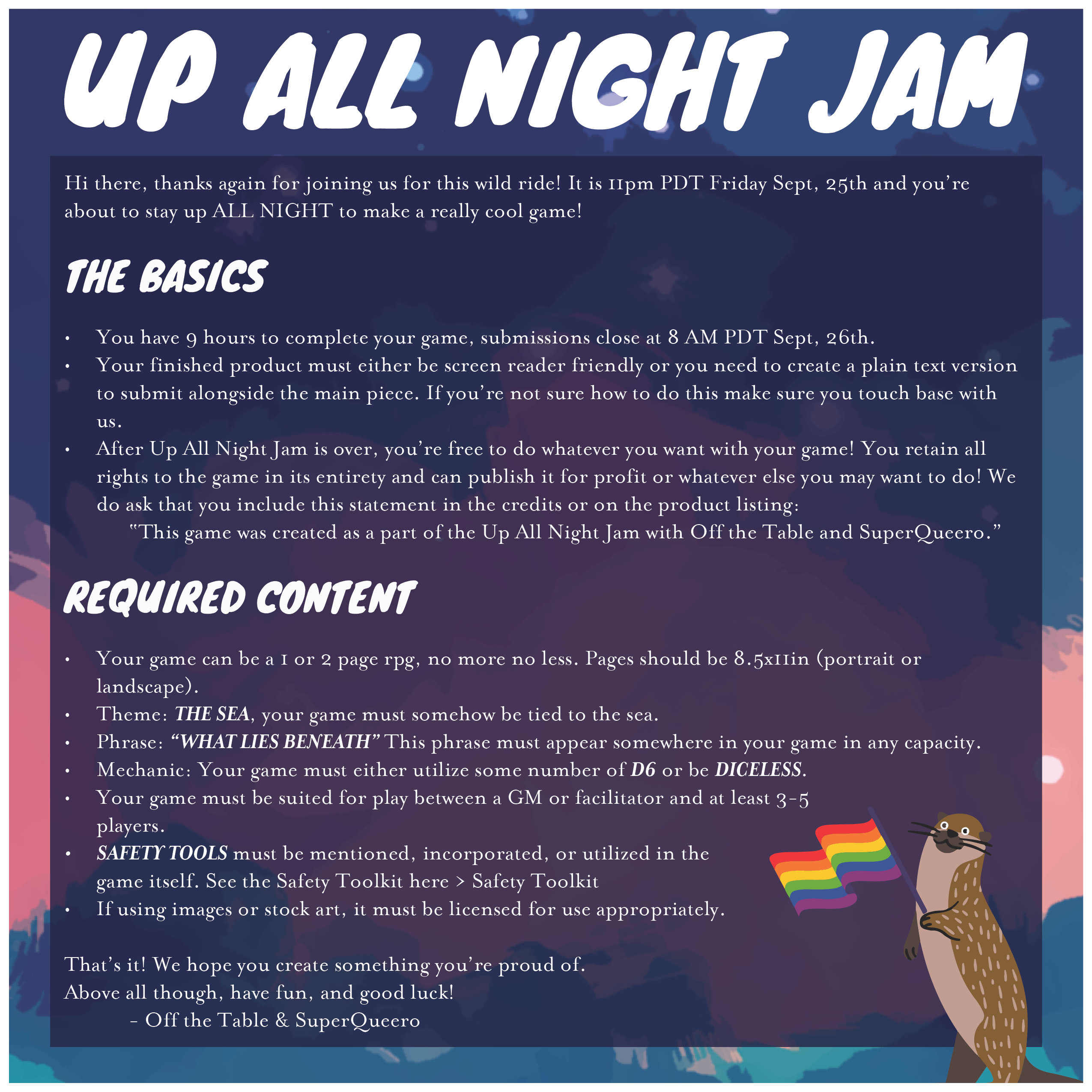 ~Plain Text Below~

What is the Up All Night Jam?
Hi there, thanks again for joining us for this wild ride! It is 11pm PDT Friday Sept, 25th and you're about to stay up ALL NIGHT to make a really cool game!
The Basics
You have 9 hours to complete your game, submissions close at 8 AM PDT Sept, 26th.
Your finished product must either be screen reader friendly or you need to create a plain text version to submit alongside the main piece. If you're not sure how to do this make sure you touch base with us.
After Up All Night Jam is over, you're free to do whatever you want with your game! You retain all rights to the game in its entirety and can publish it for profit or whatever else you may want to do! We do ask that you include this statement in the credits or on the product listing:
"This game was created as a part of the Up All Night Jam with Off the Table and SuperQueero."
Required Content
Your game can be a 1 or 2 page rpg, no more no less. Pages should be 8.5x11in (portrait or landscape).
Theme: THE SEA, your game must somehow be tied to the sea.
Phrase: "WHAT LIES BENEATH" This phrase must appear somewhere in your game in any capacity.
Mechanic: Your game must either utilize some number of D6 or BE DICELESS.
Your game must be suited for play between a GM or facilitator and at least 3-5 players.
Safety Tools must be mentioned, incorporated, or utilized in the game itself.
That's it! We hope you create something you're proud of. Above all though, have fun, and good luck!
- Off the Table & SuperQueero
If using images or stock art, it must be licensed for use appropriately.
Additional Information
No games with bigotry or promotion of hatred towards marginalized groups
- E.g. sexism, racism, homophobia, transphobia, ableism
Keep safety and communication tools in mind during your design (we highly recommend referencing the TTRPG Safety Toolkit created by Kienna Shaw and Lauren Bryant-Monk)
Please include content warnings and precautions for your game (both on its main page and in the game itself) if it includes any material that may be considered adult or sensitive
NOTE: If you're interested in participating in the streamed portion of the game Jam, you can check out that information here!
Up All Night Jam on Off the Table

Other Resources
https://www.canva.com
https://dylangrinder.com/blog/2017/02/20/design-resources
https://www.dafont.com

Contact Off the Table or SuperQueero for more information