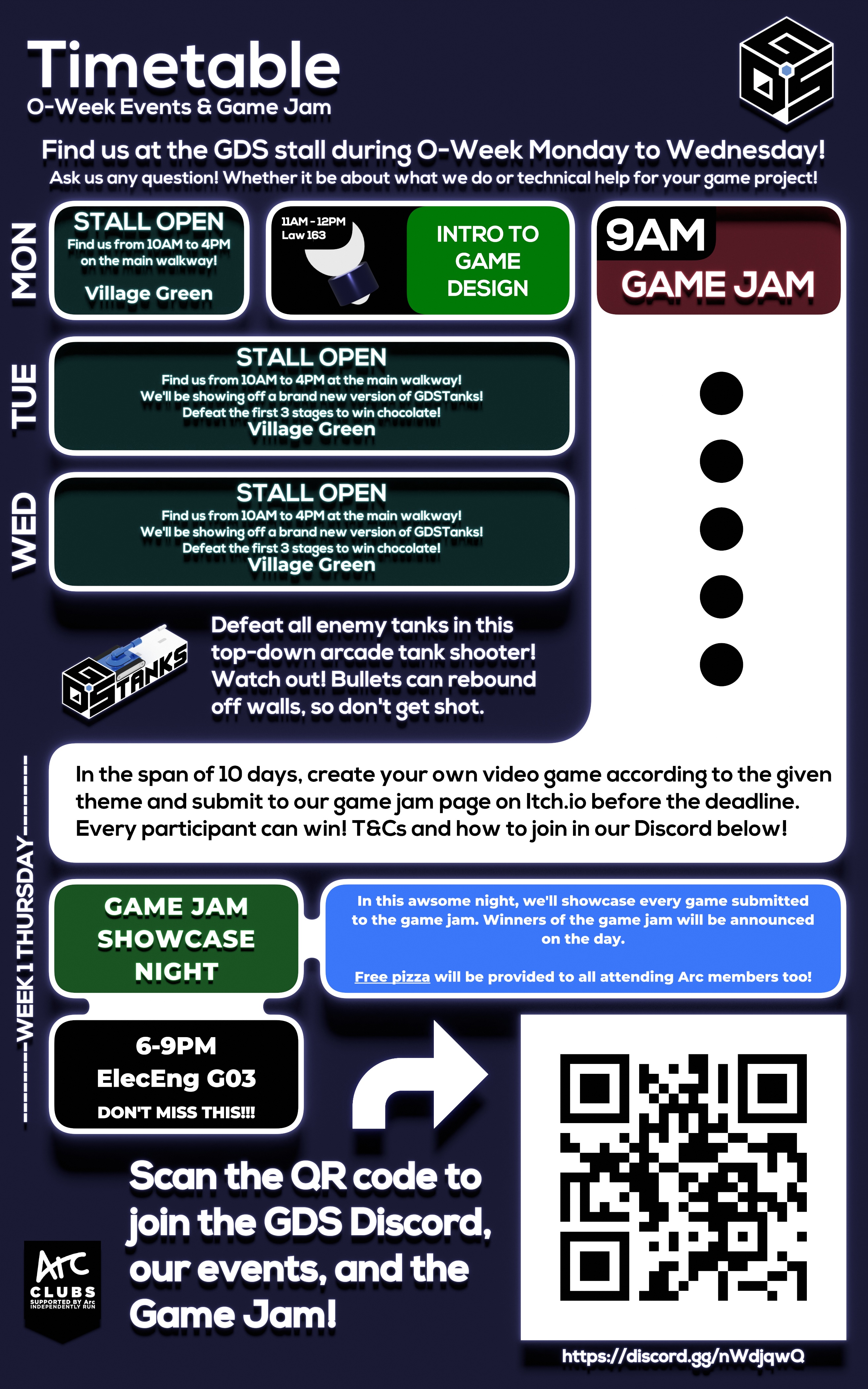 Info
Game Development Society is hosting our biannual game jam for existing members and first years to experience a fun and exciting competition involving skillsets across different disciplines! As an individual, participate in this 10-day game jam where you create a video game following a theme (released on the commencing day) to win some prizes! First place will have the chance to join a mentor program to develop their game further and show it off at SXSW! Whether you win or not, the whole experience is purely just a fun one, to bring people together. We'll showcase your games after the game jam ends in Week 1 on Thursday where we will enjoy pizza and hand out awards (more info in the section below). So come onto our Discord and enlighten yourself into the world of creating video games and meeting new and diverse people!
Showcase Night
After the game jam has finished, on 14th September (Thursday Week 1), we'll be showing off the game jam submissions in-person in the Electrical Engineering Building Room G03 (Ground Level) from 6PM to 9PM. Pizza will be served free for Arc members and winners will be announced with prizes handed out. You'll also be able to socialise with fellow game developers and enthusiasts and play the games submitted to the game jam!
You must submit your game title and associated logo by Week 1 Wednesday 6PM so we can print out for the showcase night. Failure to do so and you will not have your game poster provided and may not be allocated a booth.
Each submitted game will be allocated with its own section in the room. As food is not allowed in the room, pizza, drinks, and snacks will be served directly outside the room (but still indoors). For those who plan to host their own game during this event, it is also highly suggested to attend this event 15 minutes (5:45PM) early so you can set up a laptop for other students to play your game before the event begins. Wipes will be provided so you can regularly clean your keyboards and mice.
Theme
https://docs.google.com/document/d/1AYBqtz6uca73QTDeo0qAE7Tt5dl0I9M0mJ0r0i0rZdk/...
Rules
Have a sporting attitude; respect other contestants and the people around you.
Submission must be a playable video game with a reasonable amount of effort to be eligible for a prize (so if your submission is just a Unity character controller on a square platform it does not count).
In the interests of fairness; you are not allowed to use your own prior work, it MUST be made available to other contestants.
Using publicly available third party resources worth less than <$300AUD total, such as frameworks, templates, free asset packs, and game engines, is allowed, EXCEPT for art and 3D models which must be used such that the game design does not change significantly if swapped out for something similar. Music is excluded from this rule.
Unlike previous game jams, this one is strictly individual only. This means you cannot work as a team to submit a single game. You can only work on your own game submission. You also must be a current UNSW student to participate.
To receive the first place prize of a SXSW Game Badge, you must show off your game at SXSW in multiple industry exclusive events and student showcase (if a spot is possible). If you do not have the time for this commitment, it will be swapped out for a SXSW Game Wristband. If you already hold a SXSW Game Badge, it will be given to the next person.
Only one game entry can be assigned per person. This means you can only be in one participating team and must choose which game entry to go with before prizes are announced.
Entries must be obviously related to and follow the theme.
Entries that are submitted past the deadline may not be counted.
Your game submission must be free to download and cannot require downloading other third-party software (.NET Framework is fine but Roblox isn't).
Your game submission must be able to run on Windows 10.
Prizes
First Prize: 1 SXSW Games Pass (type depends on agreement),1 Moondrop chu IEMs, 1 water bottle, 1 shirt
Second Prize: 1 Moondrop chu IEMs, 1 water bottle, 1 shirt
Third Prize: 1 Moondrop chu IEMs, 1 diary, 1 shirt
EVERY OTHER SUBMISSION: 1 shirt
By submitting your work to the game jam, you agree to allow UNSW Game Development Society to share, in part or whole, original or modified copies of your entry, for any and all purposes, including but not limited to promotional use, demonstration, exhibition, and education. You agree that you cannot retract this agreement after you have submitted your entry. You agree that by submitting you have full rights to redistribute your entry and that any licenses relevant to your work are included.
Hosted By