Welcome to Unexpected Jam, where you create an unpredictable and unexpected game!
Some of the most memorable moments when we play games are the ones that are surprising and unexpected.
This jam challenges you to create an unpredictable game that outmaneuvers a player's expectations!
(see the FAQ for some tips on making your game unexpected)

---
Discord & Twitter
---
Come join our official Discord server (for this jam and future jams), because game jams are more fun when there's a community.

Follow the official Twitter account @UnexpectedJam and make your tweets with the hashtag #UnexpectedJam :)
I will be regularly tweeting sources of inspiration that will help you come up with some great unexpected game ideas!

You can also follow my personal twitter @XavierEkkel if you have any questions or just because you like living life on the edge.


---
Prizes
---
1) ~$250 in Steam game prizes given away to participants who give good game feedback and to some of my top picks.
For additional prizes, remember to submit your game to the GDWC 2020 Game Jam category as well!

2) A special role in our Discord server!
3) Lots of feedback from other participants and YouTubers/streamers (see below)!
4) Most importantly, you can expect the satisfaction of finishing an unexpected game!


---
Rules
---
Anyone, regardless of experience, is welcome to participate!
You can go solo or form a team! Maximum team size is 4. You can form teams easily on our Discord or on Reddit.
You can use any engine, including one you made yourself!
Please only use assets you have permission to use, and avoid infringing upon any copyright or trademark.
Don't start working on the game prior to the game jam, as it isn't fair to other participants starting from scratch.
Your game must be free to play until the voting period is over.
Participants who try to manipulate voting will be removed.
Games that are in very poor taste will be removed.
You must have a good time doing the jam! :)
---
Voting
---
After the submission period, you'll be able to rate entries on the following categories on a scale from 1 to 5 stars:
Overall: your overall impression as to the quality of the game.
Unexpectedness: how unpredictable/surprising/unforeseen was the game? (in its narrative or gameplay or other elements)
Did it outmaneuver your expectations?
Gameplay Innovation: how unique are the gameplay mechanics?
Fun: how much did you enjoy playing this game? Did this game make you lose track of time? Was it addictive?
Visuals: how visually-impressive was the game?
Note: only rate based on art assets created during the jam, not art assets created before the jam
Audio: how impressive were the aural aspects? (e.g. music / sound effects / voice acting)
Note: only rate based on the audio created during the jam, not audio created before the jam
The voting period will run for roughly two weeks.

Don't forget to leave feedback on any game you rate! It's more helpful than just a number, and it helps them find your game :)

---
YouTubers/Streamers
---
I will be organising lots of YouTubers and streamers to play your Unexpected Jam entries and give you great feedback!
Each new video will be tweeted about and posted in our Discord. I will also compile all the videos into one big YouTube playlist.

If you are a YouTuber or Twitch streamer interested in playing the games from this game jam, I can add you to a list in this section so participants and onlookers can easily find your content! If interested, please tweet me or email me.
YouTube:

---
FAQ
---
Can I start thinking of ideas ahead of time?
Yes! Just don't start making the actual game until the start time, and remember to scale back your ideas!
Will there be an additional theme?
No - the theme is literally "Unexpected" and is known in advance.
Can I use pre-made assets?
Yes, but only if you have the appropriate permissions and give any required attributions. When you submit, you must mention any assets you used that were not created during the jam (there will be a textbox), so that players rating your game's visuals/audio can give a fair rating.
What platform should I create my game for?
You are allowed to create a game for any platform; however, it is highly recommended that you create a game for the browser and/or as a Windows executable (Mac and Linux versions are a bonus - the more platforms, the better). Games created only for other platforms are less likely to be played by our YouTubers/streamers and other participants, and will receive less feedback and ratings as a result.

Do I have to use the entire jam period?
Not at all! Holding the jam over a longer period of time simply allows more people to participate, and allows participants to work on the game at their own pace (rather than a 72-hour crunch). It is expected that some games will be completed entirely in 1 or 2 days, whilst some will be completed in stages across three weekends.
Can I use other peoples' work in my game?
We do not take responsibility for any unauthorised uses of other peoples' work (e.g. music, sound, art) and any consequences that may result from its use. Please only use work that you are authorised to use or that you created from scratch yourself.
Do I keep the rights to my game?
Yes! You keep the rights to everything you create for this game jam.
Is there any restriction on game engines?
Nope! You are free to use whichever game engine you like - including your own custom-built engines - as long as you create your specific game code and assets from scratch.

Where can I download the game jam logo? Can I put it in my game?
You can download the logo here, and you are welcome (and encouraged) to include it as a splash screen for your game!
Any tips for making my game unexpected?
A big part of making something unexpected is understanding what your players expect from a story, characters, gameplay mechanics, and even sound and visuals, and then subverting it.
I recommend reading Playing with a Trope (a trope is a convention).
You can click on each category to see more detailed descriptions, and examples from all forms of media (including games).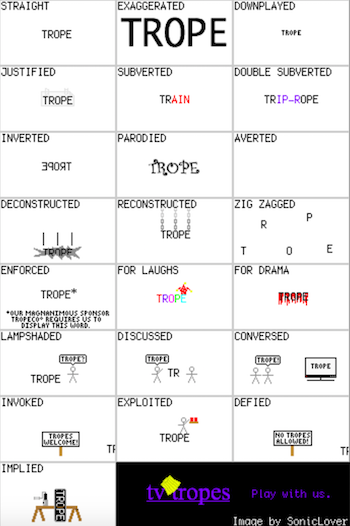 You can also try looking up your favourite 'unexpected' games (or films/shows/books) on TV Tropes and exploring what tropes they played with as inspiration for your own game!