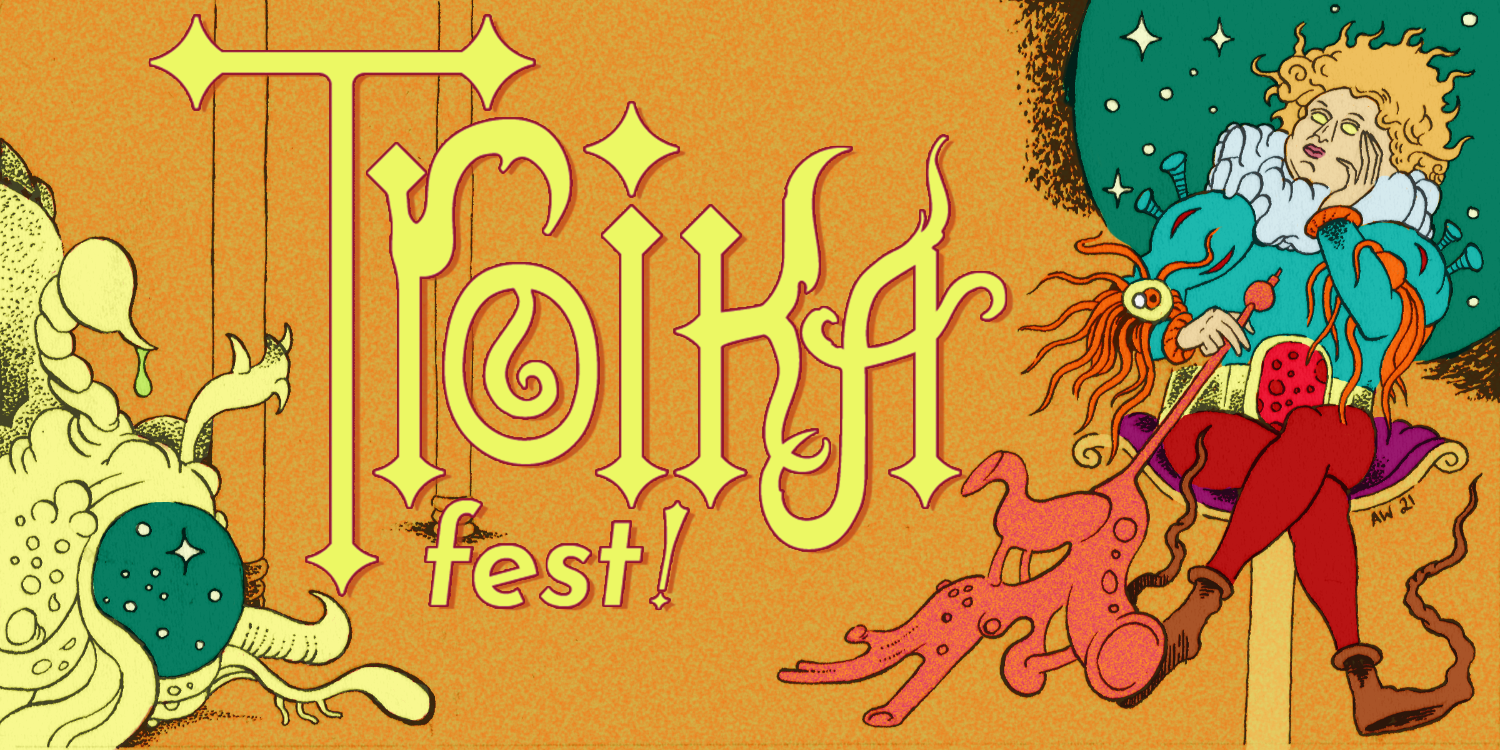 Welcome to TroikaFest!
Finally! It's the first-ever TroikaFest! We're all very excited, I know. There's lots of thrilling happenings and wondrous goings-on, this is only one of them. It's a game jam! Maybe you've heard of them?
The idea is simple: we'd love you please to make something (anything, really) with Troika! in mind. A background, perhaps? Or a weird and wonderful sphere? Maybe a selection of magic items, or spells, or a handful of friendly NPCs to chat with. Perhaps—dare I suggest?—an adventure! Be daring, be brave.
The jam runs through the entirety of April, in celebration of a certain simultaneous Kickstarter campaign—but nevermind that! We're all here to see what you make!
As for rules, we ask only that you be kind to yourself and to others, and that you keep yourself and your work clean of bigotry and hate. You're welcome to submit more than one thing, or existing work that you're especially proud of. You can charge for your work, or not, at your discretion. Do make sure to tweet about your submission and tag @MelsonianArts on Twitter so we can tell all our friends how thoughtful and discerning you are!
Everyone who submits at least one thing to the jam is automatically entered into our very exciting raffle! We really buried the lede on this one, but one randomly-chosen submitter will receive a free book of their choice from the Melsonian Arts Council catalog! We'll work out which book with the winner after it's announced on May 1.
Don't hesitate to check out the other excellent TroikaFest! events. More information forthcoming on that front, but trust me: it's bound to be a lovely experience. Huge thanks to PlusOneExp for organizing the Fest!
Some things that you may find useful:
The Troika! SRD is available for free here.
Did you know there's a whole website that does a great job of not exactly explaining what Troika! is all about? Well, there is!
There's also a very cool Fortle image (below) that you can use on your submission, if you'd like to communicate just how incredibly compatible your work is with the Other World's Favourite Roleplaying Game.
There's also a TroikaFest! logo (also below), which you can use if you'd like to commemorate this special occasion.