Totally Ranked Jam
Welcome!
What is this jam?
Quick and easy – just how you like it!
You will be able to vote for the theme two days before the application deadline.
Jam duration: 4 days (September 24 00:00 EST through September 27 23:59 EST). Voting will be open immediately after.
Everyone is encouraged to vote truthfully from their hearts :)
Any kind of game will do! (no NSFW tho) As long as you refer to the theme even a small bit.

Scores/Results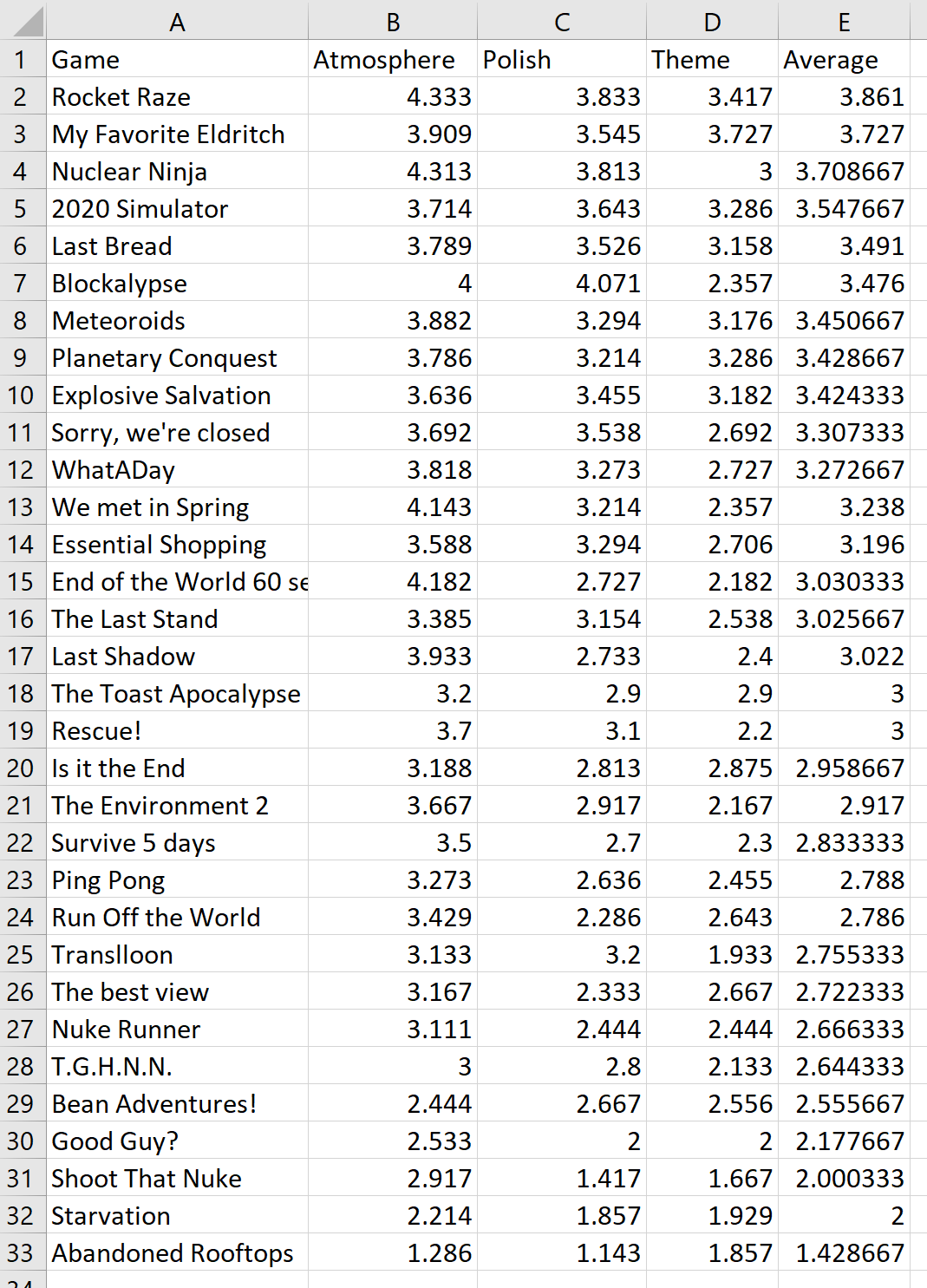 Theme

I made a theme announcement video:


If you do not want to watch the video, here is the spoiler: The end of the World won. Good luck, everyone.
Voting and Prizes
We practice democracy here on Totally Ranked Jam – so participants will be burdened to vote for
winners themselves.
We offer awesome prizes so you can order pizza and celebrate the end of it all:
1 st place – $25;
2 nd place – $15;
3 rd place – $10.
Everyone else – lots of admiration.
If we reach more than 10 submissions, 4 TH AND 5 TH place will each receive $5.
If it so happens and there are over 50 submissions, 4 th – 10 th places will each get $5.
About
Being a small self-taught game maker, I instantly fell in love with the idea of game jams when I first
heard about them. Jams are a great way to practice without committing to somewhat big and "serious"
time consuming projects. They exist to provide fun and creativity – that's what I believe in and hope you
do, too.
I have recently started a YouTube channel and dedicated it to indie games from small devs. My channel
ain't much, but its honest work. I want more people to start appreciating games from amateur creators
because they deserve it – there are some real gems there!
I will be playing every game from this jam and they will all be featured on my YT channel each getting a
separate video review :)
I don't want you to commit half of your life and nerves to this jam – instead just practice whatever it is
you need to gain experience in. The challenge will be to fit it in the concept of the jam.
Please, join our discord channel.

Subscribe to my YouTube channel.