Welcome to the first ever Toadhouse Game Jam! *thunderous applause*
During the month of July, you can participate by making your very own visual novel.
Any engine is allowed.
The theme for the jam is: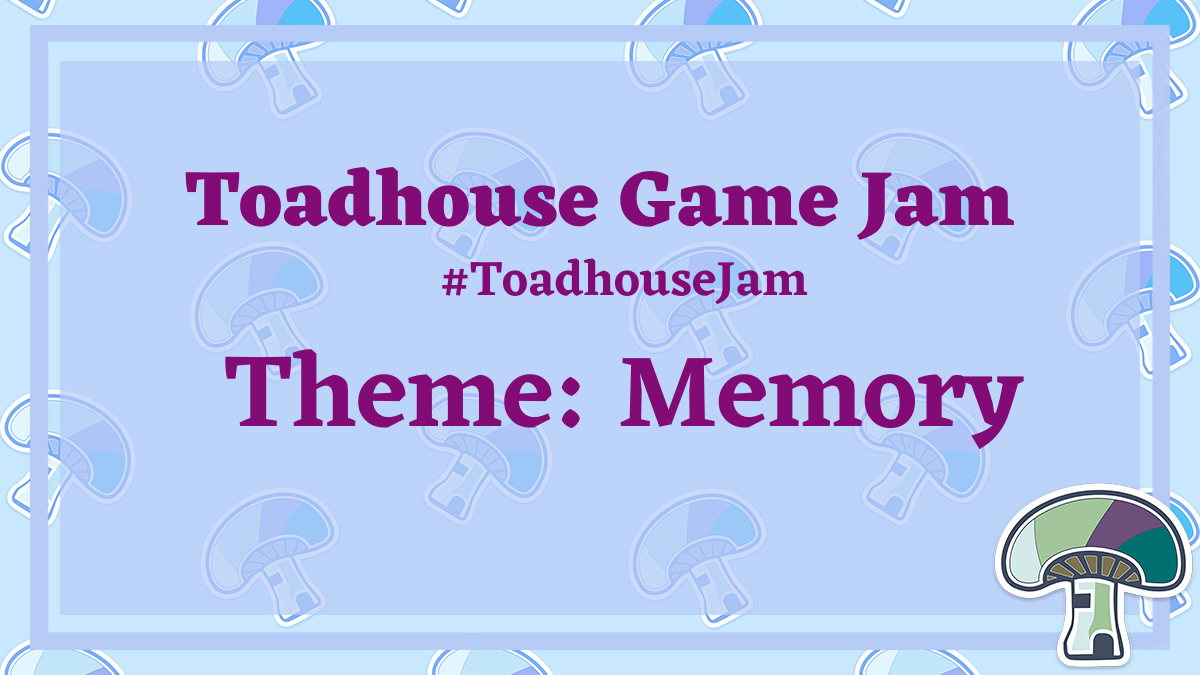 alt text: a background with toadhouses scattered about. The text reads: Toadhouse Game Jam. #ToadhouseJam Theme: Memory
The theme is: ✨memory✨

That could be your favourite childhood memory, a day out with your best friend, a cute date, or your favourite holiday. It's up to you to interpret the theme how you want!


You may do this jam solo or in a team, whatever you wish.

After the theme is announced, our Discord will have voice and chat channels open for participants to hang-out, make teams, and contact staff. Participants are more than welcome to ask both questions about the event and for help with their game.
Participation is open to everyone, not just current Toadhouse members. We are excited to see all of the wonderful games you will create.

Your game must be made during the duration of the jam. Games uploaded before that time period will be removed.

We're also hosting workshops about game development topics featuring industry professionals on Twitch!
Learn more about the workshops here

Join our Discord here

Follow us on Twitch: https://www.twitch.tv/teamtoadhouse

Self Care
We are a no crunch studio, and thus, we want to extend those practices to our game jams. Your well-being is priority.
Developing a game in a month is hard! Make sure you're sleeping, eating, exercising, and taking care of yourself.
We'll be helping you keep the scope of your game small, and encouraging you to get enough rest.
All participants MUST follow the Code of Conduct listed under rules-and-faq in the Toadhouse Discord.

FAQ
What game engine can I use?
Any game engine is permitted. As long as you make a visual novel with it.

What is a ''visual novel'' ?
A visual novel (VN) is a game with meaningful storydriven choices as the core game mechanic, VN's are characterised by their flat backgrounds with the speaking character visible on screen.
Mini games or other elements from other genres interspersed are completely okay.
Can I participate in a team?
Yes! You are welcome to form a team with other Toads. We recommend posting in our game jam channel on our Discord or in the community page on Itch.

Can I join the jam solo?
Yes!

Is the jam ranked?
It is not ranked! The jam is meant for collaboration and supporting each other in making great games, not competition.


Can I use royalty free art, music and sound?
Yes!