Everyone loves tiny houses! Join this jam to create sets of little papercraft houses or games that involve existing sets of tiny houses (or both, you talented kids!).
Once the jam ends, we'll bundle submissions together and sell them, donating all profits to The National Center on Homelessness and Poverty.
Create a Set of Papercraft Houses
Build a set of papercraft houses for us! If you make a beautiful set of houses we will include it in the bundle for people to enjoy. It has to be complete--i.e. the same number and general size variety as the houses we offer. That way, your creations can reliably be used in the games jammers are creating. Decorate and embellish! They can be black and white or color. Feel free to design cooler and better house models. Ours are pretty basic! They need to be printable on a standard 8 x11' sheet of paper without double-siding. Get inspired and check out some example houses here.

Create a Game
Create a short game that uses one or more sets of tiny houses. The prep for participants should be simple (aside from assembling a set of tiny houses).
For game instructions, aim for 1,000 words, whatever that means to you. Less is even better. Want to see games we made? Check them out here.
Your Games submission should include a fact box that includes content advisories and gives folks a quick sense of whether this game is for you. This should look something like this:
Title: Tiny Houses on the Lam
Players: 1 to 20
Time: 2 hours to 3 days
Content: tiny houses, spiders, attaching tiny houses to live spiders
Summary: Race your tiny houses by catching and tying them to spiders or other insects you've caught inside!
Some ideas to whet your appetite:
A game might involve competition or cooperation. It might use a board or it might involve roleplaying. It could be for one player or many. This doesn't have to be a particular sort of board, roleplaying or card game--think expansively of what sorts of tiny-house-based experiences would be fun to share with family and friends.
Think about making them playable for the COVID era--i.e. while socially distanced and communing via computer.
Think beyond fantasy. We'd love to see a game about the Broad Street cholera outbreak of 1854 or games that use the houses as extended metaphor for grief, longing or vengeance.
Tiny paper houses can be crushed, burnt, drowned, stomped on, torn, threatened by pets, and glitter bombed. They can be mailed, exchanged, licked, placed over symbolic objects, written on, decorated, re-decorated, and nested, one over the other. They can be photographed, filmed, or placed over symbolic objects. They can be sung and danced at. They can be discreetly left in surprising places. They can be canvases, mirrors, or the most secret of diaries. You probably have other, better ideas, and we're very excited to learn about them.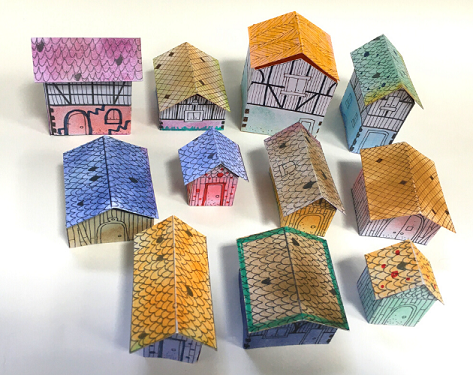 The Charity
After the jam concludes, we will bundle all housing sets and games together and sell them. We are not sure about pricing yet, but there will definitely be community copies. We want to turn these tiny houses into real houses for people who need them. One hundred percent of the proceeds, after itch takes its cut, will go to the The National Center on Homelessness and Poverty .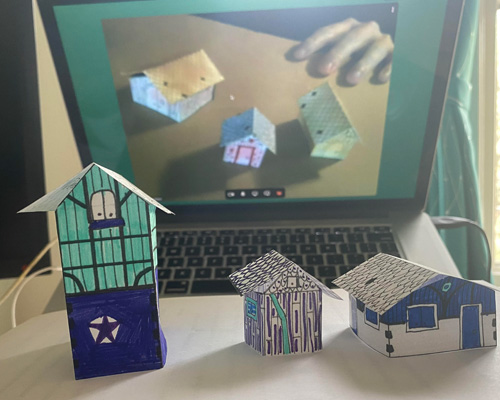 Rules
Opens: October 1st, 2020.
Closes: November 1st, 2020.
No late submissions will be accepted.
We will accept all complete submissions that follow our guidelines.
Whether a game or a house set or both, please send all submissions in pdf format.
No hateful content, please. This includes, but is not limited to, racist, sexist, homophobic, transphobic, and ableist stuff, or things that flirt with that line.
Tiny house sets should be printable on one-sided 8.5" x 11" or A4 paper
Game scripts should include a fact box, and should not exceed 1,000 words.

FAQ
Question: Are you intending that the houses and games are interchangeable, or do I design the houses I want to use with the game I make?
Answer: We encourage utility, so you don't need to do both parts and if you do, they don't need to align. But if they do that's cool, too. A set of houses specifically tuned for a specific game is fine. A game that specifically comments on a certain set of houses someone else made is even better.
Question: What do you mean 1,000 words? Are you counting headers and game content?
Answer: Broadly speaking, we don't want novels. But we are not going to reject your submission for being 1,000 words plus headers. Whatever it means to you is good enough for us.
Community
Use the hashtag #tinyhousejam when you post about the jam!
The jam is being run by Lizzie, Jason& Jenn