Some people really like their roleplaying games to feature intense, tactical combat. Many entered the hobby through the crunch and splatbooks of Fourth Edition, and miss that. Some don't but wish they could re-imagine it for their new sensibilities. This jam is for games inspired by the Fourth Edition.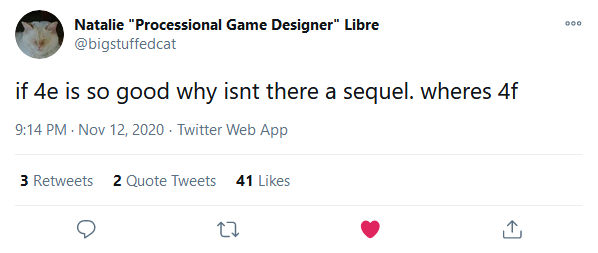 EXAMPLES
Some games that feature excellent tactical combat in various ways and means:
LEGAL STUFF
It's important to remember there is no open gaming license or standard reference document for Fourth Edition, which means we're looking at things inspired by it, not hacks of it, which might be legally murky. However, 3rd and 5th edition have SRDs you can use, as does 13th Age and Lancer (COMP/COM), so if you need something to work from, they're great places to start.
RULES
This jam sees itself as part of SwordDream. For some loose principles that might go along with that look up the DreamJam.
You are encouraged to submit work in progress, unfinished works, beta versions, versions for feedback or playtesting, and things you've started or completed before the jam. Tactical combat games can be complex and time-consuming to make. The more submissions, the more inspiration for everyone!
On the other hand, please don't use this jam as a promotional space for unrelated works.
If at all possible, include plain-text, audiobook, or otherwise multiply accessible versions of your work.
Have warnings and precautions for your game (both on its main page and in the game itself) and safety tools, if it includes any material that may be considered adult or sensitive.
Games promoting racism, sexism, homophobia, colorism, ableism, fascism, transphobia, islamophobia, antisemitism, or other bigotry or hatred towards marginalised groups will be removed from the jam.
The 4F Tactical Combat Jam will run from Dec. 1st through June 1st. These games take time to make! But please don't put off submitting until deadline if you're interested - the creators will boost any submissions that are made!
It is hosted by udernation (@udernation) and Jonathan Dersch (@JonathanDersch). Feel free to reach out on twitter or in the community tab with any questions, and be sure to use the tag #4ftacticalcombat when you share your work.
(Oh, and the picture in the header is by Mushon Zer-Aviv CC BY-NC-SA 2.0)