My new dentist took a scan of my teeth, and I asked if I could have a copy of the 3D data.
"What are you going to do with it?" the dental nurse asked, amazed.
"Oh, I'll think of something."
In this jam, make something with my actual 3D scan of my horrendous teeth. It can be a game, some art, or something else. It can be weird, creepy, horrifying, or even, if somehow possible, none of those things.
In this zip file you will find:
the original .STL scan data, which is very hi-poly and quite noisy
a .BLEND file containing a tidied up version of the scan, and a reduced (but still hi-poly) remeshed version, UV mapped
an .FBX export of the remeshed and UV mapped meshes, ready for Unreal or Unity
some example textures, which you can use or use as templates, including normal and PBR maps, AO and masks. (These aren't actual colour! My teeth aren't as dirty as that!)
The meshes are quite hi-poly, so you can use them as is or feel free to remesh them.
Use as many or as few of these resources as you like, as long as you share-and-share-alike and publish your creations to this jam (CC BY-NC-SA 4.0 licence).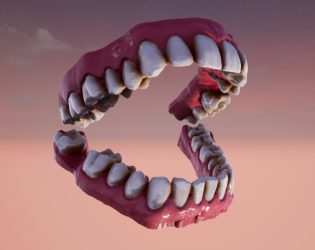 (While you're here, since you clearly like creepy stuff, check out my games Interactivity and Bonbon!)