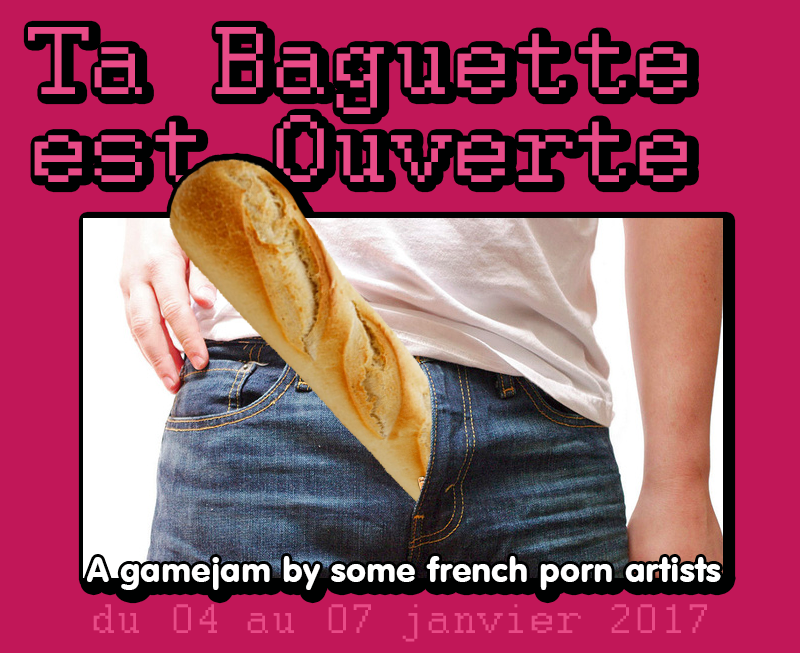 Bon maintenant que c'est clair, bienvenue à la gamejam "Ta Baguette est Ouverte" ! On est français, on est porn artists, et on a 72 heures pour créer des jeux sympas et sexy.
Le thème est : Ma femme est un alien.
Ce thème est là pour vous donner un point de départ. Si vous souhaitez faire un jeu de cul qui n'a rien à voir avec le thème il n'y a aucun soucis.
Si tu n'es pas français et que tu veux participer, c'est déjà bizarre que tu lises ça parce que la version anglaise est en dessous du nichon. Mais quoi qu'il en soit il n'y a pas de problème. Cette gamejam est ouverte à tous et n'est pas le lieu d'une quelconque compétition.
On est là pour le fun et pour le porn.
Voici les règles :
- Ton jeu doit être NSFW.
- Tu dois avoir au moins 18 ans pour participer.
- Ton jeu doit être respectueux. Pas de racisme, ni aucune forme de haine envers les communautés LGBTQ+.
- Tout type de non-consentement est interdit (le viol, le "consentement douteux", etc.).
- Tout contenu pédo-pornographique est interdit.
Enjoy and have fun !
Des questions ? Contactez moi là : suikaadd@gmail.com

So now it's clear, welcome to the gamejam "Ta Baguette est Ouverte". We are french, we are porn artists, and we will have72 hours to create nice and naughty games.
The theme is : My wife is an alien.
The theme is here to give you a starting point. If you want to make a lewd game with absolutely no link with the theme it's ok.
You're not french and you want to join ? No problem dude. It's open to everyone and there is no competition.
We're here for fun and also for porn.
Here are the rules :
- Your game has to be NSFW.
- You have to be 18, at least, to join.
- Your games have to be respectful. No racism or hate against LGBTQ+ community.
- Any kind of non-conscent is forbidden (rape, dubious conscent, etc).
- No underaged sexual content.
Enjoy and have fun !
If you have any question, contact me at suikaadd@gmail.com