Welcome to the RNDGAME Jam!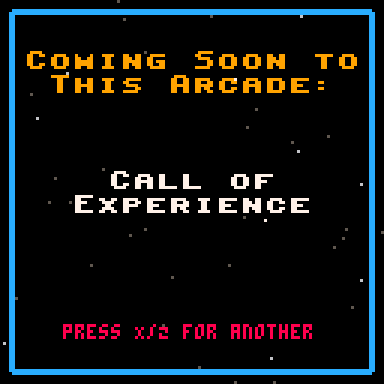 RULES
The rules are simple: run RNDGAME on May 15th -- it makes up silly game titles. Generate 10 game titles -- pick one of them! Now make that game during the jam!
https://thattomhall.itch.io/rndgame
(Also, if you generate 20 or 30, well, no one's looking... And, please, since this game name generator can make them, don't choose a game/movie/novel name that already exists, like STARSHIP TROOPERS or NEVERENDING STORY. Make something NEW!)
WHAT SHOULD I USE TO MAKE IT?
The preferred environment for this game jam is Pico-8, an easy-to-use "fantasy console" that uses the Lua scripting language. I LOVE IT. And you will too! All the tools are built in, so you can just CREATE. Great for jams and prototypes. Get it here!
https://www.lexaloffle.com/pico-8.php

Scared of Pico-8? Well, if you want to join the Pico-8 community, pop over to the Pico-8 Discord server! https://discord.gg/55MsmFK Everyone is happy to help newbies!
However, this is a loosey-goosey game jam, so if you are really into another platform, go for it! It's all for fun.
POSTING YOUR GAME
On itch.io, tag it RNDGAME2020 and on Twitter, #RNDGAME2020.
CONTENT
Please keep it PG and news-and-politics-free -- let's have an escape from all the heavy stuff of the day and just HAVE FUN with this!
CODE/ASSETS
Got pre-existing code? USE IT! Got pre-existing assets? USE 'EM! Just make a game named by the RNDGAME generator.
If you need some starter assets, feel free to visit http://www.ToyBoxJam.com (a different jam I ran in Pico-8), scroll to the bottom and there are three Pico-8 sprite sheets. I will try to update one of the font as the lowercase "r" is missing. Oops. You can IMPORT <filename>.PNG to get those into Pico-8 if you want. Many are in the TOYBOXJAM demo cart, along with how to use them.
https://www.lexaloffle.com/bbs/?tid=36429
ALTERNATE WAYS TO RNDGAME JAM
One-Name Charlie: Pick the first name the generator generates, as long as that title doesn't exist like "STAR WARS" or "DARK SOULS".
Ten Ain't Enough: Just have the generator keeping picking names until one really inspires you. Nobody will judge.
Pre-Game: Generate titles before the Jam starts. Get one you love. Start thinking about it. Cuz if you got a really good one early, why not use it?
Guru Jam: Use my Game Idea Guru for more detail/ideas for your game: https://thattomhall.itch.io/game-idea-guru
HELP OUT!
Are there any generic game words you think would be great to add? Tell me at @ThatTomHall on Twitter. Or message on the jam here!

HAVE FUN!
This jam is all about fun, plus silly and/or cool game names. Hope you have fun with the RNDGAME game generator! Looking forward to your game about the: