Conjure your creative magicks
Revive abandoned ideas
Conjure forgotten media
And make anything!
The Rite of Revival
Revive abandoned ideas!
An old idea, a forgotten TV show, or a DOS game no-one talks about.
Find inspiration in the dusty old decrepit corners of things you love and create art!
Make anything!
Video games, physical games, music, movies, PDFs, traditional art, digital art, whatever!
Late submissions are allowed through the 28th.
Info will be shared here at the end of the jam.
Credit contributors and assets used.

Use optional modifiers. (optional)
Join our Discord! (optional)
Be kind. Don't crunch. Drink water. Sleep. (not optional)
Optional modifiers
Early to bed, late to rise
Start late or end early!
Only spend 10 or less days on the jam!
???
TBA (Oct 1st)
???
TBA (Jam Start)
Important dates
Oct 5th - Jam Start
Same-day kickoff event on our Discord!
Oct 22nd - Jam End
Oct 26th play everyone's games stream on our Discord!
Oct 31st - Winners Announced
Common questions
What is Dead Media?
Anything from a bygone era that is forgotten to time. Never re-released VHSs, laserdisk exclusive releases, family tapes, abandoned demos, forgotten ps1 games, etc. The more it means to you the better, this imbues it with your own powers.
Some online places to explore "Dead" or "Lost" media are Archive.org, Library of Congress, and the American Archive of Public Broadcasting.
The best places are offline: libraries, estate sales, family attics, vintage stores, movie resellers, vintage game stores, thrift shops, used record stores, comic resale shops, etc.
What qualifies for an "old idea/project"
Any untouched idea or ideas you've started but never fully realized. Anything with the "creative magics," untouched psychic energy we can use for the collective rite. Your unfulfilled potential coming to life appeases the old one.
Is it okay to change the idea or media I'm inspired by?
Absolutely! Mix it with eye of newt, flip it upside down, mash it together with something, or any creative idea that comes to mind! The more heart and soul you put into it, the more potent the rite.
Can I start early?
We'd rather you waited, but we're warlocks not cops. We want you to be finish the rite. Cast the spell. Do the dark arts. Use whatever underhanded tricks you have to use to accomplish the goal.
Is this the first Revival Jam?
NO! Society of Play has hosted "spoopy" Halloween jams for as long as we can remember. Although we renamed it to "Revival Jam" and this is the 3rd jam under that name! Last year's can be found here.
What is Society of Play?
Society of Play is the host of Revival Jam 2023. A 501(c) Non-profit organization for game-developers everywhere. We strive to create a creative & safe environment for developers to grow and share knowledge. If you dream of making games, Society of Play is for you. Learn more on our website or join us on Discord!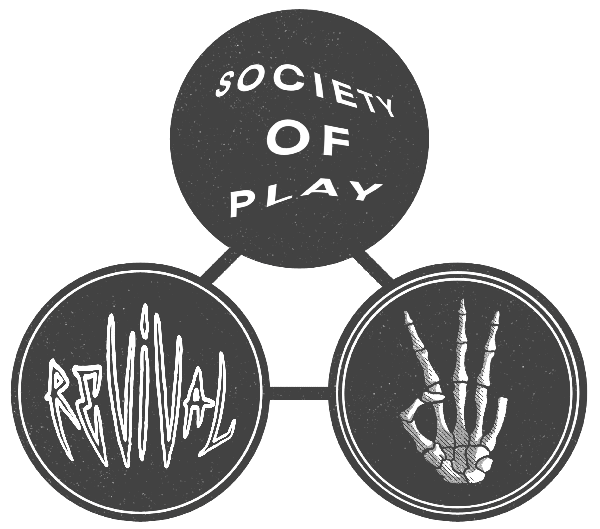 key art by Kalish